36-inch Wide Side-by-Side Refrigerator - 24 cu. ft.

WRS315SDHM

Model: WRS315SDHM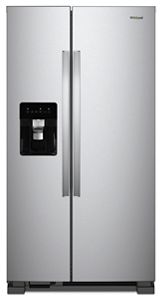 36-inch Wide Side-by-Side Refrigerator - 24 cu. ft.
36-inch Wide Side-by-Side Refrigerator - 24 cu. ft.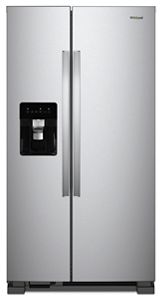 Key Features
Adjustable Gallon Door Bins
Exterior Ice and Water Dispenser with EveryDrop™ Water Filtration
Electronic Temperature Controls
Sign in to unlock lower pricing
Frequently bought additional items
Why shop Whirlpool® appliances
Overview
Product Overview
36-inch Wide Side-by-Side Refrigerator - 24 cu. ft.
Purposefully-designed spaces help you maximize your storage so you can fit and find it all in this side-by-side refrigerator. Adjustable gallon door bins give you increased loading flexibility. The refrigerator with ice and water dispenser lets you get ice and water without opening the door while LED lights also keep food looking as good as it tastes.
LED Interior Lighting
Keep food looking as good as it tastes. Light is cast inside the refrigerator so food looks like it's supposed to.
Frameless Glass Shelves
Store more items on each shelf with wall-to-wall frameless glass shelves, which offer greater storage flexibility.
Additional Features
Adjustable Gallon Door Bins
Move these adjustable bins anywhere in the door for increased loading flexibility when and where you need it.
Exterior Ice and Water Dispenser with EveryDrop™ Water Filtration
Access fresh filtered water and ice without ever opening the refrigerator door using dual pad dispensers.
Specifications
Dimensions
Depth Closed Excluding Handles
Depth Closed Including Handles
Depth With Door Open 90 Degree
Height To Top Of Door Hinge
Configuration and Overview
Appearance
Controls
Air Filter Indicator/Reset
Filter Details
Water Filter Indicator/Reset
Refrigerator Details
Number of Interior Shelves
Freezer Details
Freezer Number of Shelves
Dispenser Details
Filtered Water, Ice Dispenser Lock, Night Light
Icemaker Details
Certifications
Freezer Compartment
3 Fixed Full-Width, 1 Fixed Partial
Filters
Compatibility
Description
Configuration
Installation Configuration
Icemaker
Reviews
Rated

1

out of

5
by
slmontes
from
Not impressed
I purchased a new build home in December of 2020. I moved in the beginning of the month. From day 1 the freezer doesn't stay closed. When the fridge door is open, the freezer door opens as well. The ice maker, doesn't produce ice, and if it does it is only 1 or 2 cubes. I waited on hold for customer service 2 separate occasions before I could schedule someone to come out. I waited for 57 min before even getting to speak with someone. The SPACE is VERY limited in this design as well. I will be selling this as soon as possible. Not even 4 months old and I am not impressed.
Date published: 2021-01-28
Rated

2

out of

5
by
Landes522
from
Ok fridge
This is a great fridge for someone who doesn't care about what it looks like. I absolutely hate the finish on it. This was installed when we built our new home so we didn't get actually see it in person before we decided what brand to go with. It is extremely streaky no matter what cleaner or plain water or soft cloth I use. It is almost as if the final finish was never added. It even scratches if my nails brush up against it while opening the door. All I wanted was something shiney that I could wipe down once or twice a week that would make it look clean.
Date published: 2019-04-25
Rated

4

out of

5
by
beth
from
Not flashy, yet a solid fridge
I bought this two weeks ago and so far so good. It's smaller than my old fridge, yet I knew that at point of purchase. Having said that, it does have some great features. The door shelves are deeper, so they hold more little jars or large milk jugs. It is also a smaller footprint in our kitchen which is why I purchased it (older home and a smaller fridge fits the space better). The ice maker is in the top of the freezer section, which I prefer over our previous door version. It makes great crushed ice and has a light on the exterior for night use. I purchased some acrylic storage bins to help me organize the inside. Overall this is a great fridge. I have a feeling it will be a wonderful, trust worthy friend to our food and family.
Date published: 2021-04-14
Rated

2

out of

5
by
Me858
from
Wow! Nothing like cheap
This refrigerator has potential. There are only two drawers in the cold compartment. One for veggies one for fruit. Nothing for cheese or meat drawer. I called to see if I could order one and they don't even sell one. No egg carton either. Butter compartment is stuck in 1950's. With a round cut out for the old margarine containers. The ice maker, you know when it's going to be ice. The noise!! The silver on the outside on the sides is fantastic. The front shows everything. Nothing works. Whirlpool missed this one waste of money. Need 1/2 stars. So bad
Date published: 2018-03-19
Rated

5

out of

5
by
BeaBlue
from
Great big fridge
This came with the new house we bought 3 months ago, and we really like it! It is like most side-by-sides in that I can no longer put a cookie sheet in the freezer to flash-freeze meatballs (it won't fit), but that is my only complaint. It keeps things really cold without ever freezing any of our veggies in the fridge section. I love the giant shelves on the doors of the freezer and the bottom drawer that make it easy to find things. Very easy to find things in the fridge too. The water filter in the fridge was something I didn't think I would use, but we use it every day. It is really convenient and the filtered water tastes great. Seems pretty easy to change filter also. The ice maker is pretty large and the crushed ice feature is convenient.
Date published: 2021-02-26
Rated

4

out of

5
by
Raindrops
from
Side By Sides
We have had a Whirlpool side by side refrigerator for over 40 years.. our longest one was still working at 28 years when we thought it best to get a new one.. unfortunately that one only lasted 1 1/2 yrs.. then due to the Pandemic we were limited in what we could buy, in an emergency... We bought this one, but the freezer door did not close right.. The company brought a replacement a week later.. which is slightly better. Must be a sign of the times. We do love Whirlpool and will probably stick with the appliances in the future..
Date published: 2021-05-01
Rated

5

out of

5
by
Robi2020
from
Awesome features
It's been about over a month with it and the water still taste good. Love how I can cut back on buying water bottles. Worth the price. It great how it has an ice machine. A little loud but hey I think about every fridge is. It has the crushes ice bottom to which I really love and also a light switch. It's a nice little light night so when you don't want to turn in the kitchen light. And the room is pretty decent. Good for a family of 4/5. But if you have a bigger family I would suggest a bigger size. Overall we really like it.
Date published: 2020-04-08
Rated

4

out of

5
by
DennyH
from
Clean looking appliance for our new home
Pulte Builders provided this model as a part of our new home build. We have used it for two weeks and found no problems with freezing or cooling. The ice maker is relatively quiet. The condenser seems to run with a small hum...not a problem. The interior storage is adequate for the size of the unit. I wish that the ice water/ice dispenser could accommodate a quick-20 ounce cup easily. When I use a large cup for ice, the water lever can be inadvertently pushed. That will spill water on the from of the unit and on the floor.
Date published: 2021-05-26
Rated

1

out of

5
by
Brandy
from
Poor Shelving Design
We had our kitchen extended. The new stainless steel appliances were included in our total price. Our old refrigerator is a Samsung. This refrigerator you can not adjust the shelves in the freezer door, in which a bottle of water will not stand up. The freezer is just too small. There is no sound reminder that the door(s) are open for long. Not enough shelves in the refrigerator part either. It's just smaller in the inside than other refrigerator I have had in the past. The refrigerator I had requested was a French door with ice/water dispenser. But some how we ended up with this side by side. We are keeping our Samsung because it's only 4 years old and works great. I can not say I will or will not recommend it, because it might be a good fit for someone else.
Date published: 2021-01-26
Rated

5

out of

5
by
Lupe1
from
GIFT
My wife has always wanted a side by side with an ice maker and cold water dispenser. so our old fridge was showing signs of wear and it was close to Christmas I asked her if she would like one. we went looking and found this model she liked it so I bought it. She likes it, she likes the ice and water and has shown ice in a glass with cold water to me a couple of times. Now its a tad bit louder then our old fridge but that's okay. Fit and finish is great and she likes the fridge which is the most important thing.
Date published: 2018-12-19
Rated

1

out of

5
by
GILF350
from
Broke twice after first year
Had to have a repairman look at the fridge about a week just outside of warranty. Fortunately Whirlpool covered it. The fix was to blow dry the inside back panel of the freezer. Issue water would leak on the floor in front of freezer. Now it's not making any ice. About to make a call on that. Also, there is no drip tray to prevent constant water drips on the stainless door and it is way to easy to bump the water lever when getting ice making a mess. For whatever reason it trips the GFC every few weeks.
Date published: 2020-10-28
Rated

3

out of

5
by
Tina73
from
Uneven doors
Thank you for the opportunity to review your product. As my new Whirlpool refrigerator is only a month old, I would expect it is working in satisfactory performance. I like the style and all components, shelf size, cooling,ice making are very well thought out and engineered However, the installation and customer service component is lacking. The doors are uneven. I called customer service and my warrantee contact number. Was told it might not be covered as it was not a malfunction of the refrigerator. So, to be determined by technician and it would cost $80. to inspect plus cost of repair if not covered. Wow!!! New product with uneven doors and I might have to pay (probably) to have the problem resolved? Not a good start to what I hoped to be a professional relationship.
Date published: 2020-06-03
Rated

2

out of

5
by
Queenmom
from
Not what I wanted
Not nearly as roomy or functional as my Frigidaire. Too much wasted space and not enough shelves. They provided 4 places for shelves and only 3 shelves. Could have provided one more shelf with a drawer attached and would be much more useful. It was delivered with a broken water tube coming out the back of the unit and I am still waiting on a repair. 3 weeks so far. I also see this review is expected for a 24 cu. ft. and I have a 25 cu. ft. Not sure if Whirlpool has it's act together. Buyer beware.
Date published: 2021-05-11
Rated

2

out of

5
by
Safraire
from
Goteo de agua
Vino con la compra de nuestra casa, junto con otros electrodomesticos que basicamente hacen lo que tienen que hacer, se ven bien, pero el refrigerador no tiene algun contenedor para detener goteos de agua del dispensador de agua o hielo, si mi hijo se sirve hielo partido terminan los pedacitos de hielo en el piso de madera y tengo que estar siguiendolo tan pronto escucho el dispensador para no solamente limpiar el piso sino la puerta para que puedar durar sin tanta linea que ya se esta marcando en ella.
Date published: 2020-07-20
Rated

5

out of

5
by
Jackio O
from
Best Refrigerator, HANDS DOWN!
I recently bought a side by side refrigerator a week ago and let me tell you, it's so awesome, there is so much room in it and all the shelves space out just perfectly and it's very durable, I HIGHLY recommend this brand, I've had several different ones throughout the years but this one tops them all, and BEST part is it's a Whirlpool, this company has been around for years, you know you can ALWAYS count on them to produce the best product they can! ... you can try another brand but if you have ever owned a Whirlpool you will always come right back to them, there is no doubt who rates #1 in my book and it will In yours to once you've owned one, don't second guess buying another appliance, get the very BEST from the get go, you'll be glad you did!... IT'S WHIRPOOL ALL THE WAY AROUND!
Date published: 2021-04-04
Rated

4

out of

5
by
gail
from
Great size
I love the overall size of the Refrigerator with very deep shelves. The are easy to clean and sturdy. I wish it would have included some kind of tray for the lunchmeats/cheeses. It just has shelves, no sliding tray. I love the fact the ice dispenser is separate from getting water. BUT, the water dispenser drips after use and goes right down the front of the fridge. Maybe they could come up with a tray that would extend out. The surface of the fridge ends up with water marks down the front.
Date published: 2021-02-10
Rated

2

out of

5
by
Pine
from
Ice maker is not working properly, ice freezes.
Was installed (new house) 2 months ago. In new DR Horton subdivision.
Date published: 2021-06-14
Rated

4

out of

5
by
IzzyNiKo
from
Crushed Ice!!
So the 4 stars all come from the crushed ice feature- the kids and myself absolutely love to eat ice. However I could not give it five stars for the fact the storage shelves within the freezer side door are small. There are about 4 so you have options, but each one individually is rather small capacity. But if you love a quick glass of water or a tall cup of crushed ice then you will love it. The fridge side is extra spacious and has room to store a pretty large size sheet cake for birthdays.
Date published: 2020-02-20
Rated

5

out of

5
by
Whit11
from
Good quality
We received this with the purchase of our new home and have been happy with the fridge and freezer. Had a little bit of water leak from the water and ice dispenser but that has since cleared up
Date published: 2018-03-07
Rated

4

out of

5
by
New guy
from
Basic
Bought a new house and got this. No cheese drawer, only fruit and veggie. Thought I could live without a cheese/snack drawer but I can't. Also the most annoying thing, if a cup is slightly larger than the opening for ice, buyer beware. The water button is on the outer most edge and if you attempt to get ice and bump the water by mistake be prepared to clean the freezer door and floor. Happens mor than I care to admit, should've been designed differently to accommodate large glasses.
Date published: 2020-04-13
Rated

4

out of

5
by
Beth_108
from
Does what it needs to do!
Definitely keeps my frozen food extra cold which is great because I find some freezers do not do a great job if they are not well stocked. I enjoy the ability to get ice and water from the door but sometimes you press the water button accidentally when trying to get ice since they are two separate buttons. My water dispenser also stopped working about a week after I got it, but I do have someone coming over today to fix it so hopefully it will be good as new. Overall a great fridge.
Date published: 2018-10-16
Rated

3

out of

5
by
Lin -M
from
Pretty disappointed
This is the same size as my old refig but has much less room inside. The most disappointing thing is that there is no cheese/lunchmeat drawer and even more disappointing is you can't even buy it. When we looked at the refig in the store all the drawers were piled up and we did not realize that feature was missing. I had always had a drawer like that so I could not believe there was none. Glad that we are moving in the next 2 years so I have to live with what I got until then
Date published: 2018-10-07
Rated

5

out of

5
by
Nancyy
from
MORE Than a Refrigerator!!!
My new Townhome came with this Whirlpool Side-by-Side Refrigerator and I LOVE IT! Not only does it hold EVERYTHING I want - the fridge door holds as much as the shelves and that's super convenient, there's 2 big, deep drawers for fruits & vegetables, and meats & cheeses, the freezer handles all my stock, there's a filtered water & ice maker - AND the icons for the water & ice dispenser act as a Nightlight for my kitchen!!!! Who else has a fridge out there that can do that?!?
Date published: 2019-06-26
Rated

3

out of

5
by
Sal.
from
Broken piece
I bought this refrigerator and it came with a broken piece inside. Also the drinking water is not cold.
Date published: 2020-07-27
Rated

5

out of

5
by
Patricia
from
Great buy!!
We bought two refrigerators about three weeks ago. Love the ice and water dispensers on the door. So much room inside, it looks like we don't have much food anymore. It is easy to clean. We wanted to buy a "made in America" product. This was as close as we could get. Whirlpool was a favorite of my husband's, and he worked in the business as a repair technician. Can't get a better recommendation than that! Our last Whirlpool refrigerators were 14 years old!!
Date published: 2021-05-12
Rated

5

out of

5
by
RuNart
from
Excellent Refrigerator
Not too fancy but extremely tech savvy. I like the compartment lay out too
Date published: 2019-05-15
Rated

3

out of

5
by
KCZ8
from
Poor design
I moved into a new home with this refrigerator 2 months ago. Everything works well, however the dispenser on the door is poorly designed. The water spout is out too far-water drips down front of the door and the floor. Also, the buttons should light up- can't see the button to turn on the light! And the light is below and behind the ice & water dispensers, so it is impossible to see how much is going into the glassw/o turning on an overhead light in the kitchen!
Date published: 2019-10-13
Rated

1

out of

5
by
FlBeachBum
from
It came with the house
We purchased a condo and the appliance package came with it! There is nothing about this fridge that I like! It shows every little thing on the stainless steel. I can clean it with stainless steel cleaner and it still looks streaky! Ugh..... Also it has a crack in the bottom of the fridge part! It freezes my fruit even on the second level of cold and last but not least when it is running it sounds like a race car. No room, no smaller meat drawer!
Date published: 2020-06-15
Rated

4

out of

5
by
Daniel
from
Good refrigerator bad door
So my wife and I purchased a DRHoton home with an appliance package. Stainless steel refrigerator, dishwasher, range, and microwave! Love the quality of Whirlpool Love the looks and love the fact we have a beautiful home to have these things. Problem is our refrains right next to the pantry. So as you open the refrigerator door and you happen to let go of the door to grab something, the door slams into the pantry door. I have researched ways to either install a door stop or put some padding on the door handle which looks really bad. I have been unsuccessful in finding a resolution We love the whirlpool item but will be forced to look into a different brand if this cannot be resolved. I would love to email someone a short video of how the door slams open but unable to do it for some reason Very respectfully Dan I have
Date published: 2021-02-11
Rated

4

out of

5
by
gDr9
from
Nice design look
This fridge was the builder's spec and it was an excellent choice with one exception; I had to call for warranty repair the first day due to a faulty valve to the water dispenser that wasn't working although there was ice. Otherwise, the space, ease of organizing, and overall convenience have been excellent. Temperature regulation is quite accurate and seems well distributed; the interior has great lighting and an appealing clean look.
Date published: 2019-05-10
y_2021, m_6, d_16, h_18
bvseo_bulk, prod_bvrr, vn_bulk_3.0.17
cp_2, bvpage2n
co_hasreviews, tv_0, tr_429
loc_en_US, sid_WRS315SDHM, prod, sort_[SortEntry(order=RELEVANCE, direction=DESCENDING)]
clientName_whirlpoolbrand
bvseo_sdk, java_sdk, bvseo-4.0.0
CLOUD, getReviews, 3ms
REVIEWS, PRODUCT
Bundle summary&nbsp (&nbspitems)
If Purchased Individually*
*Offer subject to change. Limit one use per order. Valid for bundles delivered to a single U.S. address. Bundle savings based on current pricing available from Whirlpool.com. Only valid for new orders on Whirlpool.com.
See how we handle Returns
.