36-inch Wide Counter Depth Side-by-Side Refrigerator - 21 cu. ft.

WRS571CIHZ

Model: WRS571CIHZ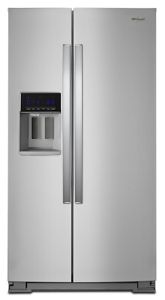 36-inch Wide Counter Depth Side-by-Side Refrigerator - 21 cu. ft.
36-inch Wide Counter Depth Side-by-Side Refrigerator - 21 cu. ft.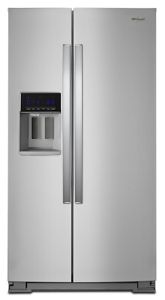 Key Features
Exterior Ice and Water Dispenser with EveryDrop™ Filtration
Color
Fingerprint Resistant Stainless Steel
Sign in to unlock lower pricing
Frequently bought additional items
Why shop Whirlpool® appliances
Overview
Product Overview
36-inch Wide Counter Depth Side-by-Side Refrigerator - 21 cu. ft.
Store more of your family's favorites in this counter depth refrigerator. The counter depth design makes extra room in the kitchen and features an exterior ice and water dispenser with EveryDrop™ filtration. In-Door-Ice® storage gives you an extra full shelf in the freezer and the refrigerator's Accu-Chill™ temperature management system keeps family favorites in their ideal environment with quick cooling.
Fingerprint Resistant
Available in black stainless steel and stainless steel finishes, easy-to-clean steel resists fingerprints and smudges.
In-Door-Ice® Storage
Get an extra full shelf in the freezer with an ice bin that's been moved to the door.
Frameless Glass Shelves
Store more items on each shelf with wall-to-wall frameless glass shelves, which offer greater storage flexibility.
Additional Features
Counter Depth Design
Add additional kitchen space with styling that fits virtually flush with the countertop.
Exterior Ice and Water Dispenser with EveryDrop™ Filtration
Access fresh filtered water and ice without ever opening the refrigerator door.
Specifications
Dimensions
Depth Closed Excluding Handles
Depth Closed Including Handles
Depth With Door Open 90 Degree
Height To Top Of Door Hinge
Configuration and Overview
Appearance
Controls
Air Filter Indicator/Reset
Filter Details
Water Filter Indicator/Reset
Refrigerator Details
Number of Interior Shelves
Freezer Details
Freezer Number of Shelves
Dispenser Details
Filtered Water, Measured/Metered Fill, Filtered Ice, Control/Child Lock, Night Light
Icemaker Details
Certifications
Freezer Compartment
Compatibility
Description
Configuration
Installation Configuration
Refinements
Icemaker
Reviews
Rated

1

out of

5
by
Bmcoop
from
Freezer works, fridge section does not work
I bought this refrigerator June 25 2020 and the refrigerator side does not keep my food cold. My milk fermented and my butter is soft as if it was room temperature. I used a laser thermometer on the food it was supposed to keep cold and it read 60 degrees f. I looked at the website and trouble shooter multiple problems and none of them worked. And yes I did check the temperature control and it was set to 20 degrees f. They could not get someone out to look at the refrigerator for a week probably because of COVID19. Still frustrating when you buy a brand new product and it does not work and now have to deal with it.
Date published: 2020-07-20
Rated

1

out of

5
by
Kim Calderon
from
Problems at the starting gate!
I bought a brand new 2019 Jayco Eagle. We just took it for first use to Falcon State Park and the refrigerator is only cooling at the bottom of the unit. I cannot even keep milk on the top shelves of the FREEZER because it is so warm. I own Whirlpool refrigerators in my homes and other Whirlpool appliances and have never had this many issues with trying to get repairs done. I cannot rate the frig on a number of indicators that you have listed below because it is not working right. Whirlpool could not even find a repairman to send out. I found one but am still waiting a week and a half later for repairs.
Date published: 2018-08-29
Rated

3

out of

5
by
DonnSn
from
Counter depth side by side
I bought this model to replace my counter depth 36" wide refrig. I like the no smudge stainless steel finish. The look is very nice. I like the sleek look of the handles. The paddles for ice and water are harder to push than my old refrig.plus when you push on them the ice doesn't start immediately it takes a few seconds to respond. It's taking me time to get use to the delay. I do miss my 36" wide shelves; especially in the freezer. I'm just not used to the new configuration and where items will fit best. I wish there was more space between the top refrigerator shelves to fit taller items. I do like the way the drawers slide out so easy.
Date published: 2019-07-15
Rated

3

out of

5
by
helened
from
Not Thrilled
It looks nice but.........Almost right away, I needed a service call because it was freezing all the food in the frig even though it was set at the default temperature. (We've raised the temperature but it still does not keep to the temperature it is set at.) Still waiting (over 2 weeks) for that service guy to show up. Unit interior is much smaller than my previous Whirlpool side-by-side and does not have enough shelves in either the freezer or refrigerator. Thank goodness, I have a 2nd frig in my garage! I was limited on what I could select because, in my home, it has to be counter-depth. I can't say I'm thrilled with this refrigerator.
Date published: 2020-12-17
Rated

5

out of

5
by
Rich K
from
Nice Refrigerator!
I have it for 6 weeks and it seems to be a great refrigerator. The ice maker and water dispenser works great. Just so everyone is aware I did have some problems an i would attribute that to me being on the 3rd floor. The install crew removed the doors to get it to me and may have bounced it a bit which lead to a water leak and a noisy fan. A whirlpool repair technician came and tightened the water lines and found the fan had popped out of its mount which created the noise. He fixed it all and all looks and works good. The fan still maes a little more noise than i would like. Time will tell how good but for now this sees to be a great buy.
Date published: 2020-11-20
Rated

2

out of

5
by
Umglick99
from
Great features, Poor quality control.
Service guys ok, quality of unit lacking, will be back for third visit. The temperature in the refrigerator set at factory setting too cold. Service guy raised to 40 from factory 38 setting. still will drop to about 25 degrees-I have two thermometers in fridge. Service changed temperature sensor, still wide temperature fluctuations to 20's in fridge! We keep medication in the fridge portion so I need unit to function properly. Air filter(came without filter)enclosure in fridge not flush against fridge wall next to freezer.Weather stripping on freezer door only partially attached to unit. Love convenience of controls,door ice, water but water flow slows greatly to trickle after about few weeks, filters expensive if changed every 6 weeks. Value would be great if not for problems. Noise doesn't bother me. Fridge Capacity would be acceptable if you didn't have to leave so much area for cold air to flow, were able to put food near the back and freezer dividing wall. Cold air comes out from freezer when closed. I'm hoping whirlpool can resolve so we can start doing full food shoppings again due to freezing. I'm trying without luck to add pictures, as they speak volumes. Embarrassing for Whirlpool, a brand I've used and trusted.
Date published: 2018-06-02
Rated

3

out of

5
by
Skeiser
from
A little disappointing
We purchased this refrigerator in June at the same time we bought other items for our kitchen remodel. I left it packaged up from delivery until a couple of weeks ago when we were ready for it. The first thing I noticed was an excessive amount of glue protruding from the plastic trim along the top of the refrigerator door. I was able to peel some of it off, but it appears it was overfilled in some areas, which leaves a gap in some areas between the stainless and plastic trim. It isn't very appealing and I can't see how it should have ever left the factory that way. Upon unpackaging it and setting things up, I found that the air filter and door adjustment wrench that are supposed to come with it were not included. I emailed Whirlpool customer service a couple of weeks ago, mainly wanting to see about getting the air filter, but have yet to hear anything back. I've always been very happy with our other Whirlpool products and their customer service, but no so much this time.
Date published: 2018-09-16
Rated

2

out of

5
by
DougJ
from
Good but not Great
I bought this refrigerator less than a year ago and the ice maker quit. I bought a service plan from the store to cover failures, that has been a nightmare to get someone out to repair it. First it took three days of constant calling and waiting on hold before reaching a person. Once reached, services repair was scheduled and technician came out but didn't have the part to fix it. No going on second week of waiting to hear from someone to tell me if the part or the service guy will ever return. The rest of the refrigerator has been good, but it is awfully small inside and we have trouble storing things in the freezer and refrigerator. It doesn't seem as large as advertised.
Date published: 2020-08-04
Rated

3

out of

5
by
FinallyGotStainless
from
Nice looking but noisy
We are replacing a Whirlpool side by side with this one. This one looks a lot better but it is a lot louder than our last fridge. You would think the technology would be better after 15 years. This one seems to run almost non-stop which our other one didn't do. And the ice maker is so loud. Not only when it drops ice but it screeches when the water fills up the ice maker. The filter in the fridge rattles when you open the door. I'm a little nervous this thing will have all sorts of issues eventually. I thought about returning it but I'm keeping it because it looks nice and I didn't want the hassle of having another one delivered.
Date published: 2018-06-13
Rated

5

out of

5
by
Cardinals Fans
from
Loving It
We've only had the fridge for about a week, but so far we are happy with it. First time owning a side-by-side, but this particular unit was a counter depth unit that fit very well in our space so we went with it. Glad we did. Looks real sharp in our kitchen. The water that comes out of the dispenser tastes great as well as the ice. The replacement air and water filters are a little pricey, but they only have to be replaced about every 6 months, so make sure to check that out before you make your purchase. Our last fridge was purchased 27 yrs ago and has now became our "extra" refrigerator. Hoping this one lasts at least that long.
Date published: 2020-05-25
Rated

4

out of

5
by
James.S
from
Love this refrigerator and my Whirlpool dishwasher
I recently purchased a new Whirlpool dishwasher and was really impressed with it. So I bought this Whirlpool fridge three weeks ago. When it arrived it looked great, still does. It runs very quietly. Large and bright interior. Exactly what I was looking for. The only issue I have and still have is excessive frost on the door and just inside the freezer. On the third day of owning it I could barely open the door. Other than this issue I love it!!! I have not contacted the vendor yet.
Date published: 2019-07-18
Rated

5

out of

5
by
Raserx
from
Love the in-door ice maker!
Have been installed for 1 month now, and we love all the new features that were not on our 20 year old model it replaced. The finger print resistant stainless steel is awesome! While our kitchen layout restricted us to a counter depth model, it still provides plenty of room for our family of four. The one thing I had initial questions about was that it seems to "run" more often than the older model, but all the threads online said this is true of all new energy efficient systems with assurance that while running more, the power consumed is still less than the old model.
Date published: 2019-06-20
Rated

4

out of

5
by
jnealer
from
Solid, with odd shortcomings
This fridge has the basics down well - the layout is good, the ice machine works great, and it's perfectly quiet. On the other hand, the "buttons" in the door dispenser are UNDER the plastic front cover, so that if you want to change any of the options for the fridge or dispenser, you just sort of mash the cover with your fingers until something happens. I've had this fridge for 2 months now, and I'm still not exactly sure where I'm supposed to push. It makes the dispenser feel and look very cheap. Also, it really should come with an extra shelf in both the fridge and freezer sides - you'll almost certainly have to buy more yourself.
Date published: 2019-06-14
Rated

4

out of

5
by
Anonymous
from
Just what we wanted
Bought this counter depth fridge awhile back and it has been just what we were looking for. Fit perfectly in our niche in our small kitchen. Plain glass shelves are good for us, we have seen fridges with the big bulky "spillproof" etc. No need. You may consider it trivial, but the feature I like best is the ice cubes! They are triangular in shape, which makes them much more functional in a glass of tea or an adult libation in the evening or at a party. They are much easier to deal with than the old-fashioned 1/2 moon or 1/2 circle ice cubes, which don't ride properly in a glass, and even hold together, making q spill likely.
Date published: 2021-02-17
Rated

4

out of

5
by
1moresunset
from
Good value for the price
The refrigerator section is plenty roomy for a small family. The freezer is missing shelves which from other reviews was expected but not quite understood. The only crazy thing which should not be an option is to turn "cooling off" on the water ice dispenser which happened when my grandkids were visiting. I thought because we had put a lot of grocery in and it was accessed often, that the unit was trying to cool off, but to my dismay and more lost groceries, it actually meant that someone had turned the cooling off!!! I figured it out the next morning when everything in the freezer had thawed.
Date published: 2019-10-22
Rated

4

out of

5
by
Brad M.
from
Needs more freezer shelves
I bought this model two months ago mainly because it was in stock at Lowes, and my previous refrigerator crapped out on me. My two previous refrigerators were LG's, which both looked attractive, but both of them died at just 3-4 years old. Costs of repairs and hassle of dealing with repair men drove me to replace with new. I'm trying Whirlpool on a whim and hope it lasts better than LG. This model is not so attractive, but at this point I value reliability over beauty. So far so good, but I'm disappointed that the freezer doesn't have more shelves. There are plenty of shelf slots, but only a few shelves. Doesn't make sense.
Date published: 2021-02-21
Rated

3

out of

5
by
Doug K
from
Nice refrigerator but quality issues
The icemaker in this refrigerator is an issue! We've had our refrigerator since July 2019 and our icemaker quit working. The ice cube tray popped out and I found it in on top of the ice cube bin. It appears that ice cubes become lodged around the tray and the tray catches on the lodged cubes and the tray will not rotate. I did not expect to have to replace my icemaker after such a short time and it appears this will be an ongoing issue because of this design. The other issue we've experienced is good freezing on the top shelf of the refrigerator, as has been reported by others. Overall, we like the refrigerator but the design has its problems.
Date published: 2020-01-08
Rated

4

out of

5
by
Greatgrand3
from
Ice maker is a great feature
I bought this almost a month ago, recommend by a repair person, made in America and easier to service if need. My previous refrigerator lasted less than 6 years and cost to repaired was almost as muc as a new one. The whirlpool is smaller and more compact than my last one. However it didn't have a butter or egg keeper which I really liked, but the ice maker is better. It shuts off automatically when the ice bin is full. The old one kept making ice until shut off manually. The delivery team wasn't as accommodating as the team for the old refrigerator, but Whirlpool stepped up to make up for the lack of follow through by the store—it was really appreciated
Date published: 2021-02-26
Rated

5

out of

5
by
Yetive
from
Very nice fridge. Working great so far.
I've had my refrigerator for 5 months now and really like it for the most part. The way the ice dispenser is configured in the freezer door is really a space saver. Also, the fingerproof stainless really does resist all kinds of smudges we had with out last stainless appliance. The things I do not like is: 1) There is no way to calibrate the water dispenser ounce flow. It takes me 24 of their oz to fill a 2 cup measuring cup. You can change this but it doesn't stay changed. 2) It really needs another shelf in the freezer. It comes with 3 adjustable shelves but there is a really big gap regardless of how you move them around making for a lot of wasted space.
Date published: 2019-03-17
Rated

3

out of

5
by
Brandon
from
Sleek and simple
I have had this item for around two weeks now and it is a simple style fridge with not much freezer space. They try to save room by placing the ice maker in the door but make the entire middle section unusable. The fridge is very loud also. I can hear the fridge all the way upstairs. It literally sounds like what other fridges sound like when the evap fan is freezing up or hitting ice. Paper thin thank good for insulation. I can see this think collecting lots of dents easily. It sad to see that 30 years go by and the only thing this company has manage to update is less quality. I think it's time to stop buying junk like this and start buying things that last.
Date published: 2021-04-08
Rated

4

out of

5
by
Anonymous
from
Good but should include more shelfs
The refrigerator is good but missing 2 or 3 shelfs in the freezer, and another 3 or 4 in the refrigerator door. Also, no covered butter shelf? I miss the covered shelf everytime I open the fridge. I would recommend to a friend but warn them about the missing shelfs.
Date published: 2020-11-01
Rated

2

out of

5
by
SanJosemom
from
Disappointed
I bought this online without being able to see it in person due to the shelter in place order. It looks nice but I don't like it. The ice and water dispenser splash and get water and ice all over. Everything in the fridge is always wet. The top shelf seems to be unable to hold the weight of milks and juices and it's the only shelf tall enough to put them on. The shelves are not designed well for storing taller items and the door shelves are not deep enough to hold many items. The freezer is small and it's impossible to organize the food. I had to stack it in big piles I don't like it.
Date published: 2020-05-22
Rated

2

out of

5
by
DTB33
from
Broken wires in door
I purchased this refrigerator in May 2018. Ice maker stopped working in June 2020. Since it was out of warranty I thought the ice maker was broken and I replaced it, didn't correct the problem. Called a repair man, he couldn't fix it. Looked on the web and I saw many posts talking about broken wires at the base of the freezer door by the hinge. Looked at mine and I found three broken wires. This appears to be a common problem with this side by side but Whirlpool won't address the issue. I can't replace the wire harness since it is molded into the door. Looking for Whirlpool to replace the door or the refrigerator.
Date published: 2021-01-22
Rated

5

out of

5
by
Tiger Mama
from
Love this refrigerator!
We bought this when our fridge went out at the height of covid19. A friend recommended this brand as we had many issues with our prior fridge and didn't want to be in the same position of having a fairly new product not perform. So we went with a Whirlpool after reading great reviews. We are so hoping that this brand will be successful and we won't have problems with it. So far we love everything about it. Good room even though it is counter depth. Adequate freezer space. The only recommendation I would make is to make the freezer shelving more like a basket as frozen foods don't stack well and 'basket type' shelving would solve that issue. Otherwise, we love it!
Date published: 2020-04-30
Rated

1

out of

5
by
Steve Not Happy
from
$360 Service Call for Bad Fan less than 2 years
We normally buy Whirlpool products. This refrigerator was very nice with features and fit into our space. We have owned it for just under 2 years when our freezer was completely thawed one morning. We used Whirlpool service and it was a bad fan motor. It cost $110 for service to show up and $250 for the part and install which took less than 15 minutes. $360 for a refrigerator less than 2 years old is not good. I would have recommended this fridge last week but not today after paying $360 and losing several hundred in ruined food. I hope the Whirlpool oven, microwave and dishwasher last longer without major service.
Date published: 2020-01-14
Rated

3

out of

5
by
Mike320
from
Good features, but has issues
We have a small narrow kitchen so we wanted to maximize space. The router depth fridge did the trick. Although we wish it has a little more room inside we get by. The main gripe I have is that the fridge door slams into our counter top! I have looked and there is no way to adjust the swing of the door so unless you scoot the fridge out from the counter by a foot (thus eliminating the point of having a counter depth fridge) there is no other way to fix the issue. Im also noticing cracking on the hinges. And the water and Ice dispensers are very firm. I wish I would have known about the deficiencies before we purchased the fridge, we would have chosen another brand.
Date published: 2020-11-14
Rated

5

out of

5
by
Nonied24
from
Love the refrigerator
Love my new refrigerator however one of the door bins came cracked. I was unable to make any contact with Whirlpool via phone or website wasn't able to start a live chat so sent an email that said would be answered within 3 days and still have not heard back from them it's been 2 weeks. Whirlpool needs to up their customer service! I returned to Menards where I bought my fridge and they gave me a bin out of the floor model after I told them what happened trying to contact whirlpool so kudos to Menards. Gave the product 5 stars but would not recommend due to poor customer service.
Date published: 2018-10-30
Rated

4

out of

5
by
Paul33570
from
Awesome fridge
We have had this fridge now for about 3 weeks. We had a French door fridge by Kenmore that didn't cool anymore and the price to fix it was ridiculous. Got the counter depth model to help our small house. It's nicely thought out. So happy to have ice and water in the door again and the ice maker is on the door of the freezer not taking space in the freezer itself. Oh the water comes out cold too. I am in Florida so that's a bonus. Enough room for 2 people but not suggested for a family. It's smaller BUT there is enough space. Oh and this thing COOLS easily. The only draw back is it doesn't include the air filter for the fridge. Easily bought on Amazon for like $10.
Date published: 2021-06-08
Rated

5

out of

5
by
ValerieP88
from
Love this fridge!
I bought this fridge after going almost a month fighting with the Home warranty company on my broken fridge. I opted to buy this one rather than the GE one they wanted to send me. I'm so glad I bought this one. It has extra features I love like the backlight on the paddles for the ice and water. It also tells you how many ounces of water are in whatever you just filled up from the door. It was also the only fridge that truly fit in my space. All the other ones stuck out too far. This fridge looks great, works wonderfully and is super quiet. Would recommend this fridge to anyone.
Date published: 2020-02-25
Rated

5

out of

5
by
Karen
from
Great Appliance
I have had this refrigerator for a couple of weeks after having my first Whirlpool refrigerator for over 20 years, and I am very happy with it. It is a bit smaller than my first one, but I was pleasantly surprised at how much room is inside. There is adequate shelving in the refrigerator. The only thing I miss is the compartment at the top of the door to put butter and other small items in. The freezer is also roomy, but it could use another shelf. I love the ice maker, where it's placed on the door, so it's easy to access, and the dispensers on the front are easy to use and program. Overall, it's a great buy.
Date published: 2021-04-16
y_2021, m_6, d_17, h_18
bvseo_bulk, prod_bvrr, vn_bulk_3.0.17
cp_2, bvpage2n
co_hasreviews, tv_0, tr_1906
loc_en_US, sid_WRS571CIHZ, prod, sort_[SortEntry(order=RELEVANCE, direction=DESCENDING)]
clientName_whirlpoolbrand
bvseo_sdk, java_sdk, bvseo-4.0.0
CLOUD, getReviews, 2ms
REVIEWS, PRODUCT
Bundle summary&nbsp (&nbspitems)
If Purchased Individually*
*Offer subject to change. Limit one use per order. Valid for bundles delivered to a single U.S. address. Bundle savings based on current pricing available from Whirlpool.com. Only valid for new orders on Whirlpool.com.
See how we handle Returns
.