Heavy-Duty Dishwasher with 1-Hour Wash Cycle

WDF330PAHS

Model: WDF330PAHS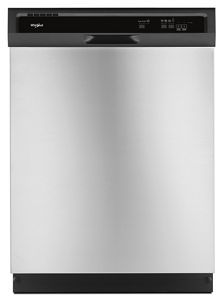 Heavy-Duty Dishwasher with 1-Hour Wash Cycle
Heavy-Duty Dishwasher with 1-Hour Wash Cycle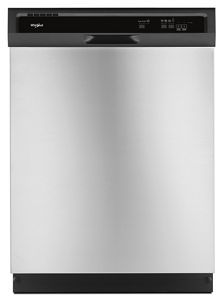 Key Features
High Temperature Wash Option
Sign in to unlock lower pricing
Why shop Whirlpool® appliances
*Your rate will be 0% or 10–30% APR based on credit, and is subject to an eligibility check. Payment options depend on your purchase amount, and a down payment may be required. Payment options through Affirm are provided by these lending partners: affirm.com/lenders.
Overview
Product Description
Heavy-Duty Dishwasher with 1-Hour Wash Cycle
Get the right clean for your dishes with this heavy-duty dishwasher. Finish the job in half the time with the 1-Hour Wash cycle* and rely on the soil sensor to adjust to the soil levels of your dishes for the most thorough clean.
Features
1-Hour Wash Cycle
Clean dishes in half the time1 so your plates, pans and glasses are thoroughly cleaned up and taken care of in just an hour.
Additional Features
Soil sensor
Determines how dirty dishes are and adjusts the Normal cycle as needed to make sure dishes come out clean.
Normal cycle
Use for normal amounts of food soil to clean up leftover messes from your day-to-day meals.
Heavy Cycle
Takes care of heavily soiled messes and other hard-to-clean dishes without the extra elbow grease by adding extra time to the cycle.
High Temperature Wash Option
Gives items like baby bottles, glassware or dishes a more thorough clean.
Heated Dry Option
Use a clean, dry dish straight from the dishwasher thanks to added heat for drying. For optimal drying results, use this option with rinse aid.
ENERGY STAR® Certified
ENERGY STAR® certified models exceed government standards to help save money on your utility bills.
Industry's best selling dishwasher brand2.
Based on 12-month average of sales. TraQline 2017.
2 Based on 12-month average of sales. TraQline 2016.
Designed, Engineered and Assembled in the U.S.A. with American Pride
Specifications
Dimensions
Depth Closed Excluding Handles
Depth Closed Including Handles
Depth With Door Open 90 Degree
Configuration and Overview
Controls
Automatic Temperature Controls
Appearance
Details
Rinse Aid Dispenser Level Indicator
Cycles and Options
Lower Rack
Silverware Basket
Certifications
Refinements
1-Hour Wash, Energy Star® Certified, Standard
Exterior
Compatibility
Options
Dishwasher Option Selections
4 Hour Delay, Control Lock, Heated Dry, Hi Temp Wash
Features
Reviews
Rated

5

out of

5
by
byoung
from
Dishwasher
So far, it work great! But we have only used it twice. Please check back with me in six months and I'll let you know.
Date published: 2017-10-03
Rated

5

out of

5
by
Roln1
from
Washes well
This model came with our new KB home. So far, it works well. Dishes come out clean. Decent capacity. Quiet.
Date published: 2018-08-03
Rated

5

out of

5
by
Rogo1
from
Great Dishwasher!
I purchased a new home and this was dishwasher came with it and performs great.
Date published: 2019-01-31
Rated

5

out of

5
by
Anonymous
from
Awesome Dishwasher
Runs very quiteCleans goodPlenty of room for a single familyEasy to operare
Date published: 2017-08-09
Rated

4

out of

5
by
juju
from
Great simple features
I have had my new dish washer for about 2 months and it's great .
Date published: 2017-10-09
Rated

5

out of

5
by
Jo
from
Happy with my purchase
So much more quiet than my old one. So glad I made this purchase.
Date published: 2017-09-28
Rated

5

out of

5
by
Brockmisty
from
Cleans amazingly!
I love it! Works great!! Would recommend to anyone!
Date published: 2019-07-26
Rated

5

out of

5
by
BUBBAH
from
NICE DISHWASHER
AS ADVERTISED - DOES A GREAT JOB!
Date published: 2017-08-01
Rated

4

out of

5
by
Anonymous
from
Great
happy with this so far
Date published: 2017-08-14
Rated

5

out of

5
by
Mine
from
Great Machine
Great Machine
Date published: 2017-08-16
Rated

1

out of

5
by
Scott
from
Dishwasher Doesn't Work
I am a owner of a new home. The builder gave me this model as a loaner due to the the primary dishwasher not being available (I have been notified that this is delayed another 4 weeks!). As of this review, I have been in the home for 3 weeks without a working dishwasher. The problem was discovered a week prior to me moving in during the pre-walkthrough inspection. The builder has not made any progress in replacing or repairing the unit. I finally submitted a ticket with Whirlpool and was notified that my service date was 2 weeks out. Very disappointed with the builder, the dishwasher and the service. Issue: Dishwasher runs but does not using any water. Plumber confirmed that water to the unit is fine. I am unable to rate the usability features as the dishwasher is not working. Therefore, I must rate as a 1 star for all features.
Date published: 2021-04-29
Rated

4

out of

5
by
TammyL
from
Clean and dried
I don't really need a dishwasher, it's just me. But the old one didn't work and it's nice to have when there's company and of course resale value in your home. I am so happy I did replace it. I run it about 2 times a week and everything comes out clean and dry! The only thing I wish it had was a pause button. Never fails I start the machine and come across some else that needs or could be washed. But over all I'm very happy with my new dishwasher.
Date published: 2021-02-15
Rated

5

out of

5
by
Squasha
from
It's a beast!
Very light machine and I was worried it was going to be flimsy. But after a first few washes, I am very pleased. Light on features, heavy on performance. Everything comes out steamy and sparkling. So far so good, but as everyone who has purchased a washing machine in the past decade knows, it seems these things have a predetermined lifespan (surprisingly about the exact same length of time as the warranty). But for now, very pleased!
Date published: 2021-02-26
Rated

1

out of

5
by
g3632575
from
Dishes are wet
I had a service call regarding this. The technician told me to add rinse aid as well as making sure the water temp reaches 120 degree. I did an experimental wash that night by following his instructions and after the wash, the top ones were dryer but the bottom ones were still wet. This is the very first dish washer that I have to add rinse aid and worry about the water temp. It has been very inconvenient for me. I hate it!
Date published: 2019-10-07
Rated

5

out of

5
by
SJ Miller
from
Excellent Dishwasher
We needed to replace our 18 year old dishwasher which had finally died. After several weeks of shopping and considering various dishwashers we bought this Whirlpool based on quality, experience with Whirlpool, features (we wanted a quality basic dishwasher - no need for wi-fi built in etc.), and price. We couldn't be happier.One thing that surprised us was how quiet it is. The old unit compared to this sounded like a wood chipper!
Date published: 2017-07-04
Rated

1

out of

5
by
Dishappointed
from
Does not dry
Does not dry the dishes at all. What can I do with wet dishes. I can't put them in the cabinets. I filled it with jet dry and it's still full after six months of use. I don't know how large the jet dry reservoir is but it seems like it should need refilling sooner than six months. Dishwashers should wash and dry dishes, that's the function of a dishwasher. If you take away one of those functions you no longer have a dishwasher.
Date published: 2020-09-16
Rated

1

out of

5
by
Sherl
from
Not a good produce from Whirlpool.
The dishwasher was included in my new constructed home however i am very disappointed that the dishes do not dry. The dishwasher stays moist all the time even with the use of a rinse aid. I've tried to leave the dishes in for a couple of days but they are still moist. Even though it is a quiet wash, it doesn't dry the dishes with literally water still dripping off the plates and glasses. Extremely disappointed with this unit.
Date published: 2021-01-19
Rated

5

out of

5
by
Debbe
from
Quite and efficient!
This dishwasher came with a new house purchase so I didn't pick it out. I was hoping I would like it. I found from the beginning that if I use a tablet that contains the rinse agent or I added a rinse agent to the dishwasher rinse compartment that the performance is great! It is quiet and cleans the dishes well. I am very pleased. The front panel is an attractive fingerprint-free stainless steel. I am a very satisfied customer.
Date published: 2021-02-27
Rated

5

out of

5
by
Working Domestic Goddess
from
Help When Needed
This dishwasher was included in my new home purchase. I live alone and really didn't need a dishwasher! I found it a blessing in disguise when I needed to wash all of my dishes, pots & pans after moving. This Whirlpool dishwasher was the extra help that I needed to complete the task quickly and efficiently. I love having this option available on holidays and special events. It allows me more time to spend with my loved ones!
Date published: 2021-04-19
Rated

2

out of

5
by
Anonymous
from
rather keep using my hands
This dishwasher came with the home I had built. I hate it. Im not sure if it is broken or it is just this crappy but the dishes are never ever ever dry when its done. you have to open the dishwasher and let it air dry for an hour which then leaves water spots. there is a setting for a dry and it doesnt dry them even in the slightest. if i can edit this review after the next time i do the dishes i will take a picture.
Date published: 2020-10-24
Rated

5

out of

5
by
Nicole LH
from
Easy Peasy
I have been using this dishwasher for over a month now and it is really easy to use with not too many functions too confuse the user. It does exactly what is needed and my dishes come out clean and sparkly, an appliance should not be difficult to use and this has definitely passed the test. The filters in the dishwasher are easy to take out and clean as necessary, I would recommend this product to friends and family!
Date published: 2019-09-06
Rated

5

out of

5
by
MomRN
from
Cleans even the messy dishes!
This appliance came with the house we bought and I thought it was too basic of a model to preform well, but man was I wrong! In the month that we have been using it there has been only one bowl that I had to wash by hand after it came out, so very impressive. I with the silverware basket had a slotted lid on it, and the rack times have a very basic arrangement, but other that that I have been happy with it.
Date published: 2018-08-06
Rated

5

out of

5
by
Codi
from
Truly Heavy-Duty!
I didn't know they made dishwashers that could clean better than elbow grease! I tested this to the max, using the "heavy" setting on a dried, lasagna casserole dish, and it looked like new! I actually believe the commercials now. I can truly trust my dishwasher to truly deep clean my dishes and allow me to relax and do something else with my time. Thank you Whirlpool for creating this dream machine!
Date published: 2019-05-20
Rated

2

out of

5
by
Cbas
from
Rinse aid dispenser doesn't work
I bought my WDF750SAYM3 in jan 2014. I've had 4? 5? rinse aid dispensers installed. They seem to work for a while and then quit. I called whirlpool today and all they could say was they could order a new part that a would have to pay for...again! I could almost buy a new washer with what I've spent on this part and service. My previous whirlpool worked great and this will probably be my last one.
Date published: 2019-07-12
Rated

2

out of

5
by
Janet4646
from
best feature- 1-Hour Wash Cycle
I've run the dishwasher on the normal and also on the one hour and the dishwasher starts and stops 9 times but only for a few seconds then washed for 15 minutes then drained, filled and started and stopped 8 more times. However, the dishes came out clean and completed the cycle in one hour. I would recommend this product only if they got one that worked right and didn't start and stop 17 times.
Date published: 2019-02-27
Rated

3

out of

5
by
Mfdl
from
OK dishwasher; too small and doesn't dry well
This dishwasher was installed in our newly built house. Compared to the 10 year old Kitchenaid washer at our last home, it doesn't do heated dry as well and fits about 10% less. Does it wash dishes? Yes. Does it have a lot of features that make it a good buy? No. If we weren't given this dishwasher, we wouldn't have bought it and if it wasn't brand new, we would replace it with something better.
Date published: 2018-09-20
Rated

4

out of

5
by
NoOneYouKnow
from
Very Good For The Money
This dishwasher came with our new home. It's a lower end unit, but it does a great job of cleaning our dishes. The only reason I can't give it 4 stars is that it's a bit on the loud side. Insulation is cheap. I don't understand why they don't insulate these units better so they are quiet. This one isn't so loud that it's a real problem, but it could be quieter and then it would be a perfect 4.
Date published: 2021-02-28
Rated

2

out of

5
by
Gail
from
Inferior results
This dishwasher is apparently the base-grade model provided by the new-home builder for our tract. It does NOT CLEAN thoroughly, leaves smudges on the silverware, and does NOT DRY thoroughly. We had the same problem with the new Whirlpool dishwasher we put in our rental house a couple years ago. I use a high-quality detergent and rinse aid, both Finish brands. I am very disappointed in the performance of this dishwasher. The last dishwasher we had in our former home was a Whirlpool that was still working well after 20 years. I'm concerned the quality of Whirlpool products has deteriorated and is not the reliable brand it use to be. I always had a high opinion of Whirlpool and had confidence in the quality of their products because of the positive experience I had with them in the past. However, I no longer do and will be considering other brands when shopping for appliances in the future.
Date published: 2021-07-24
Rated

5

out of

5
by
foxmartin
from
Deep Tub, Incredible Cleaning
This was a replacement for a Whirlpool dishwasher we had installed over 22 years ago and quit after great service. Though some configurations on the new one were updated, it slid into place and was installed with great ease. I love the cleaning it provides and is considerably quieter. The control panel is difficult to discern in anything but full light, but that is a matter of acclimation.
Date published: 2020-04-10
Rated

4

out of

5
by
KatAnn86
from
Very Quiet!
Overall I like it. Its runs so quiet that I don't even know its running. My favorite part though, is it leaves my dishes spotlessly clean! No water spots, which my old one left for years!! My only complaint is I have to hand dry most of the dishes, even if they'd been sitting in there for 2 days clean. It could be user error but with hardly any buttons, Im not sure how.
Date published: 2020-06-22
y_2021, m_8, d_3, h_19
bvseo_bulk, prod_bvrr, vn_bulk_3.0.18
cp_3, bvpage2n
co_hasreviews, tv_0, tr_807
loc_en_US, sid_WDF330PAHS, prod, sort_[SortEntry(order=RELEVANCE, direction=DESCENDING)]
clientName_whirlpoolbrand
bvseo_sdk, java_sdk, bvseo-4.0.0
CLOUD, getReviews, 2ms
REVIEWS, PRODUCT
Bundle summary&nbsp (&nbspitems)
If Purchased Individually*
*Offer subject to change. Limit one use per order. Valid for bundles delivered to a single U.S. address. Bundle savings based on current pricing available from Whirlpool.com. Only valid for new orders on Whirlpool.com.
See how we handle Returns
.