2.1 cu. ft. Over-the-Range Microwave with Steam cooking

WMH53521HW

Model: WMH53521HW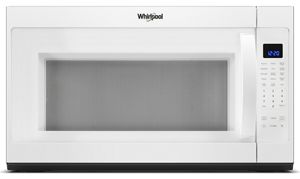 2.1 cu. ft. Over-the-Range Microwave with Steam cooking
2.1 cu. ft. Over-the-Range Microwave with Steam cooking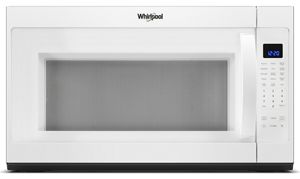 Key Features
4-speed, 400 CFM motor class
CleanRelease® non-stick interior
Sign in to unlock lower pricing
Why shop Whirlpool® appliances
*Your rate will be 0% or 10–30% APR based on credit, and is subject to an eligibility check. Payment options depend on your purchase amount, and a down payment may be required. Payment options through Affirm are provided by these lending partners: affirm.com/lenders.
Overview
Product Description
2.1 cu. ft. Over-the-Range Microwave with Steam cooking
Quickly clean up spills with a wipe in our over-the-range microwave thanks to its CleanRelease® non-stick interior. Free up cooktop space by steaming foods like vegetables or fish1* right in your over-the-oven microwave, or use sensor cooking that adjusts the cook time so your food comes out of your over-the-range microwave ready to eat.
Features
Steam cooking
Clear up cooktop space by steaming foods like rice, vegetables and fish right in the microwave. Steam accessory available separately.
Turntable On/Off Option
Choose whether the turntable rotates or not to accommodate a wide range of dish sizes.
Microwave Presets
Get just the right amount of heat and time, whether you're cooking or defrosting, with specific preset options.
Add 30 Seconds Option
Quickly set the microwave timer to 30 seconds or add it to already in-progress cooking time with the touch of a button.
Additional Features
Electronic Touch Controls
Navigate through cooking modes and options with controls that are as easy to use as they are to clean.
4-speed, 400 CFM motor class
Match the right amount of ventilation to the dish being prepared and help quickly get rid of cooking odors with four different fan speed settings.
Fingerprint Resistant
Available in black stainless steel and stainless steel finishes, easy-to-clean steel resists fingerprints and smudges.
CleanRelease® non-stick interior
Help prevent spills from sticking with the CleanRelease® Non-Stick Interior, which lets you easily clean up with the simple wipe of a damp cloth.
90º Hinge Door
Install your microwave hood next to a wall if necessary with a 90º hinge door.
Sensor Cooking
Take out the guesswork with sensors that track the cooking progress of your food and automatically adjust cook times.
Dishwasher-safe turntable plate
Clean up spills on the turntable by simply putting it in the dishwasher.
2.1 cu. ft. Capacity
Microwave food in containers of almost any size with the most capacity available among Whirlpool® over-the-range microwaves.
Adjustable Cooktop Lighting
Keep an eye on what's cooking below the microwave or keep a nightlight on in the kitchen.
1,000-Watt Cooking Power
Get quick and even cooking with 1,000 watts of cooking power.
Specifications
Dimensions
Depth With Door Open 90 Degree
Configuration and Overview
Controls
Number of Quick Touch/One-Touch Selections
Details
Microwave Details
Ventilation System
Certifications
Electrical
Configuration
Microwave Hood Combination
Reviews
Rated

1

out of

5
by
Dissatisfied
from
Beware of door sensor/contact problems with unit
Very poor quality; unit did not last very long due to door sensor/door contact issues. It was rarely used (one person household) and used basically for reheating food or heating water for beverages. Very disappointed that Whirlpool does not recognize this as a known issue and stand behind their product. I suggest you google the problems and door issues with this model WMH53521HV-0 before you buy. Fingerprint free stainless is great. I enjoyed that feature.
Date published: 2021-02-09
Rated

1

out of

5
by
eddie
from
Still waiting for microwave to work
We bought this microwave in June 202o, had it installed in July 2020. From day one it has not worked properly, making a LOUD noise when it's turned on ( we previously had this same model in another house, we know how very quiet it's meant to be). The 1st service visit we learned the motor was faulty, so a new motor was ordered. A follow up service visit occurred but there was no new motor to install. We've now waited 7 months for a new motor, and as soon as we are able, we'll have the repair completed and THEN see how well the thing works!
Date published: 2021-04-08
Rated

1

out of

5
by
Disappointed61
from
Failed magnetron within 4 months
I bought this microwave after comparing multiple reviews from different consumer agencies. It was highly rated and more expensive than several other models/manufacturers, and performed well for about 3-1/2 months before the magnetron failed. Service tech indicated he rarely saw issues with magnetrons but that this was the second unit in a short timeframe with the same problem. Had I known the components were made in China, I probably would not have bought the unit. Ours was manufactured in Nov 2019, I ordered it in Dec and received it Jan 8, 2020. Having this fail on the heels of finding our 4 year old KitchenAid dishwasher's diverter motor and turbidity sensors leaking and damaging the kitchen floor requiring water damage remediation and replacement (also a product that was highly rated when I bought it), I am NOT a Whirlpool appliance fan
Date published: 2020-04-21
Rated

1

out of

5
by
ChloeV814
from
Great Microwave, Poor Door Design
I love the features on this microwave and it is easy to use, however, I have had it for under two years and the front door is cracked in multiple places to the point that I will probably have to replace it in the near future. We use our microwave probably less than most families so I'm not sure if it was an installation issue, but I wouldn't recommend based on my experience. I am disappointed as I love all of my other Whirlpool appliances!
Date published: 2020-09-15
Rated

3

out of

5
by
beth
from
Good features, annoying sound for cycle completion
I bought this almost a year ago. It works great for everyday use. Three things I consider to be major drawbacks: The sound at the end of the cycle is VERY annoying. Can be turned off, but doing so turns off ALL sounds. In this case, innovation was not a plus. Should have stuck to just a ding or beep. The defrost cycle is poor and always cooks the edges of anything while the center is frozen solid. The lighting inside is poor--dimly lit and the position of the light at the front exacerbates the problem. If not for these three problems, I would be very satisfied with the product.
Date published: 2021-04-08
Rated

5

out of

5
by
BobbyJoeTom
from
Great Microwave In Every Regard
I bought this over a year ago now. It fits over my Samsung stove and replaced a Sharp on the counter microwave. Installation was pretty easy. I thought the instructions were adequate and the template was a big help. This microwave is MUCH faster(even though the wattage from prior MW matched) and the heat is very evenly distributed. We were very surprised how much better this microwave functions in these 2 regards. NO MORE HOT/COLD SPOTS in our casseroles. The inside is very easy to clean. Any splatters just wipe off. The exterior also cleans easily as fingerprints are quickly removed. It is nice to have a selection of light levels and fan levels. By far, the best microwave we have ever had.
Date published: 2021-04-07
Rated

5

out of

5
by
Ahpiz87
from
Awesome Microwave!
Absolutely love the settings and how quiet it is!!! It fits all of our needs!! Our other microwave was being held together with super glue.
Date published: 2018-01-23
Rated

5

out of

5
by
C K N
from
Great Microwave
Special ordered this microwave through Lowe's and received in perfect condition. Packaging was adequate for the product. Seems like sturdy construction and opperation has been simple. Little over two months of use and no complaints other than that the interior lighting is a little dim. *On a side note* I ordered another brand name microwave from another home store and in total 3 microwaves were dammaged during shipping. First was minor side damage and was told to install while replacement was ordered. Uninstalled and went to pick up new one which was damaged in the rear. Told to take first one back and use till next replacement. Installed. Uninstalled to pick replacement. This one damaged on rear and side. Management apologized but nothing for the 3 months of problems. Asked for refund and went to Lowe's.
Date published: 2018-04-25
Rated

5

out of

5
by
HotRodDan
from
Very Quiet Microwave
This was a replacement for a unit that needed, for the fourth time, a replacement keypad, at a too high a price. We've only had it for about a month, so no long term knowledge yet. I can say this is far and away the quietest unit we've ever had, microwave wise. Can't say the same for the exhaust fan. Unit cooks just fine, the preset choices seem to work alright, and it's spacious. My only nit is I wish it gave extra beeps when you haven't removed your food. My previous unit would beep once every minute after ending the cycle, which helped when you have something that should "set" for a time after cooking. And it would have been nice if the manual listed all the features and how to use them. It is very spartan.
Date published: 2019-03-13
Rated

5

out of

5
by
MAMA
from
Easy to use
I bought this microwave oven after seeing it at the appliance store. I had to wait 6/7 weeks before it was delivered. I was lost not having a working oven for so long. When it arrived I celebrated and cook dinner using my new microwave. Right out of the box it was easy to use it guided me through the settings without needing to read any instruction manual. The upkeep of the oven is easy to clean and always sparkling to look at. Many of my friends and family have asked me about it's features and have thoughts of buying one when they replace their microwave oven.
Date published: 2021-04-12
Rated

2

out of

5
by
CpnVideo
from
A Step Backward
It functions well but is cumbersome to operate and devoid of features. I was accustomed to my 20 year old GE Profile MW features that I assumed all current MWs would offer, including- Press a single button 1 through 6 and get that many minutes at full power; Single press of 30 second button starts full power for 30 seconds. Instead, to cook at 50% power for 2 minutes requires pressing 8 buttons. Missing features- 2 custom buttons where you can preset time and power with a single button push; in addition to timer, a reminder time which is similar to a timer but in duration of hours. However again, the real problem is that any option as part of setting requires hitting the start button to save it resulting in excessive inputs.
Date published: 2020-01-09
Rated

4

out of

5
by
David
from
A Good Product
The over-the-range microwave oven has been a good product so far. Nice, large cavity area. I even placed an entire previously-cooked ham in there from the refrigerator, set the "Warm Hold" cycle, and it worked fine, taking a load off the regular oven at Easter. It does take a while to learn the controls (no manual came with the product), and I do not particularly like the sound of the signal that is made when a cycle is complete (I'd prefer a less harsh, less alarming sound). But the product is solid, looks good, and runs quietly. Overall, a good product.
Date published: 2021-04-08
Rated

5

out of

5
by
HelmichB
from
Lots of Customization Available
We originally bought this to match another appliance we were purchasing at the same time. I mean, a microwave is a microwave, right? Not so. We have several small children and putting in a bag of popcorn after bedtime was unheard of due to the keypad and timer beeps and dings. With this microwave, we can turn all of that off. No more trying to pop the door open right before the timer chimes. The defrost auto detect feature is spot on and even prompts me to turn over the frozen item and continue. Long story short, this microwave is everything we needed in a sleek package. I will note that the front window isn't seamless to the frame around it, but the pictures make it look like it is. Not a big deal, but one smooth surface would have been nice.
Date published: 2021-04-08
Rated

5

out of

5
by
Luvmyz28
from
Love the new look
Love the new look of the hidden exhaust vents. Needs brighter lighting for me inside the microwave, hard to see through the door while cooking to see clearly and the light under the hood is position at the back which means the light shines down on the ovens back knobs. Prefer the light in the front so the front burners of the stove that I used to cook most often would be better to see. Just my preferences. Everything works great. The sound is much quieter than my previous Whirlpool Microwave. I will still stay with Whirlpool products.
Date published: 2018-10-11
Rated

3

out of

5
by
NJ2FL2015
from
Just okay
First thta they would create a metal shelf that cannot be left in the microwave, only when in use, because it will spark. I did not read anything that disclosed this in the description of this microwave. The controls are not that user friendly. You have to work with what you're given, i.e., defrost, warming. You're given multiple choices and pre-determined times. You have to watch your food carefully. My need was very specific - black, under cabinet mount and capacity so the selection wasn't that varied. It is also a bit pricey.
Date published: 2021-04-08
Rated

4

out of

5
by
perruptor
from
A good choice
We've had this for 5 months and are happy with it. It cooks well, and stays much cleaner than our last one. The interior is also easier to clean. The preset buttons work well. Lots of levels of exhaust fan. A couple of things could be better. The grate on the door is nearly opaque, so it's hard to see the interior. Things can boil over and you can't see it. The cooking completion / timer beeps are not very loud, and can't be heard from another room. The timer end beep has to be turned off manually, or it keeps sounding at intervals.
Date published: 2021-04-07
Rated

5

out of

5
by
tkr2018
from
Quiet and so easy to use
So...I never was a fan of the "pre-set" buttons for things like casseroles, warm up plate of food, baked potato, etc. In this Microwave the controls and moisture sensors work great. It IS a very smart Microwave oven. Bonus...if you use the pre-set option buttons, splatter and boiling over is virtually eliminated. Settable exhaust fan to automatically come on if cooking range is producing too much moisture. But wait, there's more. Several user settings for light and fan functions too. Very quiet. Looks nice. Check it out some time.
Date published: 2018-03-08
Rated

4

out of

5
by
Phil
from
Great microwave . . . except for the noise.
I purchased this microwave because of its high ratings, and it does everything well. However, it's noisier than other over-the-stove microwaves I've had, especially for the first second or two after it starts. I was convinced there was a defect and called for a warranty repair. The repair person was very nice and competent, but he told me there is a lot of variation among individual units, and that the noise mine makes is within the range Whirlpool considers normal, so no warranty replacement of the magnetron (the offending noise maker). I was shocked. I didn't expect that range of tolerance for a top rated model. I suspect the units that were tested by rating organizations were quieter ones. Otherwise, I think they too would have noted the excessive noise.
Date published: 2021-05-11
Rated

5

out of

5
by
Great Aunt
from
Updated Features
I bought this model which is the updated version of the previous one I owned. The other model had issues with the door latch causing the power to shut off. After 3 attempts to have it fixed, we bought this one. So far so good. The timer is quieter than the other one, which isn't a good thing if you are in another room. Otherwise, I like it.
Date published: 2019-03-08
Rated

5

out of

5
by
tkr2020
from
Good design. Works well. Very quiet.
Have had this Whirlpool microwave for 2 weeks and it seems very sturdy. Installation was easy with the included wall bracket and accurate dimensions along with a template. Keypad easy to navigate and has user configurable changes if you want to do that. Quiet exhaust fan with several levels. What can I say, it works well and looks good.
Date published: 2018-03-01
Rated

5

out of

5
by
Nate
from
Excellent microwave
I purchased this microwave for a kitchen remodel. The microwave installed nicely and looks great with the black stainless finish. We've been using it almost three months now with no issues. We don't really use it for anything more than heating things up quick (leftovers, coffee, etc), but it is spacious and quiet, working well for what we need it to do. I can't speak to any of the added features or modes as we don't use them. The undermount light is nice as is the exhaust fan. Overall it's been a great appliance.
Date published: 2021-04-08
Rated

5

out of

5
by
rikkyb620
from
Best bang for your buck
We just purchased this microwave to replace a similar Whirlpool model from 2012. That one served us so well that we wanted to get another Whirlpool oven. (most of our appliances are Whirlpool). This model was purchased at Lowes, and we couldn't be happier with it! Very close to what we had before but it is so much quieter you can barely hear it running. Also the exhaust fan is much improved and is also quiet. Did I mention it was much less expensive than it's similar competition? A win, win all the way around!
Date published: 2020-07-30
Rated

3

out of

5
by
Disgruntled
from
Replacement for 17 month old same model
This was to replace to one that was purchased just 17 months ago since the repair was half the original cost of the microwave. Since I didn't purchase the extended warantee the repair cost was my problem according to Whirlpool. Have had Whirlpool appliances for 50 yrs and am sorely disappointed in them now. Just had to order parts for the Whirlpool dishwasher that was purchased at the same time because plastic parts on dishwasher rack broke off. Becoming very disillusioned with Whirlpool and it's quality.
Date published: 2021-04-08
Rated

5

out of

5
by
Dinah N
from
Great Product
I am very partial to Maytag/Whirlpool appliances, went I went to get a new microwave they did not have any Maytag Microwaves available. I like this microwave because it cooks faster than my old one and there is a lot of space inside, only had this for a couple of months but would rate it as high as a Maytag, the only weird thing about it is the sound of the steel inside when you shut the door, I just haven't ever heard this loud of a closing sound in any other microwave, doesn't effect anything quality wise.
Date published: 2021-03-02
Rated

5

out of

5
by
Gogi466
from
Great microwave!!!
We bought this microwave almost a year ago and it is so nice! I especially like the clean free coating if that's what you call it on the inside. Rarely have to clean except for the glass plate. Love cooking veggies and popcorn and it reheats awesome. There is not a feature we don't like. We previously had another brand but have had a whirlpool dishwasher for many years so know that the whirlpool brand is very reliable. I would not hesitate to purchase this again and can strongly recommend this one!
Date published: 2021-04-07
Rated

4

out of

5
by
power lighter
from
Very Good Microwave
I have two problems with this microwave, one, is the light inside is too dim, should have a brighter bulb. The second is, it should have two lights on the bottom to light up the range better. The one light in the middle casts shadows on the range controls. It has a great four speed exhaust fan that is also quiet and really removes cooking smells. It does a very good job of microwaving and has a glass turntable. You just have to learn all the different cooking functions. I would recommend this microwave
Date published: 2020-08-06
Rated

1

out of

5
by
tunnelrat9
from
Magnetron Failed after 3 Months
I purchased this microwave based on a high rating on Consumer Reports. It worked fine for 3 months and then stopped heating food. I called in the warranty repair through Whirlpool. The next week the tech showed up, determined that the magnetron was not getting power and that he had to order new parts for the following week. No microwave for 2 weeks after getting a new unit. Blah. One other complaint is that it does not have express cook buttons to cook food for 1, 2,3, minutes with a single button push.
Date published: 2020-07-17
Rated

4

out of

5
by
prophoto
from
Loce the 'smart' sensors
This was a gift from my family to replace a 20 year old over the stove microwave, that still worked. I thought the gift was extravagant but why look ' a gift horse in the mouth'? Too new to rate 'Excellent'. So many features I have yet to try.
Date published: 2020-04-24
Rated

5

out of

5
by
chocolatewineshopping
from
Perfect Replacement
Our old microwave finally gave in. It was built in over the range so we needed to find a built-in microwave to fill the space. We checked out several online, the features, the reviews, etc. This microwave seemed to fit the bill. We had to wait a few weeks after we ordered it due to our current state of affairs with Coronavirus, but we are very happy with it. It's easy to use, easy to clean, bigger inside than our old microwave, so far, so good. I would not hesitate to purchase this microwave.
Date published: 2020-08-31
Rated

5

out of

5
by
Shamrockgwen
from
So quiet!!!
This microwave is awesome!! It's super quiet yet has enough power to heat the food quickly without overheating. And the vent fan has four speeds and does a great job! I am extremely happy with this product! Haven't had a chance to use the nonstick interior much yet, but I have a feeling it's going to be WAY easier to clean than the one I replaced!!
Date published: 2017-12-14
y_2021, m_8, d_3, h_19
bvseo_bulk, prod_bvrr, vn_bulk_3.0.18
cp_2, bvpage2n
co_hasreviews, tv_0, tr_467
loc_en_US, sid_WMH53521HW, prod, sort_[SortEntry(order=RELEVANCE, direction=DESCENDING)]
clientName_whirlpoolbrand
bvseo_sdk, java_sdk, bvseo-4.0.0
CLOUD, getReviews, 1ms
REVIEWS, PRODUCT
Bundle summary&nbsp (&nbspitems)
If Purchased Individually*
*Offer subject to change. Limit one use per order. Valid for bundles delivered to a single U.S. address. Bundle savings based on current pricing available from Whirlpool.com. Only valid for new orders on Whirlpool.com.
See how we handle Returns
.