33-inch Wide Top Freezer Refrigerator - 20 cu. ft.

WRT311FZDW

Model: WRT311FZDW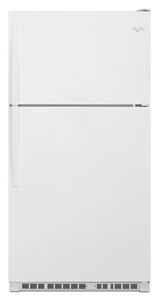 33-inch Wide Top Freezer Refrigerator - 20 cu. ft.
33-inch Wide Top Freezer Refrigerator - 20 cu. ft.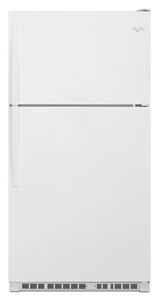 Key Features
Humidity-Controlled Crispers
Sign in to unlock lower pricing
Frequently bought additional items
Why shop Whirlpool® appliances
Overview
Product Overview
33-inch Wide Top Freezer Refrigerator - 20 cu. ft.
Get purposeful spaces that store more of your favorites. Our refrigerator with an icemaker lets you forget about refilling ice trays. You can fit more items on each shelf in this refrigerator with frameless glass shelves and keep fruits and vegetables in their ideal environment with humidity-controlled crispers. Plus, a 20 cu. ft.capacity gives you room for it all.
Frameless Glass Shelves
Store more items on each shelf with wall-to-wall frameless glass shelves in the fridge and freezer, which offer greater storage flexibility.
Flexi-Slide™ Bin
Make space for tall items with the bin that quickly and easily moves side-to-side for convenient storage options.
Humidity-Controlled Crispers
Store fruits and vegetables in their ideal environment.
Additional Features
Freezer Temperature Controls
Keep frozen items ice cold with controls that allow you to adjust the temperature level in the freezer compartment.
Quiet Cooling
Keep noise down in the kitchen with a design that provides quiet cooling.
Specifications
Dimensions
Depth Closed Excluding Handles
Depth Closed Including Handles
Depth With Door Open 90 Degree
Height To Top Of Door Hinge
Configuration and Overview
Appearance
Controls
Refrigerator Details
Number of Interior Shelves
Freezer Details
Freezer Number of Shelves
Dispenser Details
Icemaker
Certifications
Filter Details
Refinements
LED Lighting, External Ice & Water Dispenser, EZ Connect Icemaker Kit Compatible, Flexi-Slide™ Bin, Humidity-Controlled Crispers, ADA Compliant
Exterior
Freezer Compartment
Description
Configuration
Installation Configuration
GDS
Reviews
Rated

3

out of

5
by
Himtncrone
from
somewhat disappointed
I bought this refrigerator because my other one (23 years) quit. I had to pay $200 extra to get the bisque color. Initially it seemed to come on often and run a long time. It seems to have mellowed out some. My electric bill for last month was $40 higher than usual, I'll see if it's the refrigerator this bill. The appliance is simple, no ice maker but the plastic parts inside are cheap and not as adjustable as my last fridge. It is set on the lowest settings, both fridge and freezer and still the temperature is near freezing. I am hoping that indeed this refrigerator is more energy efficient and it will last a long time. We'll see.
Date published: 2020-02-19
Rated

5

out of

5
by
jhilles
from
Lots of space in My Small Space
My old refrigerator died, and I found that there was a shortage of refrigerators. I grew up in Benton Harbor, Michigan, so Whirlpool was my first choice, and I was so happy when a Whirlpool was found and installed in about a week! I love it because I have limited space in a condo, and this refrigerator not only fits into my small space, but it is roomier than my old fridge was! It is doing a great job with temperatures in the fridge and freezer, and I am happy with its clean look! I did not want an ice maker, water in the door, and all the bells and whistles. They only wear out and need repair very soon......so I love my new Whirlpool!
Date published: 2020-09-24
Rated

4

out of

5
by
Courtney
from
Worth the wait
My prior fridge had been slowly failing fridge for the last year and wave been going in store to look at different models that would fit in my space, I loved the look and feel of this model and saw it was out of stock everywhere but on whirlpool's website and it was on a long wait to arrive due to covid and low stock. 2 months later and I'm thrilled I waited instead of downsizing to an available model. The fridge itself more than fits my needs for a family of 3, the finish is truly fingerprint and dog nose resistant and the delivery crew they sent was amazing. Only time will tell the true quality but it's already off to an amazing start.
Date published: 2021-02-18
Rated

4

out of

5
by
Ref2Coach
from
Ample space, quiet opperation
Purchased 2 weeks ago, impressed with internal space compared to the we replaced. Only complaint is the operators manual and all online literature shows an analog dial control for temperature but unit actually has a digital control. Have had to use appliance thermometer and try each of the four settings. The "warmest" setting keeps the refrigerator compartment below 32* freezing some food items. Called Whirlpool and they have set up a warrantee call. The technician called me and said there is a technical service bulletin, so hopefully the issue can be resolved. With that one issue resolved I would be willing to give 5 stars across the board.
Date published: 2020-03-24
Rated

5

out of

5
by
Anonymous to you
from
Backup garage refrigerator.
We bought this garage backup refrigerator based on our main refrigerator having a problem and the service man recommending this Whirlpool for a backup as he sees much fewer calls for Whirlpool compared to some other brands. Anyway, it has 2 temp controls. 1 for the freezer and the other for the fridge. I was impressed with its quality for interior, glass shelves and good quality bins etc. It has 4 corner wheels and the front 2 are easily adjustable for level. A 10 year old child can roll this fridge out from the wall and the bottom condenser is much more accessible for cleaning than our main fridge/freezer. If the size is good for you, go for it.
Date published: 2020-07-31
Rated

1

out of

5
by
NanaCJ
from
Soooooooo Disappointed !
Frig delivered on 10/1. Made request for service call on 10/5. 3 parts had to be ordered; still waiting on them to be installed. Freezer now at 15 below and frig at 50 degrees. My food is in an ice chest. Wish I had bought anything else.
Date published: 2018-10-27
Rated

1

out of

5
by
sand12345678
from
Really low quality ice maker but basic fridge ok
Got this from home depot. First unit made one container of ice and then proceeded to flood the entire upper and lower part of the unit with water. Replacement unit didn't work at all due to installers getting a kink in the water line. Now it has made about 2 containers of ice and jammed up since it looks like critical part froze up. We were able to un-jam it and seems to work now, but probably means it will never work right. Junk. Six total service visits that I dont have time for. This is how you destroy your brand-name Whirlpool! Will definately think twice before buying this brand again. email link for review and promotion didn't work. Decided to go direct to post this. And will leave reviews on social media.
Date published: 2019-09-02
Rated

3

out of

5
by
Dude7640
from
Basic Refrigerator
Purchased on a Monday. Delivered on Tuesday. Repair technician called due to unit not cooling properly on Wednesday, even with setting at max cooling. Technician came on Thursday. Called back Friday with answer that the control/sensor appears to be defective. Will get new one ordered. Thought issue over weekend and decided to have dealer exchange refrigerator for another one as do not want to start off with one needing repairs right at the start of ownership. One chosen for the exchange was not in stock, this one will be considered a loaner by dealer until new one arrives. In meantime, will be repaired by Whirlpool service technician.
Date published: 2019-06-20
Rated

3

out of

5
by
Empty Nesters
from
Replaced old refrigerator for small kitchen.
I bought this refrigerator 2 months age to replace a broken one. I was limited in choice because of small area for refrigerator. The black color cabinet is not smooth nor is it deeply pebbled like the earlier models. It shows slight smudges from fingerprints on the sides but wipes easily. Don't let the 20.5 cu ft fool you. The interior is well designed for lots of storage. It has more useful space than my old GE 23.2 cu ft. The ez connect icemaker was truly easy. It did not come with it but I was able to get in store. What would have made this a 5 star review is a light in the freezer section, a much quieter compressor and the ice maker included.
Date published: 2017-03-16
Rated

5

out of

5
by
Anonymous
from
Excellent Refridgerator
We bought this product a week ago and are very happy with our purchase. The lighting inside is outstanding with no dark corners. Adjusting the shelves is simple and easy. The ice maker works flawlessly and the bucket holds much more ice than our old side by side did. The inside storage is very large. One item we didn't think to consider is the size of the door on this fridge and it is large. We were used to a side by side and had to relocate our trash can. The only thing missing was the name badge in the freezer door and there us a small hole where it should be. We covered it with a magnet and nobody knows. Overall we are very happy with our purchase.
Date published: 2017-01-23
Rated

4

out of

5
by
Anonymous
from
Very satisfied.
I researched a lot of different fridges, and this one was rated very well. My space for it is a bit restricted, so I wanted the largest that would fit. This model fills the bill, and the door is reversible - but I didn't need to to that. So far, it is working great. I love the glass shelves cause my favorite soda is Pepsi - in the plastic bottles - with the almost rounded and scalloped bottoms. My old fridge had wire shelves - could NOT keep the bottles standing up! Very annoying! Overall, this is a very good fridge at a very reasonable price. I would give it 5 stars, but it is a little noisy - not excessive, but noticeable.
Date published: 2016-10-16
Rated

5

out of

5
by
Sandy
from
Great Space
I bought this fridge about 2 months ago. We got it in bone, beige, almond, the color that's hard to find and many manufacturers are fazing it out. We had just got a new stove in the same color 3 weeks earlier and we were really concerned about the color match. Especially with different manufacturers!! The match was perfect! The space in the freezer is cavernous. No matter how much food we put in it, it always looked half full. I wanted to get more food to fill it. The refrigerator section is just as spacious. The only drawback is the light inside hangs down too low and the taller containers, soda, milk, etc. have to be stored to the left or right sides.
Date published: 2021-02-13
Rated

5

out of

5
by
Lisa BG
from
Love my Whirlpool!
Bought August 2019. Simple, no fuss, tons of room, cools and freezes at a constant temperature, attractive and smooth - none of that alligator texture that holds dirt and bacteria! I LOVE THIS REFRIGERATOR! Cost was unbelievably reasonable for an always reliable Whirlpool!
Date published: 2019-08-23
Rated

4

out of

5
by
Carolyn44
from
A great update from my 24 year old refrigerator
So far (3 weeks) this refrigerator has been wonderfully quiet and cold. I especially like the stainless steel front. Just a couple of small things that bother me. In error I was sent a refrigerator with the handle on the right side which is the wrong side. However, the door opening was switched to the correct side in my home. Now the freezer door and the refrigerator door do not align perfectly and a gray cover is missing from the top of the freezer door where the hinge was removed to put it on the other side, otherwise, I would give this 5 stars. I must say that the salesperson and the deliverers should each get 5 stars for their part of this sale.
Date published: 2020-08-30
Rated

3

out of

5
by
Don79
from
Poor shelves
I bought this refrigerator 2 days ago to replace my Amana refrigerator that finally wasn't cooling very good. I bought my Amana new from Home Depot 26 years ago. It had given me excellent service. I couldn't find a new Amana to replace it so I bought the whirlpool because it was the closest in size. My problem with the whirlpool is the shelves. When I put the containers, that I had in my Amana, on the shelves in the whirlpool, the shelves sag about 1/4" 3/8" in the middle. I called Best Buy service number that was given to me, to see if there is a stronger shelve, and their solution was to put less on the shelves. That doesn't solve my storage problem
Date published: 2019-10-13
Rated

4

out of

5
by
Patty60
from
Very nice for the price
I was looking for a refrigerator that was basic but well made. I did not want to pay for all the 'bells and whistles' that have been added to an appliance whose basic purpose is to keep foods cold and also some foods frozen. This refrigerator is exactly what I had in mind. My one complaint is in regards to the crispers. There is a space of about an inch or slightly less that remains open when the drawers are closed. This open space that allows air to enter the crispers seems like it should be gone, and rather that the drawers should close tightly. Otherwise, why is there a need for humidity controls on each crisper?
Date published: 2019-12-24
Rated

5

out of

5
by
Jim Master Chef
from
Quiet and additional room
I replaced my 21 year old 21.6 cubic foot Whirlpool Designer Series with this one because I have had great luck with Whirlpool kitchen appliances and this model was in stock. This one is slightly more than 1 cubic foot less in the refrigerator section, same size freezer, and it has so much more room inside in both parts. My old one had split shelves so that must be one reason. It runs quieter and looks just as good as the Designer Series that it replaced. And since it is only about twelve feet from my bedroom it has to be quiet. The only thing I do not like is the lack of a light in the freezer. Hope this one lasts 21 years.
Date published: 2019-01-04
Rated

4

out of

5
by
Stu Pru
from
Great fridge
Like our range, we bought this because we didn't trust the older model fridge the was in our place when we closed, and we had a houseful coming for Thanksgiving (we also chose the ice maker option). It fit perfectly in the slot, actually better than the old one did. It also seems to cool better than the old one. For a 20 cuft it actually holds quite a bit. Love the glass shelves, and the drawers slide very easy. The only thing I wish it had is a separate freezer temp control (I can't find the air adjustment slide). But , other than that, we love it....BTW, we are now a 75% Whirlpool kitchen family, range, fridge, micro......
Date published: 2016-11-29
Rated

5

out of

5
by
kal25
from
Exciting New Features
I bought this 6 weeks ago and have been so happy with this purchase. I bought this refrigerator to replace my old Whirlpool refrigerator which was the biscuit color. The old one works fine and is 26 years old! I just wanted a black one to go with all my other kitchen appliances. We moved the old one to the basement for a back up and she purrs away every day. There are some features on the new one that I really love. For instance: the sliding tray that goes from right to left to suit my needs. Also the lower bins that are much easier to open and close due to a new rail system. Love my purchase. Thank you Whirlpool!
Date published: 2021-05-20
Rated

5

out of

5
by
Bonnie66
from
Large fresh veg. Bin. And frig. Light that doesnt,
I really like that one veggie draweris bigger than the other. I buy fresh veggies and now they fit without having to be cut. The smaller drawer still has enough room for yogurt and protein drinks I store there. The flip up shelf in the door of the frig. makes it easier to store my really tall bottles. And the lighting is easier on my eyes and my grandchildren and I all think the lighting adds a little glam. to the frig. It feels bigger inside than my old 20 cubit ft. Frig. The interior design gives me more room in the same amount of space. It's kinda like having an open floor plan inside my frig. and I like that.
Date published: 2020-04-30
Rated

2

out of

5
by
LisaJRD
from
It's a NOISY by Fair refrigerator
We finally ordered a new refrigerator - the delivery guys were VERY messy and left dirt ALL over the brand-new fridge (and it took multiple phone calls to get it delivered), but all that's not Whirlpools fault! After one day, the fridge had already made plenty ice, BUT overall, the refrigerator has been soooo loud, and it's brand new compared to our older (15+year) refrigerator we replaced. You can hear it across the house it's so loud. Since I've been traveling on/off since receiving it, I haven't had the time it takes to possibly replace it, I did receive a nice price with free ice maker, so the price was great.
Date published: 2018-10-18
Rated

4

out of

5
by
MJ Parks
from
Big freezer
We bought this refrigerator in October. We visited Lowe' s and actually ordered a different brand. After two "delay in delivery", we revisited Lowe's and choose another model. I guess I didn't remember just how large the freezer was. It is a nice option, but I am not sure we will ever fill it up. The refrigerator seems like you have to bend at the waist to view contents, especially items in the rear. The deli drawer is small and when the main shelf is in the lowest position, there is not much clearance for larger items on the lowest shelf. It's new and will take some time to get used to. The lighting is nice and the door shelves are roomy with many change options.
Date published: 2017-11-14
Rated

5

out of

5
by
AlanArby
from
Very Pleased With This Refrigerator
We've had this refrigerator for about one month. It's a basic refrigerator with no special features, which is exactly want we wanted. Setup was easy and operation is quiet. The recommended temperature setting is perfect for our needs. Operating instructions are clear and uncomplicated. The interior is well lit and the adjustable glass shelves are are a distinct improvement over the wire shelves in the refrigerator this one replaced. I can think of just one possible improvement: Small shelves in the freezer compartment for stacking multiple ice cube trays would be nice; setting the trays side by side takes up too much horizontal and vertical space; but that is a minor nit. In general, we're very pleased with this refrigerator.
Date published: 2021-06-14
Rated

2

out of

5
by
Tony40
from
Excellant refridgerator but installed wrong.
We love the Whirlpool refridgerator, are very satisfied and have no complaints about it. Unfortunately there was miscommunication between the the sales dept. and the delivery/installation dept. They put the refridgerator door on the opposite side we had asked and it's been an annoying inconveniance with our kitchen layout ever since. They didn't offer to come back & fix it either but said it's easy to do ourselves. Life is busy & I'll get to it eventially but certainly not thrilled about it! If you buy from them make sure you watch them put it in & that they do it right!!! I recomend the product but not the service.
Date published: 2018-10-23
Rated

5

out of

5
by
Barb23
from
Great Refrigerator
We are extremely happy with this refrigerator. I was a little scared after reading some reviews that said the fridge was very loud and made funny sounds. After having this refrigerator operating for about 3 weeks, I am very happy to report that it hasn't made any loud or strange noises. It runs very little and I can hardly hear it running. It has kept all of our food very cold and the freezer works great too. I'm looking forward to seeing the electric bill. Our other fridge seemed to run all the time and hopefully our bill will go way down. Thank you Whirlpool for this great and well designed refrigerator.
Date published: 2017-11-07
Rated

3

out of

5
by
Lamole
from
Good
I bougth this one month ago but need service. The refrigerator is making drops of water.
Date published: 2019-05-04
Rated

4

out of

5
by
seanmccoy
from
A Good Bargain Fridge
When our old fridge died I really wanted to replace it with a fancy side-by-side, but it turned out our cabinetry wouldn't accommodate any SBS on the market, so I had to "settle" for this more standard model. But I've been pleasantly surprised by how efficient and convenient it is. Temperatures are very consistent, the drawer and door options are well thought out, and food is actually lasting longer than in our old fridge. Minor complaints would be that it's a little bit louder, and the lack of a freezer light. Overall, though, for about a third of what I would have spent on a deluxe unit, this was a great buy.
Date published: 2019-06-01
Rated

3

out of

5
by
My time
from
Top Freezer/Refrigerator
By no means does this compare to the appliance I had to replace. The freezer has only two shelves and not adjustable. There isn't a separate storage bin for ice and no ice bin/trays came with the product. The refrigerator shelves are not as flexible and adjustable -- to strict/standard and does not accomodate very well. Very similar productg to what I purchased 33 years ago (exterior) howeveer it appears whirlpool has reduced their standards and accomodations on productgs they make. Appears to be an apartment refrigerator more than anything else. Really does not live up to whirlpool producgts of the past.
Date published: 2020-03-01
Rated

4

out of

5
by
LINDA40
from
GOOD VALUE
I AM COMPARING THIS REFRIGERATOR WITH MY OLD ONE THAT WENT OUT AND WAS COMPARABLE, WHIRLPOOL, SAME SIZE AND FEATURES. I LOVE THE WAY THE SHELVES ARE ARRANGED AND IT IS MUCH EASIER TO CLEAN. I LIKE THE PLACEMENT OF THE DOOHICKEY THAT TURNS THE LIGHT ON WHEN YOU OPEN THE DOOR. ON THE OTHER ONE IT WOULD SNAG MY ARM AND MAKE IT BLEED. THAT HAS NOT HAPPENED WITH THIS ONE. WE DO HAVE TO REMEMBER TO SHUT THE DOOR ALL THE WAY BECAUSE IF WE JUST LET IT GO IT WILL STAY OPEN A LITTLE. THE OTHER ONE DID NOT DO THAT. ALSO THE GASKET DOES NOT SET AS WELL AROUND THE DOOR. THERE ARE SPACES IN PLACES AROUND THE DOOR. NOW IF I COULD JUST GET USED TO WHERE I AM KEEPING THINGS IN THE NEW FRIDGE!!
Date published: 2020-03-28
Rated

5

out of

5
by
felinelover000
from
Very nice refrigerator!
I purchased this refrigerator approximately two months ago and so far I'm very pleased with my selection. I wanted a basic refrigerator with an upper freezer. My last refrigerator was a lower freezer and I decided to switch back. Happy that I did. Very quiet and appealing to the eye. I wanted something with not all the bells & whistles because in th past all the extras were the first things to breakdown. This suited my purpose and pleased this was the route I took. It fit perfect in the area it had to be and easy for me to pull out to clean behind.
Date published: 2018-06-05
y_2021, m_6, d_17, h_18
bvseo_bulk, prod_bvrr, vn_bulk_3.0.17
cp_2, bvpage2n
co_hasreviews, tv_0, tr_3787
loc_en_US, sid_WRT311FZDW, prod, sort_[SortEntry(order=RELEVANCE, direction=DESCENDING)]
clientName_whirlpoolbrand
bvseo_sdk, java_sdk, bvseo-4.0.0
CLOUD, getReviews, 2ms
REVIEWS, PRODUCT
Bundle summary&nbsp (&nbspitems)
If Purchased Individually*
*Offer subject to change. Limit one use per order. Valid for bundles delivered to a single U.S. address. Bundle savings based on current pricing available from Whirlpool.com. Only valid for new orders on Whirlpool.com.
See how we handle Returns
.