24-inch Wide Small Space Top-Freezer Refrigerator - 11.6 cu. ft.

WRT112CZJB

Model: WRT112CZJB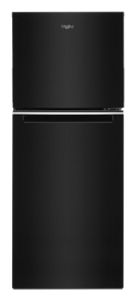 24-inch Wide Small Space Top-Freezer Refrigerator - 11.6 cu. ft.
24-inch Wide Small Space Top-Freezer Refrigerator - 11.6 cu. ft.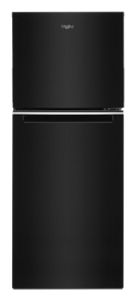 Key Features
Electronic Temperature Controls
Freezer Temperature Controls
Sign in to unlock lower pricing
Why shop Whirlpool® appliances
Overview
Product Overview
24-inch Wide Small Space Top-Freezer Refrigerator - 11.6 cu. ft.
If you're searching for a small energy efficient refrigerator, our top-freezer refrigerator delivers the flexibility you need to take advantage of every usable inch. Features like gallon door storage help free up shelf space. Digital temperature controls and an ice maker connection kit mean you're ready for guests, even at the last minute.
EZ Connect icemaker kit
This optional icemaker adds convenient, easily accessible ice without having to worry about refilling ice trays.
Gallon door bin
Free up shelf space with a gallon door bin that gives you flexibility when and where you need it.
Electronic Temperature Controls
Choose the ideal temperature for whatever foods you're storing with convenient, up-front controls.
Additional Features
Freezer Temperature Controls
Keep frozen items ice cold with controls that allow you to adjust the temperature level in the freezer compartment.
LED interior lighting
Keep food looking as good as it tastes. Light is cast inside the refrigerator so food looks like it's supposed to.
Specifications
Dimensions
Depth Closed Excluding Handles
Depth Closed Including Handles
Depth With Door Open 90 Degree
Height To Top Of Door Hinge
Description
Configuration and Overview
99.9% lower Global Warming Potential and Better Energy Performance
Appearance
Controls
Air Filter Indicator/Reset
Filter Details
Water Filter Indicator/Reset
Refrigerator Details
Number of Interior Shelves
Dispenser Details
Icemaker Details
Certifications
Configuration
Installation Configuration
Freezer Compartment
Icemaker
Reviews
Rated

5

out of

5
by
Noushin
from
Great
I bought this refrigerator a few months ago and it works fine
Date published: 2020-06-18
Rated

1

out of

5
by
jgcisneros
from
HORRIBLE UNIT _ REALLY BAD CUSTOMER SUPPORT
Purchased this on May 9, 2020 - delivered to wrong address on wrong day. Worked for less than 24 hours. It remains dead even after four visits by Appliance Repairs of Texas. I want a replacement NOW!
Date published: 2020-07-16
Rated

1

out of

5
by
richard
from
A Lemon
I purchased the refrigerator from Menards Sep 20/2020 in preparation for a move to a new home. It was installed in the new home on 12/01/2020 by the professional movers. It was non functional. It was repaired yesterday by Cambridge co, and is now finally useful. I think the start date on the warranty should be changed to 12/23/2020.
Date published: 2020-12-24
Rated

1

out of

5
by
Aaron IHP
from
No Icemaker???
I bought directly from the Whirlpool website. I read in the features that it has the ez connect icemaker which why we bought it. After it delivered I am told that it does not come with it. I went back through the descriptions and cant find anywhere that it says this. I talked to an agent and asked him and all I got was a sorry.
Date published: 2020-06-22
Rated

2

out of

5
by
Suzy
from
Brand New Fails Me
I just bought this refrigerator August 2020. I wanted to avoid the hassle of buying a used one because at times those break down in a few months of purchase. I decided to buy this specific refrigerator because of the size, since I have a very small apartment. In the first months it was doing great. Few months in, beginning of November 2020, it just stop cooling and most of my groceries went bad. I had to make an executive decision to buy a used one in the meantime because the process to get someone to repair is long. I had service scheduled more than 2 weeks ago, they made their diagnostic and am still waiting to be scheduled for service because of parts needed to arrive to complete service.
Date published: 2020-12-17
Rated

5

out of

5
by
Roe524
from
Great extra refrigerator
I bought this for my basement which has a very small space for delivery. It's perfect.
Date published: 2020-02-12
Rated

1

out of

5
by
NotBuyingAnotherWhirlpool
from
The last whirlpool that I buy
Purchase my last whirl pool product back in april. A whirlpool top freezer refrigerator that has been down for almost 2 weeks. I have had the unit for around 5 month and the compressor and coils has to be replaced. It is a warranty repair but it is taking 2 weeks to get the parts.
Date published: 2020-08-29
Rated

1

out of

5
by
Laks
from
It's stopped working within first 40 days
The refrigerator stopped working in first 40 days, the freezing compartment is forming ice every where, created service requests, it's been three weeks not fixed yet. Waste to buy this product, and just draining money as well lot of food got spoiled.
Date published: 2020-06-29
Rated

1

out of

5
by
Jolofer
from
None
Bought this about 4 months ago and is already broken. Not cooling anymore. Had a technician to see and check it and said that the problems are the condenser and evsporator. Had to wait for their call until they get the replacement parts.
Date published: 2020-07-29
Rated

1

out of

5
by
Margarita
from
Freezer quits working
I've had this refrigerator for almost a year now and wish I'd bought something else. I've had temporary power outages 5-30 minutes and when the power comes back on the freezer doesn't and everything thaws out. Bought for extra freezer space in my garage. So much for that idea. I've lost $150 dollars worth of meat so needless to say I can't depend on the freezer. What's going on!
Date published: 2021-01-30
Rated

2

out of

5
by
Hemlock Tea
from
Huge Whirlpool Screwup
I too discovered that the "EZ Connect" ice maker that is supposed to go with this fridge is not compatible. Wasted money. Both Home Depot and Lowe's websites have a different part number for the ice maker than Whirlpool, and the refrigerator manual indicates an ice maker part number that seems to be nonexisitent. Are you f'n kidding!!? Too bad whirlpool screwed this up because otherwise it seems it would be a fine appliance. I will call Whirlpool again and hope to get a satisfactory answer.
Date published: 2020-06-21
Rated

1

out of

5
by
Frustrated buyer
from
DO NOT PURCHASE-DEFECTIVE!!!
This is by far the WORST PRODUCT OF 2020! We purchased this fridge about 8 months ago. Last month the refrigerator completely stopped working and the freezer stopped keeping food frozen. Given that this fridge is kept in almost brand new condition, it should not have broken down this FAST! After speaking with Whirlpool, I was given the number to contact fridge servicing company to troubleshoot the issue. I reached out to DAN MARC APPLIANCE REPAIR SERVICE, they sent out someone twice and both times NOTHING REPAIRED! Most of all they took a MONTH to schedule these appointment and their staff is DISGUSTINGLY RUDE. I was trying to ask for an earlier appointment and DAN MARC's representative refuse to provide anything early and most of all had the NASTIEST attitude when I tried to explain to her that I've already lost $150 worth grocery due to spoilage from not being refrigerated & frozen properly. So now a month later, I'm waiting AGAIN for my THIRD appointment to be scheduled to fix this issue and making grocery runs everyday during COVID. I will never purchase Whirlpool shady products. Disappointed and most of all frustrated with crappy product and even crappier service provider Whirlpool works with. They have defective parts for their defective product, so be ready for spiraling crap show.
Date published: 2020-12-14
Rated

1

out of

5
by
Joseph
from
To be determined
Sorry to say that this is such a poor review, because I like the fridge and was very pleased with it until it stopped working and all the food in the freezer melted. Fortunately I have another fridge and was able to save other perishables. If it can be repaired and I again trust it, I will be happy to write a better review. I bought this fridge two months ago and was very happy with it, excited about plans loading the spacious freezer compartment with frozen food when I noticed a few days ago that everything in there had thawed. I put in a thermometer and it was 40 degrees in the freezer. Fortunately I only had a small amount of food in there. I watched it for a few days, and twice it got cold again, for short periods of time, then warmed back up. The power was always on (evidenced by the fridge light). The dealer I bought it from has responded very well and will come out soon, I expect next week, to see if they can locate the problem. I am hopeful that this can be fixed easily and that I will be confident enough to go buy that tote of frozen salmon to put in it!
Date published: 2021-03-01
Rated

1

out of

5
by
Jonniejuju
from
Hugh disappointment!
Brand new refrigerator and according to the Whirlpool repairman it needs a new compressor. I have yet to use it. Still waiting on parts and installation. Horrible experience.
Date published: 2020-11-05
Rated

3

out of

5
by
Laura
from
The doors don't seal well.
You shut the main door and the freezer opens or the main door has to be check to if opening freezer.we constantly have to check to see if seal.to easy to open.
Date published: 2021-06-15
Rated

2

out of

5
by
Seabee
from
Whirlpool 24-inch wide small space Top-Freezer
I purchased from a picture in reliable appliance store. Disappointment is white tape used to cover joint on top of main box behind door opening. The bottom storage drawer very difficult to use - plastic molding protrusions on drawer resting on main box floor.
Date published: 2021-02-15
Rated

3

out of

5
by
Gopats
from
Average refrigerator
I bought this refrigerator for our basement to replace our second refrigerator which is failing. The freezer and refrigerator were not that cold so I had to turn down the temperature. The light in the refrigerator section should be in the middle not on the right side. A small light in the freezer section would be nice. The door will not swing open past perpendicular, why not? Our main refrigerator stopped working so I ordered a new one in October and I am still waiting for it 4 months later!!
Date published: 2021-03-01
Rated

5

out of

5
by
Nrox2
from
Small but mighty
I bought this fridge right when the pandemic started because we needed to store more food. This apartment sized drive has been so great and fits perfect in our garage. The size is perfect and it fits lots of food in fridge and freezer. This our second whirlpool fridge. The one we have in our home we have had for over 15 years and is still running GREAT. The price was good and I hope we have this for a loooong time.
Date published: 2020-04-23
Rated

3

out of

5
by
Disappointed
from
Very hard to regulate
I bought this about 2 months ago. I like the size and design, but I can't get it to maintain a proper setting. To have the refrigerator section at 40 degrees (which is the very top of the recommended setting) I have to set the temperature setting to the very coldest possible. Even at that the freezer is not as cold as it should be (ice cream is still soft). To much time wasted adjusting things and it's still not great. I would like to set it and forget it like the last fridge I had.
Date published: 2021-03-02
Rated

1

out of

5
by
Jose123456
from
Bad unit
It hasn't worked properly since I bought it. Currently trying to get second visit from tech to hopefully get it fix. Freezer temperature has hit 60 degrees.
Date published: 2020-06-17
Rated

1

out of

5
by
Giovanita42
from
Horrible experience
I bought a Refrigerator and it's not working, I called many times to Whirlpool and they don't care. I'll never get involved again with Whirlpool
Date published: 2020-04-27
Rated

1

out of

5
by
Quasar1010
from
Burnt out fridge
Motor/compressor went out right away. Repair came and came to fix it but still not working! Using old fridge + list food and money.
Date published: 2020-08-27
Rated

4

out of

5
by
Joe Coda
from
3 months old and has never worked
Purchased this 4-29-20 from Paradise Appliance in Mesa az. Unit turned on but never cooled. Talked to seller and they contacted factory authorized repair guy. This is a new design using a newer butane refrigerant. Determined compressor bad. I like the unit a lot if it worked. They have been out here 5 times in the past 3 months and finally after a lot of trouble getting parts because of the shutdown finally got it to work but it never got down to safe food temperature then it gave off a very strong plastic smell that invaded all my food and ice so I threw it all out. I am going to contact Whirlpool directly (should have done that in the first place) and see if they will just exchange the unit with a new one. I have had a lot of paientience. If it would have worked I think I would have given it 4 to 5 stars on review.
Date published: 2020-07-12
Rated

5

out of

5
by
Frank
from
I went all out to get a Whirpool
I needed a refrigerator for my pool house and ruled out any brand, but Whirpool. I have a 25 year old Whirpool double door refrigerator in my garage and a 12 year old in my kitchen. Unless things have changed, I was going to get a Whirpool. This one is very well appointed and includes provisions for an ice maker. I like the clean design and the possibility of reversing the doors. I also liked the free shipping and that the guys took away all the boxes.
Date published: 2021-02-15
Rated

2

out of

5
by
Dan S
from
Not a garage fridge.
I bought this to use in the garage mostly for drinks. it worked great all summer. However when it started to get cold the freezer does not stay cold. In the manual it says it is for use in temps 50 degrees and up. But I didn't know this until after I bought it. The problem is that the thermostat is in the fridge, but the cold air comes in through the freezer. Cold air settles, so the fridge stays nice and cold, but the freezer is 40+degrees.
Date published: 2021-02-24
Rated

1

out of

5
by
Anong
from
Poor quality refrigerator
I bought the 11.6 cu. ft. Model: WRT112CZJW, Serial: VSX4155108 on 1st April, it was delivered, installed on 6th April by Home Depot. Tenant moved in on 14th April, ever since, the freezer overly frozen, made loud noise, sounded like starting a motorcycle engine, then ice cream, ice in the freezer melted, pool of water running out on kitchen floor, every two weeks. Frozen food had to be thrown away. I called Whirlpool Center, was on hold over half an hour, finally customer service scheduled a repair visit, a week out. Whirlpool sent this crazy aggressive, offensive technician man from Appliance Hospital whom they contracted out in the Shoreline area. He said I was not smart buying Whirlpool refrigerator this size, anything below $600, it was made to fail. It appears the refrigerator may have a software failure that the appliance cannot regulate the temperature, therefore ice built up in the refrigerator instead of freezer. You can see the built-up ice through the vent hole in the refrigerator. The technician told my tenant to go get a hair dryer and blow it to melt the buildup ice for 4 hours, leave the refrigerator opened until all the ice melted, it will reboot, restart, should work as normal. Then the technician went outside to wait. What kind of technician is this? All the food spoiled and had to be thrown away of course. DO NOT BUY this refrigerator! It is not worth a stress level you endure. My tenant and the technician got into a verbal fight, that my tenant told him to leave the house. I made a huge mistake bought it because it fits in an old home which has a very tiny kitchen. I am working on asking Whirlpool or Home Depot to honor a return. Not going to hold up my hope but I thought perhaps there is good in the world left to hope for. Hoping for a good faith corrective action to make this consumer whole again.
Date published: 2021-06-15
Rated

2

out of

5
by
djohns
from
This refrigerator was perfect until recently
I bought this in July 2020, it is used for additional refrigeration and freezer space. I notice a week or two ago that the freezer seemed to be not as frozen, so I reset the settings and it appeared fine. This week, it's defrosting part of the freezer, but not all of it, and it is freezing veggies in the fridge. Called for service, they are 8 to 9 day out to service an item under warranty. Very frustrating and I am very displeased.
Date published: 2021-02-17
Rated

5

out of

5
by
Shann$40
from
Runs quietly compared to my old one lol
I love it, I honestly had no choice my old one was leaking nd half cooling nd very loud..lol...I didn't want to do rent a center bc I didn't want another bill.nd I may be unable to pay nd they'll pick it up nd embarrass you if you don't pay. I wasn't going to do that to myself... I receive disability monthly so I just saved my lil coins nd stepped out on faith lol..Anyone can do it, it's all about your mindset..lol
Date published: 2021-05-05
Rated

5

out of

5
by
Mike
from
Perfect for basement
I finished the basement and wanted a small refrigerator that was actually large enough to be functional. This fit the bill. The freezer is frost free and large enough for ice and pizzas. There's enough room in the fridge for snacks and drinks. The footprint is small enough to fit in a 400 square foot basement. The top of the fridge is large enough to hold a 2 cu foot microwave. I'm very happy with this purchase.
Date published: 2021-03-27
Rated

3

out of

5
by
Melly3815
from
No Ice maker kit available
Listing says EZ Connect icemaker kit but there is not an Ice maker available that fits this model. Even called Whirlpool to verify. Has a part # W11424126 in the parts list.
Date published: 2020-02-07
y_2021, m_6, d_17, h_18
bvseo_bulk, prod_bvrr, vn_bulk_3.0.17
cp_2, bvpage2n
co_hasreviews, tv_0, tr_158
loc_en_US, sid_WRT112CZJB, prod, sort_[SortEntry(order=RELEVANCE, direction=DESCENDING)]
clientName_whirlpoolbrand
bvseo_sdk, java_sdk, bvseo-4.0.0
CLOUD, getReviews, 2ms
REVIEWS, PRODUCT
Bundle summary&nbsp (&nbspitems)
If Purchased Individually*
*Offer subject to change. Limit one use per order. Valid for bundles delivered to a single U.S. address. Bundle savings based on current pricing available from Whirlpool.com. Only valid for new orders on Whirlpool.com.
See how we handle Returns
.