36-inch Wide Side-by-Side Refrigerator - 28 cu. ft.

WRS588FIHB

Model: WRS588FIHB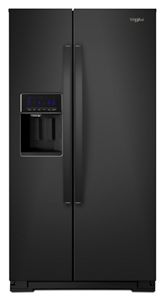 36-inch Wide Side-by-Side Refrigerator - 28 cu. ft.
36-inch Wide Side-by-Side Refrigerator - 28 cu. ft.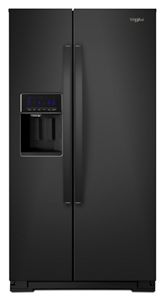 Key Features
Exterior Ice and Water Dispenser with EveryDrop™ Filtration
Accu-Chill™ Temperature Management System
Adjustable Gallon Door Bins
Sign in to unlock lower pricing
Frequently bought additional items
Why shop Whirlpool® appliances
Overview
Product Overview
36-inch Wide Side-by-Side Refrigerator - 28 cu. ft.
Store more of your family's favorites with purposeful storage spaces. This extra-large refrigerator features In-Door-Ice® storage to give you an extra full shelf in the freezer. Get convenient access to filtered water with the exterior ice and water dispenser with EveryDrop™ filtration. Plus, our side-by-side refrigerator's Accu-Chill™ temperature management system keeps family favorites in their ideal environment with quick cooling.
In-Door-Ice® Storage
Get an extra full shelf in the freezer with an ice bin that's been moved to the door.
Frameless Glass Shelves
Store more items on each shelf with wall-to-wall frameless glass shelves, which offer greater storage flexibility.
Fingerprint Resistant
Available in black stainless steel and stainless steel finishes, easy-to-clean steel resists fingerprints and smudges.
Additional Features
Exterior Ice and Water Dispenser with EveryDrop™ Filtration
Access fresh filtered water and ice without ever opening the refrigerator door.
Accu-Chill™ Temperature Management System
Cool food quickly with technology that senses and adapts to create the ideal environment for food.
Specifications
Dimensions
Depth Closed Excluding Handles
Depth Closed Including Handles
Depth With Door Open 90 Degree
Height To Top Of Door Hinge
Configuration and Overview
Appearance
Controls
Air Filter Indicator/Reset
Filter Details
Water Filter Indicator/Reset
Refrigerator Details
Number of Interior Shelves
Freezer Details
Freezer Number of Shelves
Dispenser Details
Filtered Water, Measured/Metered Fill, Filtered Ice, Control/Child Lock, Night Light
Icemaker Details
Certifications
Refinements
External Ice & Water Dispenser, FRESHFLOW™ Produce preserver, LED Lighting, In-Door-Ice® Storage, Adjustable Gallon Door Bins, Whirlpool Handle, ADA Compliant
Freezer Compartment
Compatibility
Description
Configuration
Installation Configuration
Icemaker
Reviews
Rated

5

out of

5
by
LindaD47
from
Refrigerator
5 years ago I bought a new Whirlpool side by side refrigerator. It had given me small issues (freezing my eggs and veggies) periodically, but nothing drastic. Then the whole thing went out. My repairman said the highside had a kink in it. He drained and refilled the coolant. It worked for 4 days and died again. I thought long and hard about buying a new Whirlpool, but decided to go ahead. I am very upset that I had replace that box that was like brand new and only 5 years old. And to my distress after the new box was delivered I found out it did not have a butter keeper in the door. Everyother refrigerator I have ever owned did. Very disappointing.
Date published: 2020-08-06
Rated

1

out of

5
by
GR2020
from
Build quality subpar
I purchased this refrigerator in February 2020. It arrived with foam insulation oozing out of the doors. Also, the door switch was not functioning causing the refrigerator to think door was open causing no ice to be made. When the door is shut it barely makes contact with the switch. The top shelf receptacle on door also would not accept the plastic shelf as if the door was the incorrect dimension (maybe causing the door not to fully engage door switch???). The store we purchased it from is sending out a repair person to assess whether we need a new door or not.
Date published: 2020-03-02
Rated

4

out of

5
by
poornate
from
One Month Review
I am pleased, overall, with this appliance. PROS: Good flexible space. Plenty of room. Customizable organization. Consistent temperature throughout the appliance. An ice and water dispenser that you can actually fit larger modern cups under (a major motivation for us because of sports bottles, etc.) CONS: The capacity should indicate the need for a larger ice reservoir (family of 6 here). Door ice and water features are hard to engage (compared to competitor mechanisms) and loud. No built in closing compartment in door for eggs, butter, etc., which is traditionally expected. The price-point for white was much higher than other exteriors.
Date published: 2018-05-21
Rated

1

out of

5
by
MrsFlirty
from
Worst fridge ever
I purchased this model refrigerator in November after 6 months of unsuccessful warranty repairs the refrigerator was replaced almost a month later after the unit was deemed unrepairable. Guess what the "NEW" refrigerator is doing the same thing. Freezing in the refrigerator and condensing . The fridge collects frost. Reached out to Whirlpool next day and haven't heard from them it's been 4 days. Very unsatisfied $1,500+ in the trash . Very frustrating....
Date published: 2020-06-03
Rated

4

out of

5
by
Sir Logan
from
Some good features--some not so good.
I've had the fridge about a month now. I love the color and exterior finish that hardly shows fingerprints or smears. I like the fact that the ice bucket is in the door, but it is way too small--doesn't hold enough ice. Also, I don't like the limited shelf placement--not enough options--my old fridge had shelf placement options from top to bottom. I'm losing space because of the heights I've selected. For example, I keep pitchers, wine bottles, etc. on the top shelf, but the shelf has to be on the second level to accommodate these items--the top level is too short, which takes away storage on the lower levels. I like the storage capacity in the freezer side.
Date published: 2020-05-14
Rated

3

out of

5
by
TJBuilders
from
Dissappointed for the price
Bought this to replace a GE Profile that was 15 years old. The GE still functioned fine, but was starting to make gurgling noises and we took that as a sign to replace it. After using our new Whirlpool for one month, pros: uses slightly less electricity than our 15 year old GE Profile considerably more inside storage space than our old fridge, even though outside dims are basically the same. cons: there is an annoying 1 second delay to get water or ice after pressing the switch. Our 15 year fridge was instant. big con-this fridge makes even louder and more frequent gurgling noises than the old one it replaced.
Date published: 2021-02-16
Rated

1

out of

5
by
kathy12345
from
Problems with Ice Maker and Water
We bought this refrigerator and the ice maker would not work. Also the water would not work. Lowes sent someone out to try to fix it. Could not. We had to wait already on another refrigerator about a week and it came back with the wrong color sides. We wanted black sides and it had grey sides. So we waited another week for this broken one. They advertised 2 day delivery but they said they were backed up. They agreed to replace this refrigerator but they were still backed up on delivery so we had to wait another week. 3 weeks it took us to get a refrigerator that worked. The ice is small so it melts quickly. Does not hold that much ice at a time. I do not use the crused ice since the ice is so small already. Since I had so much problems I was forced to buy the 5 year warranty.
Date published: 2017-11-14
Rated

3

out of

5
by
Joe@the Beach
from
OK if you don't want much ice or cold water
I bought this refrigerator based on size, ratings and price. It has a filtered water dispenser, however do expect the water to be cold. My tap water is actually colder. Allow at least a week for for the ice dispenser to start making an almost adequate amount of ice. My 20 year old refrigerator made much more ice, more quickly.. For the price, Whirlpool should include a butter/ cheese compartment. Had to buy one off Amazon. Positive comment is after 4 weeks, it is still operating and I have not had to have it serviced. I would recommend to a friend only after it is in service for a year with the above comments.
Date published: 2018-10-23
Rated

4

out of

5
by
RainmakerTX
from
A very nice refrigerator
We've only had this Whirlpool refrigerator for a week so hard to give a solid review. The features are good. The lighting inside is nice and the icemaker/ice bin being in the door frees up a shelf we didn't have before in the freezer area with the old machine. The door shelves are smaller than what we were used to. There was also the lack of a covered shelf for butter that has been in every refrigerator we've ever owned. That was corrected by buying one for a different refrigerator that people had checked and found out would fit perfectly. And it did. Can't tell if this will last 28 years like the one it replaced but we have high hopes.
Date published: 2021-03-24
Rated

5

out of

5
by
CAZZZ
from
Great Refrigerator!
We've had this refrigerator for 8 months, and it's a good one that replaced a large, 20 year old Kenmore side-by-side. I shopped for a refrigerator for a good month before settling on this one and am happy with my choice. It has plenty of room in both sides and has no problem with keeping the food cold. The automatic water dispenser feature is excellent for filling bottles of water I take to work each day. The only 2 negative points I give is that the noise level when making ice is noticeable, and there are some areas on the left side that are colder than other areas, but the positive points of this refrigerator far outshine those 2 points.
Date published: 2018-12-29
Rated

5

out of

5
by
Mary love the black stain
from
Love the black stainless exterior!
I bought this a few weeks ago to replace an older Samsung that was not functioning properly. I love that we do not have to deal with fingerprints on the exterior. The design is great in that it takes up less room than our old one (same size) and the front seems flatter and does not stick out as much. Great storage configurations options on the fridge door. Extremely well lit interior. Storage drawers glide easily. Love the water dispenser feature where you can preset fill amounts and that it counts the ounces as you fill a container. Love the smaller size ice cubes. Great product for the price. I Best of all, it is made in America!
Date published: 2019-02-17
Rated

1

out of

5
by
BobU
from
Best Buy has amazing service.
Bought the fridge thru Best Buy real easy. Delivered when they promised. They set the fridge up immediate problem constant beeping from door alarm. Ice maker and water dispenser didn't work. Interior light would work intermittently. Best buy arranged for a new fridge to be delivered. We live in rural area so was a week wait. Best Buy dropped off the 2nd fridge and it had the same issues. So a week later Best Buy delivered a brand new working correctly SAMSUNG fridge. Whirlpool service was useless. This was all pre- Covid19
Date published: 2020-04-22
Rated

5

out of

5
by
Carol
from
Awesome Refrigerator!
I have been using this for about six weeks now and absolutely love it! The features are great and it's easy to keep clean. I love the ice maker/water and ice dispenser, it helps me keep track of how much water I am drinking and I love that! The way the shelves and drawers are made with smooth and tight edges is a bonus. The storage and space is awesome. I really like the storage and design of the freezer too. I have not had to "pack" anything in at all and this serves a family of four. I have had a few types of refrigerators and the side by side is by far the best for my family! Highly, highly, highly recommend this refrigerator.
Date published: 2020-12-17
Rated

3

out of

5
by
MFTisme
from
Love the layout and the looks; hate the noise.
The fridge is really quite pretty, as far as appliances go. We've had an issue with the refrigerator door not sealing properly but Whirlpool is working to replace it. The interior is roomy, as is the freezer (for a side-by-side). This unit replaces our previous Whirlpool from 13 years ago and the features on the new model are improved, save for one thing: NOISE. This refrigerator is substantially louder, which Whirlpool attributes to its energy efficiency and optimized performance. Cool--but it's still awfully loud. It also emits a high pitched ringing noise. Which leads me back to my title, Love the layout and the looks; hate the noise.
Date published: 2020-04-27
Rated

5

out of

5
by
Robsteray
from
Deep, easy to see what you're looking for
I did a lot of research and came to find in terms of bang for your buck this fridge was the one I needed. It's huge for a family of four. The ice maker in the door frees up a lot of freezer space. I like I have enough space to keep both leftovers and fresh foods separate with a weekly shopping schedule. Also I can freeze enough precooked meals on Sunday to last the week. There is not much I can find as criticism. It does not have a butter compartment but you can buy one aftermarket. But I have so much room in there the butter tray now sits on s shelf with enough room. Overall I'd recommend as a great family fridge.
Date published: 2019-02-18
Rated

3

out of

5
by
Bills812
from
Roomy Fridge
I have had this fridge bout a month now ,it seems to have some issues, when it kicks on to cool the fridge it has a loud high pitch whine to it ..still haven't been able to get ahold of service at Lowes yet but I'm hoping for the best and that it can be fixed or it will go back and replaced. I also found if you don't use the ice on a regular basis it will all freeze together as a big clump of ice, that was a job getting it out. But hot water does wonders..so just beware and get the warranty...for as much as these new fridges cost they should not be making noises so loud you cant stand it ...
Date published: 2018-01-23
Rated

1

out of

5
by
TxBigfoot.
from
Waste of space - Model WRS588FIHZ00
I just bought this and had it delivered. On the top of the refrigerator door are three tabs that normally hold a butter tray or shelf. When none of the existing bins fit, I called Whirlpool. I was told that yes that's for an optional product (egg Bin). Thinking OK, they got me. So I had them transfer me to the parts dept to order one. Guess what. Nope, it does not exist. I call them back and they tell me to do the online chat as they have all of the answers. I did that. No answers. So that's run around one. I am quite displeased that there is so much wasted space. The design team, engineers, etc all should be fired. I paid good money for useable space. Look at the picture and see how much space is wasted even with a very tall wine bottle. That's inexcusable to me and the fact that there is no product they offer that can make it useable adds insult to injury. So be advised.
Date published: 2019-12-09
Rated

4

out of

5
by
Anonymous
from
good bang for the buck
Nice fridge could be a great fridge. CONS needs another shelf for door on fridge side needs more adjusment places for shelves on fridge side quality of plastic draws and door shelves could be beefier feels like when i pull on them they might snap draws could pull out further before the pre determine stop and a better slide for draws in fridge and freezer PROS nice and bright interior ice storage on door allows more storage in freezer good controls on door panel very cold temperature both sides stainless steel gray slate great color crushed ice is almost small enough to make ice cones hidden hidges nice feature
Date published: 2017-11-07
Rated

4

out of

5
by
Christoph
from
Large but with quirks
My wife and I purchased this whirlpool refrigerator about 2 months ago. The ice maker works well, however it is on the small side. Makes enough ice to meet our needs. The shelf layout is limited. You get what you see. Some other models have more versatility in shelf placement. On occasion a droning sound comes from the refrigerator but it is tolerable. Also the measured water dispenser is inaccurate. Our refrigerator needs 3 cups requested to dispense 2 cups. Overall we our pleased with our purchase. It is very spacious and looks and works nice.
Date published: 2017-11-21
Rated

4

out of

5
by
gandk
from
Great features
Even though the refrigerator fits in the same space that our old refrigerator did, the interior of both sides seems larger. The drawers seem to hold more and roll in and out very smoothly. On the negative side, we were disappointed in the manufacturing quality. The handles of the doors of our first Whirlpool that was delivered could not be aligned properly and the freezer door scraped the side when it was opened or closed. The dealer ordered a replacement and when it was delivered, a plate on the exterior bottom could not be aligned. A replacement was ordered and it too was not perfect. Despite these manufacturing quality issues, we still love the refrigerator.
Date published: 2019-11-04
Rated

5

out of

5
by
jcm45
from
We are Please
We bought a less expensive refrigerator about 4 years ago. It was okay but a little too small and too noisy. Then we bought this one. Wow! what a difference! quiet, 2 extra cubic feet really make a difference. And putting the ice maker on the door provides so much more freezer space. We debated awhile about the new style of freezer at bottom instead of side by side; A great decision. We open the door and see virtually everything that is in there. Like the typical stand alone box freezer, does anyone actually know what is at the bottom? Not with this one. All is visible
Date published: 2018-10-30
Rated

5

out of

5
by
JoKH
from
Whirlpool Side-by-Side - 28 cu. ft.
We purchased this Whirlpool Side-by-Side a month ago and are very happy we did. I would actually give it about 4 1/2 stars if that were an option. We love the amount of space inside. We love side-by-sides because of the convenience of seeing everything in the freezer. This has a very attractive black stainless finish which doesn't show fingerprints - we love it. Lots of room for everything and the icemaker is built into the door which keeps the freezer room open for other things. Only thing I have noticed that could be a little better is that sometimes the compressor makes a little more noise than I am used to.
Date published: 2019-06-21
Rated

3

out of

5
by
Pen411
from
Nice refrigerator, but fit & finish is lacking
I really like this unit. It looks nice, cools well and is quiet. It's not quite as up to date as other units. Details such as using LED bulbs vs strip lighting for example. Having the ice bin in the door maximizes the freezer space, and with fast ice mode turned on it makes quite a bit of ice. The bin is easy to remove and empty if you want to fill a small cooler. Lots of shelves and door shelves, though it is missing the "butter/egg" bin that older units came with, you can purchase one online for ~$50. The real issue is the fit and finish, quality control before the units leave the factory. My first unit had a defect in the corner that prevented it from making a proper seal, Whirlpool was great in replacing it without too much fuss, unfortunately the unit that was sent had more fit and finish issues than the original. There is insulation coming out all over the place. Yes, it's minor, to a point. This insulation pushes out the trim pieces to the point they are scraping on the top door brackets, slowly shaving the trim down. You can adjust the refrigerator door for height, but not the freezer side. Other points such as uneven door seals, which are already hardened and the like add to the finish issues. Failing door seals are why I replaced my prior refrigerator! Overall I could recommend this, just make sure you inspect it completely inside and out before you accept delivery.
Date published: 2019-12-08
Rated

3

out of

5
by
lucy36
from
Great - Not sure.
Refrigerator was delivered with doors and, consequently, handles uneven. One door and handle being higher than the other. It took a service call to get them aligned. Upon reading information received with the refrigerator which states that refrigerator will be delivered from the factory with doors misaligned to allow for weight which will be placed on the door after loading (with food, milk, etc.) Who thought this up? I do like the refrigerator but I would not have bought it had I read that literature or realized that it would take a service call to "fix" my newly delivered refrigerator's doors.
Date published: 2018-08-20
Rated

1

out of

5
by
Don1960
from
Too cold not cold enough
We bought this on 8/30/18. It was delivered and instead on 9/5. The refrigerator side is not cold enough (50) and the freezer side is too cold (below -20) Home Depot would not take it back till a service technician checks it out on 9/28.
Date published: 2018-09-25
Rated

2

out of

5
by
Gladys61
from
Disappointing longevity
We bought this refrigerator with a kitchen renovation less than 4 years ago. We loved it until the ice maker stopped working. The repairman said we would need to replace the freezer door to make it work again, and the price for that is more than half of what a new appliance would be. This is so disappointing to have a major appliance like this not last as long as our prior, less expensive, refrigerators. Going to manual ice trays defeats the purpose of this feature. The ice maker in the door was one of the reasons we bought this model. We are very disappointed with the longevity of the components of this product.
Date published: 2021-05-11
Rated

1

out of

5
by
Ronronson
from
Not happy with this fridge!
We bought this fridge 2 years ago, within the first six months it stopped making ice. We had it repaired under warranty. Now a year and a half later the ice maker has stopped working again! We replaced the ice maker and it is still not making ice. We have had 2 different repair companies refuse to come out to work on it as there are so many known issues that they will not work on this model. So now we are stuck with a $1900.00 that makes no ice. Thanks Whirlpool, we will not be buying your brand again.
Date published: 2019-11-15
Rated

5

out of

5
by
Karlatheseamstress
from
I love the measured fill!
I've had this fridge almost a month and I'm very satisfied. It was the only fridge I could find that would fit in the built in area of my old one so it was pretty much my only option unless I went with a smaller fridge. They make them a lot taller nowadays. It is very roomy and I love the auto fill feature which you can set to the number of ounces you prefer. The ice machine storage is smaller than my old one so I don't have an much ice for larger needs. The cubes are smaller which I like. There is a slight delay when filling your glass with ice from the door which I had to get used to. Overall a great fridge!
Date published: 2020-02-12
Rated

3

out of

5
by
Mjmgrand
from
Nice fridge except
After having a Whirlpool brand for 25 years without any issues so we decided to buy again. This fridge looks great on the outside and in but makes a whistling noise that is very loud and hard to ignore. I have read that there is nothing wrong with it and that is normal. I wish I would have known that before we purchased. I would have looked at other brands instead. Overall it's a decent fridge but should have been made to be quieter.
Date published: 2018-09-25
Rated

5

out of

5
by
YoAdrianne
from
Wow
This fridge is huge but only on the inside. It's very well lit and has lots of space. The inside drawers open and close smoothly. There is lots of room for food. Makes things easy to organize. The ice maker provides a good amount of ice though it's a little loud sometimes. I like the large spot for filling up cups and the measures fill is pretty cool. Just make sure you calibrate it. The only issue we had with the fridge upon arrival was the fridge would not dispense water. We put in a quick call to Whirlpool and they told us to adjust the water filter and that was it. The black stainless steel is beautiful and fingerprint resistant and you can put magnets on it.
Date published: 2020-04-13
y_2021, m_6, d_17, h_18
bvseo_bulk, prod_bvrr, vn_bulk_3.0.17
cp_2, bvpage2n
co_hasreviews, tv_0, tr_1283
loc_en_US, sid_WRS588FIHB, prod, sort_[SortEntry(order=RELEVANCE, direction=DESCENDING)]
clientName_whirlpoolbrand
bvseo_sdk, java_sdk, bvseo-4.0.0
CLOUD, getReviews, 3ms
REVIEWS, PRODUCT
Bundle summary&nbsp (&nbspitems)
If Purchased Individually*
*Offer subject to change. Limit one use per order. Valid for bundles delivered to a single U.S. address. Bundle savings based on current pricing available from Whirlpool.com. Only valid for new orders on Whirlpool.com.
See how we handle Returns
.