22 cu. ft. Chest Freezer with Extra-Large Capacity

WZC3122DW

Model: WZC3122DW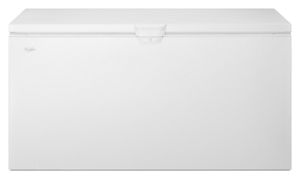 22 cu. ft. Chest Freezer with Extra-Large Capacity
22 cu. ft. Chest Freezer with Extra-Large Capacity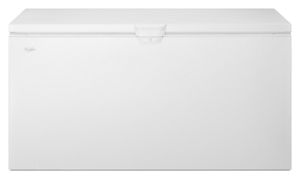 Key Features
Defrost Drain with Hose Adapter
Designed, Engineered and Assembled in the U.S.A.
Sign in to unlock lower pricing
Why shop Whirlpool® appliances
Overview
Product Overview
22 cu. ft. Chest Freezer with Extra-Large Capacity
There's always room for your frozen favorites inside this 22 cu. ft. capacity chest freezer. Spills are a snap to wipe up with smooth, rounded Easy Clean Corners and you'll be able to keep food safe in this chest freezer with the secure key lock. Plus, three large storage baskets give you more options to organize your frozen favorites.
Key Lock
Keep your frozen foods safe and secure with the key lock.
Additional Features
Storage Bin
Storage bins provide convenient storage options for better organization.
Defrost Drain with Hose Adapter
Defrost your freezer with ease. Attach the included hose adapter to the defrost drain to easily remove water when preparing to defrost and clean the chest freezer.
Specifications
Dimensions
Depth Closed Excluding Handles
Depth Closed Including Handles
Height To Top Of Door Hinge
Configuration and Overview
99.9% lower Global Warming Potential and Better Energy Performance
Appearance
Details
Controls
Temperature Monitor Alarm
Certifications
Refinements
Freezer Compartment
3 Slide-Out Plastic Baskets
Features
Reviews
Rated

5

out of

5
by
Lizzer
from
Lots of room
So far this freezer is doing a great job. Lots of room and plenty of racks for dividing food.
Date published: 2017-12-04
Rated

5

out of

5
by
Trink56
from
Great Freezer - Chills Fast
Bought a little over a month ago to replace a 26 year old freezer that died. The only thing I would change is the plastic trays/bins. I was used to metal and those trays/bins never had any issues in 26 years. My experience with plastic is, with age, they will start to crack/break. Also, the old freezer had the compressor shielded by a vented screw on door/plate. This one is open and the copper sticks out somewhat from the back of the unit. Only time will tell.
Date published: 2019-05-10
Rated

5

out of

5
by
Fonda85
from
Love the capacity
Our children bought this freezer for us for Christmas. What a surprise. We love it.
Date published: 2018-03-13
Rated

5

out of

5
by
iscream
from
GREAT capacity
We were shopping for a smaller sized chest freezer, but the measurements and capacity of this one turned out perfect. It keeps ice cream and other products at the perfect temperatures we require for our mobile food business. Very happy with this product. I appreciate the smooth sided interior without added side brackets for baskets - a negative feature for our use. Happily this freezer does not have those allowing for larger cases to easily fit in and out.
Date published: 2015-09-25
Rated

5

out of

5
by
Anonymous
from
Holds Everything!
It will hold a large garden of vegetables and more.
Date published: 2015-04-02
Rated

5

out of

5
by
M. R. Sellars
from
Excellent purchase
We bought this unit to replace our 50 - yes, 50 - year old 15 cubic foot upright. Obviously this one has more space, and it is far more efficient which are the two primary features we were after. It actually takes up less space, as well. Quiet and flawless operation thus far. Extremely happy with the purchase.Word of advice to fellow fiction writers: Don't make comments to the delivery guys about being able to fit bodies in it. That just freaks them out.
Date published: 2015-08-04
Rated

5

out of

5
by
Troy M.
from
Unlike smaller chest freezer this one is excellent
We have had smaller chest freezer's in the past that had left us saying we wouldn't buy another one because you were always digging through layers of frozen items to find what you were wanting. With this larger freezer chest freezer there is plenty of room so you can spread things out and don't have to stack things on top of one another and the sliding trays on top let you store your most utilized items in for easy access!
Date published: 2018-01-23
Rated

4

out of

5
by
Moss
from
Down sized
It's been about 30 day since our 27 cu.ft.freezer suddenly quit on us. It was full of vegetables from our garden. 22 cu. Ft. freezer was the largest we could locate and have delivered wi t hinges a few hours.This freezer saved our hard work of putting up fresh vegetables. We also have a 25 cu. Ft that we've one for at least 10yrs. Guess no one is m a King larger freezers or no one is ke e ping them on stores.
Date published: 2016-09-06
Rated

3

out of

5
by
Anonymous
from
Noisy freezer
We bought this freezer last month. It took 2 weeks longer to arrive than was promised. When it arrived, it was damaged. It is noisy like other reviews mentioned, so if it is going to be in your home--pass on this one. We liked the price we got it for, so that is a plus. It works fine. It might be helpful to know the cord is on the right side of freezer and control knob is on left side rear (odd place).
Date published: 2016-12-26
Rated

5

out of

5
by
Anonymous
from
Fantastic Freezer Absolutely in Love!
Finally I can find everything at a moments notice without getting frostbite while frozen contents plummet me as I dig! I love this freezer! The moveable baskets are huge allowing for one obsessed with orderly structure to have a "field day" organizing the smaller items. The tested quality and reputation of Whirlpool and supper fair price make this freezer the bargain of the year!.
Date published: 2016-10-13
Rated

5

out of

5
by
A.bully2019
from
Awesome space!
My husband and I purchased this bedding more room for pork and beef that we raise. It fits a whole hog and half a cow in the bottom portion and I have sweet corn and frozen treats in the top removable compartments. Very quiet and true to size. Fits perfectly in the corner or our garage with room for other things. 100% recommend! All my appliances are whirlpool brand.
Date published: 2019-10-25
Rated

5

out of

5
by
Howard69
from
22 Foot Manual defrost Chest Freezer
I bought this 22 foot manual chest freezer to replace the Whirlpool 23 foot manual chest freezer I bought 29 years ago and it served us well! I like the new style storage baskets, they are a big improvement over the old wire ones. These slide very well and the lid seals better. I look forward to another 25 plus years from this freezer! Darrell Howard, Oklahoma
Date published: 2019-08-06
Rated

5

out of

5
by
Freezer#
from
Very quiet
We bought this to replace an old chest freezer that died in the middle of a heat wave. Just bought whatever was in stock and am very pleased this is what we came home with. The heavy duty baskets slid easily across the top of the freezer and hold several pounds of food. It runs very quiet. I checked it a couple times to be sure it was running. Lots of room.
Date published: 2018-08-11
Rated

5

out of

5
by
Anonymous
from
Love the size
We purchased this 22 cu. ft. chest freezer about a month ago and we are very happy with it. The included baskets are very handy to organize the food according to its type (beef, pork, chicken, etc.). We will probably purchase additional baskets to go in the bottom for additional organization which certainly makes it a lot easier to locate items.
Date published: 2016-08-20
Rated

3

out of

5
by
Zilly
from
Freezes well
I bought this approximately 1 month ago, and since the 1st time we opened it, after it was well frozen, there is a place on the top back, inside, that continually frosts up very bad. I have knocked it off and it comes back, almost like it is not sealing good there or something. Not happy with that, I am afraid it will cause problems.
Date published: 2019-06-23
Rated

5

out of

5
by
Clinchco Church
from
Love this Freezer
Our church bought this a month ago and we all love it. Its not so deep we can't reach the bottom and plenty of room to store whatever we need. We make and sell apple pies as a fund raiser so we store our apples in this freezer. We prepare the apples to be put in the pies then freeze them. Our small ladies group love the freezer.
Date published: 2015-08-20
Rated

3

out of

5
by
Anonymous
from
Noisy, but like the baskets
We bought this freezer a couple months ago; I have recently noticed how noisy it is. I don't know if it was this noisy initially, but it is now. It seems like it runs a lot too. My husband heard it shut off the other day and he said it made a terrible grinding type noise. We just got half a beef and I hope that it doesn't quit.
Date published: 2016-02-14
Rated

5

out of

5
by
Coupon Clipper
from
Runs quiet, easy lid to lift and will stay up when opened!
We purchased our 22 cu. ft. Chest Freezer with Extra-Large Capacity July 1, 2016. We are very happy with is at this point. I do hope it has a long life! Our last freezer ran for 30 years with no breakdowns! I would prefer wire baskets in the freezer instead of plastic because I think the plastic baskets will crack and break.
Date published: 2016-07-30
Rated

5

out of

5
by
granky2
from
Great buy
This was an emergency buy, old Montgomery Wards freezer bit the dust after 35 plus years and food was thawing out. Local dealer had this freezer is stock and delivered it 30 mins after purchase. Plugged it in loaded it up and a few hours later everything was back to normal. Hope to get 35 years out of this one.
Date published: 2019-10-15
Rated

4

out of

5
by
dos2008
from
Only had it for a couple weeks but so far so good
Happy with my purchase thus far, got a great deal with Lowe's Home Improvement! The only complaint I have about this unit is that the control knob is on the side of the unit so if you put it against a wall you have to leave enough room to reach in and adjust if needed or move unit when adjustments are needed.
Date published: 2018-09-27
Rated

4

out of

5
by
Food Eater
from
Chest Freezer
So far it is doing what I wanted it to do - keep food frozen. The only improvement I would suggest would to have some portable food dividers. Possibly some stiff waxed cardboard would work. These would keep my stacked packages of frozen vegetables from falling over when I remove something next to them.
Date published: 2015-12-02
Rated

5

out of

5
by
We love to cook
from
Love my freezer
My freezer is perfect. It freezes everything very quickly and there is tremendous amount of room. Unlike the baskets from older freezers and other brands, the baskets in this one are strong, roomy and slide easily without falling into the bottom of the freezer. So I have no problem loading them up.
Date published: 2016-02-05
Rated

5

out of

5
by
Loves animals
from
Love whirlpool brand
I bought this from a local dept store because of the Whirlpool brand. I've had other appliances from whirlpool and this one is no different. It has the extra capacity I needed and all the features for a larger chest freezer that you can find. Would recommend to anybody! Very happy with the quality.
Date published: 2019-11-22
Rated

2

out of

5
by
Scott0711
from
No Temperature Control Dial
The manual suggests to set the Temperature Control Dial at 4 for normal operation. However, I do not see Temperature Control Dial anywhere on the appliance. Usually any appliance has an illustration which tells where each part is located with each name. The manual does ot have any instruction.
Date published: 2020-03-14
Rated

5

out of

5
by
virgil78
from
great features
I am so glad I bought this freezer it has the 3 baskets which are great for holding the small stuff that we use every week and it is large enough to hold everything that I need it to hold I make alot of soups and chili's and love to freeze them for a later date it is just great for all uses.
Date published: 2015-02-12
Rated

5

out of

5
by
Anonymous
from
Frozen Solid
We bought the freezer about a month ago, brought it home, plugged it in, and in a few hours was ready for food storage. We put 80 lbs each of plums and peaches, 160+ lbs of several squashes, and there is room for much more. It holds the temp at 0° just like it should. We love this thing.
Date published: 2015-08-07
Rated

4

out of

5
by
Anonymous
from
22 cu. ft. Chest Freezer
I bought this freezer to store my product in. I have 5 other freezers. they are the 26 cu. ft. chest freezers. this new freezer is good but it does not have the storage space of my old ones. the rounded corners are good to clean but you can not store squear boxes next to the wall.
Date published: 2015-11-13
Rated

5

out of

5
by
Christy92
from
Great storage capacity
I bought this a few weeks ago when we had our calves processed and packaged we were able to put around 700 pounds (that's 1 1/2 calf packaged meat) of meet in freezer and still have room for some other items. I am impressed and please with storage capacity of this freezer.
Date published: 2020-01-30
Rated

3

out of

5
by
GramaDoris
from
Looks nice
I was very disappointed that it has no dividers inside to help sort things and keep them in place. Also, as I read the instructions, I couldn't find the controls. The booklet didn't mention where they were. Fortunately, my husband knew where they were, strange place tho.
Date published: 2018-06-20
Rated

4

out of

5
by
iEbs11
from
Functional
The freezer does not have a lot of "wow" features, but to this point it does exactly what it was designed to do... keep food frozen. I am pleased with how it is working (I've had it for less than a year), and hope it continues to do it's job for many years to come.
Date published: 2017-01-17
y_2021, m_6, d_17, h_18
bvseo_bulk, prod_bvrr, vn_bulk_3.0.17
cp_2, bvpage2n
co_hasreviews, tv_0, tr_215
loc_en_US, sid_WZC3122DW, prod, sort_[SortEntry(order=RELEVANCE, direction=DESCENDING)]
clientName_whirlpoolbrand
bvseo_sdk, java_sdk, bvseo-4.0.0
CLOUD, getReviews, 2ms
REVIEWS, PRODUCT
Bundle summary&nbsp (&nbspitems)
If Purchased Individually*
*Offer subject to change. Limit one use per order. Valid for bundles delivered to a single U.S. address. Bundle savings based on current pricing available from Whirlpool.com. Only valid for new orders on Whirlpool.com.
See how we handle Returns
.