2.1 cu. ft. Over-the-Range Microwave with Steam cooking

WMH54521JZ

Model: WMH54521JZ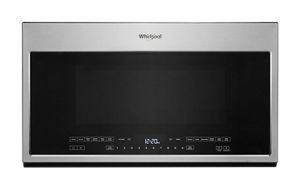 2.1 cu. ft. Over-the-Range Microwave with Steam cooking
2.1 cu. ft. Over-the-Range Microwave with Steam cooking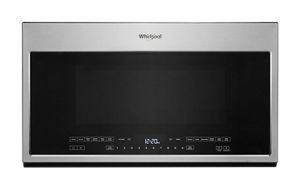 Key Features
CleanRelease® Non-Stick Interior
3-Speed, 300 CFM Motor Class *Performance varies based on installation. Resources available at aham.org.
Sign in to unlock lower pricing
Why shop Whirlpool® appliances
Overview
Product Overview
2.1 cu. ft. Over-the-Range Microwave with Steam cooking
Quickly clean up spills with a wipe in our over-the-range microwave thanks to its CleanRelease® non-stick interior. Free up cooktop space by steaming foods like vegetables or fish1 right in your over-the-oven microwave, or use sensor cooking that adjusts the cook time so your food comes out of your over-the-range microwave ready to eat.
Tap Touch controls
Clean the controls as easily as you use them.
Steam cooking
Clear up cooktop space by steaming foods like rice, vegetables and fish right in the microwave. Steam accessory available separately.
Turntable On/Off Option
Choose whether the turntable rotates or not to accommodate a wide range of dish sizes.
Additional Features
Sensor Cooking
Take out the guesswork with sensors that track the cooking progress of your food and automatically adjust cook times.
CleanRelease® Non-Stick Interior
Help prevent spills from sticking with the CleanRelease® Non-Stick Interior, which lets you easily clean up with the simple wipe of a damp cloth.
Specifications
Dimensions
Depth With Door Open 90 Degree
Configuration and Overview
Controls
Number of Quick Touch/One-Touch Selections
Microwave Details
Scrolling Electronic Display
Details
Ventilation System
Charcoal Odor Removing Filter
Electrical
Configuration
Microwave Hood Combination
Features
Microwave
Add 30 Seconds, Auto Cook, Beverage, Control Lock, Cook, Cook Power, Cook Time, Defrost, Dinner Plate, End of Cycle Signal, Fresh Vegetable, Frozen Entree, Keep Warm, Kids Menu, Off/Cancel, Pizza, Popcorn, Potato, Reheat, Soften/Melt, Sound On/Off, Soup, Steam, Timer
Reviews
Rated

2

out of

5
by
Caryl
from
Door display lights disappeared
Purchased this two years ago with extended warranty. The display lights disappeared a few months after purchase. The Geeks Squad kicked it back to manufacture who claims it was made that way. We have to use a flashlight to see the controls.
Date published: 2021-01-02
Rated

1

out of

5
by
Suzie
from
Hopefully, this will get someone's attention.
I'm hearing impaired and for weeks I'm trying to find the part no. for the Charcoal Replacement on my WMH54521JZ0. Your site does not recognize the Model No. and no cross reference part no. for Charcoal Replacement. Home Depot can only give the grease filter which I don't need. Also, do I need one or two filters for the above model. The manual instruction is poorly written. I.e. Start button (no label), no pause, finally figure out that you just open door, check food, close door, and hit start button again. Also, it would help to give the replacement part numbers in the manual.
Date published: 2021-03-27
Rated

4

out of

5
by
Gabriel
from
Good microwave but dark inside when running
We replaced an old GE 1000w Profile microwave. Great features such as defrost, popcorn, autosense. We really like to look and it is a lot quieter than the old GE. One thing that bother is isI don't like the terribly looking new GE inside of the new GE microwaves so we went with this Whirlpool. We love the chine when the food is done. Easy to read display but we dislike how dark it is inside when it's running. You really can't see anything if you don't know exactly how long to warm up certain foods. Other than that no complaints so far. We had it for almost 1 year with 0 problems.
Date published: 2021-04-07
Rated

3

out of

5
by
Kels74
from
it's okay
I love the features and design. There are a few things I'd like to see improved:peep sound is very low, if you are not in the room when it goes off you may not hear it. Another is if you are cooking on the stove (boiling water) steam seems to get over the front part of microwave and fan does nothing to reduce steam. Other than that it's a good price point, features are good. If you do not mind adjusting your boiling/steam cooking then you will have no problem.
Date published: 2020-05-11
Rated

2

out of

5
by
therev499
from
Poor Product
The installation instructions lacked an inside the cabinet template to locate the screws to locate the screws to support the front of the microwave. The defrost cycle lacked programs for defrosting frozen foods such as breakfast sandwiches. Also lacked a timed frost setting when the frozen food was not on its list. The front control panel lacked the "START" button clearly labeled yet the button was prominently referred to as the start button. Same for the cancel button. The owners manual was very poorly written and vague in its instructions on how the oven's features work. I guess that's what you get when you allow the Chinese who manufactured the product to also write the manual/instructions as they have poor command of the English language. And if Americans wrote the manual they need to go back to grammar school and retake their English courses.
Date published: 2021-05-03
Rated

2

out of

5
by
dwart
from
Broken already
Bought microwave 5 months ago and it has already broken. To make matters worse I scheduled a warranty repair through the website and they did not fix it. So now I have an unusable box in my kitchen.
Date published: 2020-11-13
Rated

2

out of

5
by
Bernie956
from
Good microwave but not good in exhaust fan
It's a really good microwave but it's doesn't do its job on with the exhaust fan and if I could return it I would and would not buy it again and would not recommend this to nobody
Date published: 2020-09-17
Rated

2

out of

5
by
Krew1935
from
The instructions are awful
The instructions are awful. Very confusing. Not easy to operate
Date published: 2019-12-10
Rated

5

out of

5
by
johnnysangel
from
Love it!
Love the "no handle" feature along with the sleek design. Really like the lower control features. Works more powerful with our previous microwave that had the same wattage. We get a big kick out of a "soft tune" plays when the feature is complete. Nothing that I don't like about it! We took our time shopping, checking out a lot of brands and features and really glad we purchased this one!
Date published: 2020-03-09
Rated

5

out of

5
by
Hallqueen
from
Cook and warms to perfection!
We bought this a month ago and love how the sensor mode cooks and warms to the right temperature. Fresh vegetables come out perfect! Hot chocolate and soups are the perfect temperature to slurp up. We really love this instead of having to guess. No more trial and error!
Date published: 2019-12-13
Rated

5

out of

5
by
Brooke
from
Great features
We purchased this about a year ago and use it for the microwave capabilities as well as hood features almost daily. I like the automatic features more than I would've thought (example: melt/ soften butter is an option with how many sticks of butter). Reheat options for different dishes is also super helpful. For the hood aspect there are a few fans options and light options which we tend to use almost all of. I also like the automatic lights dimming/ away at night so less bright screens in the home.
Date published: 2021-04-08
Rated

5

out of

5
by
5strung
from
Easy to operate and very quiet
I bought this microwave to replace one that stopped working. We like the ease of operation- controls are low in front rather than up the side. This unit is mounted over our range with exhaust fan. It is much quieter than the other brand it replaced.
Date published: 2020-08-27
Rated

3

out of

5
by
None
from
Some problems
I've had it for about 9 months. It works well but the plastic panel behind the door above the chamber is cracked. Also I'm not completely satisfied with how it vents vapors from the stove below.
Date published: 2021-02-26
Rated

5

out of

5
by
Jackdamin
from
Quiet and well built
The microwave is all that we wanted. It has a very quiet exhaust fan and cooks and heats evenly and fast. It has many automatic settings which are easy to use.
Date published: 2020-09-26
Rated

5

out of

5
by
Thdhjj
from
Great micro
Excellent buy would buy again Its great for big or small dishes
Date published: 2020-05-14
Rated

5

out of

5
by
Lisa
from
Great looking
Bought/ordered in October 2020 came in Late February 2021...it's nice looking, heats up food, and drinks well. I love that it has no protruding door handle. There is an indentation on the right bottom side behind the door to let you pull open the door easly. The start button does not say "start" it just shows a right facing tryangle saying +30 sec. That was really confusing when trying to find the start button. Glad it came with a manual.
Date published: 2021-04-07
Rated

5

out of

5
by
Low end dishwasher
from
Great microwave
This model has all the required features desired from a microwave. So far it has been a great product. This model vents to the outside. I just hope the motherboard stands up to the moisture circulates through the venting system. Earlier Gold series had issues where moisture would leak into the compartment containing the motherboard and causing the system to short out, was not covered by manufacturer warranty. I hope this had been resolved.
Date published: 2021-02-24
Rated

5

out of

5
by
Mike73
from
As advertized.
We have our microwave installed for about three weeks now and use it daily. The unit is the quietest microwave I have experienced and the cooking with automatic sensing is amazing. We especially enjoy the vegetable steaming function which results in a perfect doneness every time, no more mushy veggies. The vent function works well and helps in keeping our kitchen and house cooler when using the range for large meals.
Date published: 2021-05-15
Rated

2

out of

5
by
GGnola
from
Great size; disappointing features!
Replaced a Kenmore Elite microwave. Size is comparable- cook times are also. The inside is very dark and it is hard to see what I am cooking or trying to clean; the exhaust fan is efficient but very loud on all speeds. The "ding" that signals cook time completion is so low that it can't be heard if you aren't right nearby. Very sleek looking with touch controls across the bottom - but it a huge fingerprint magnet!
Date published: 2021-02-26
Rated

5

out of

5
by
User Friendly Fan
from
Love the improved reach controls
I purchased this mocrowave in January, and due to pandemic shortages & constraints, recieved the microwave in April. After the issue with the lead time for delivery, I was quite pleased with the product. The controls on the lower edge of the door reduces reach for use for myself, but moreso my wife (who is about 7 inches shorter than I). I feel this control interface location is a game changer. Thank You Whirlpool!
Date published: 2021-04-26
Rated

1

out of

5
by
Tom H
from
Terrible Experience - Never Again!!!
From the purchase, thru the installation, customer support, to the current state of the Microwave and other Whirlpool appliances we purchased(Gas Range, Refrigerator, Dishwasher, Microwave) this entire experience has been a series of troubled experiences Hours at the store with purchase, way to complex and time consuming, then delayed delivery for out of stock items they sold to us and we wanted installed before the Holidays. During installation the installers Scratched the Microwave, Broke our gas line for the gas range, we had to have emergency call to gas company to shut off our gas, had to call a gas line repair company to fix gas line. Styrofoam, and trash blew all over my yard and neighborhood due to windy day and installers not taking care of trash. I had to go out and gather it up after they left. The dishwasher arrived damaged, weeks later 2nd dishwasher arrived damaged. When the 3rd dishwasher arrived(about a month later the installers quickly put it in and it is still off center and sticks out from under the counter. Microwave paint is peeling off from inside of microwave, began trying to call whirlpool and then Home Depot for repair, took weeks to get thru "Due to high call volume". Spoke to several people at whirlpool support after I was finally able to get thru. Passed around. Finally without explanation they scheduled a 3rd party repair company to come out to look at the Microwave. They told me that even though I began calling within 1 year of installation, i was a few days outside of 1 year of purchase, even though I began calling within the 1 year warranty. The told me it would be $149 to look at the Microwave, then plus any parts and labor. That I was not covered under warranty.
Date published: 2021-02-10
Rated

5

out of

5
by
Murph
from
Best Microwave Ever!!
Want to not feel like a peasant and have the same old handled microwave then this is the one for you. Both elegant and sleek the appliance gives you the look in your kitchen that you desire. Need to soften butter, not a problem, not sure how long to heat vegetables or potatoes, not an issue. Need to keep something warm, it's got you covered. The absolute best purchase of my new home hands down!!!!!
Date published: 2021-04-07
Rated

5

out of

5
by
Gator93
from
Nice Modern Microwave
We bought this to replace the 15-year-old Whirlpool that came with the house we just bought and it's like night and day. This new one is sleek and looks great in the new kitchen. The only bad news is now my wife thinks we need to replace our other appliances to keep up! While we're still learning the features, everything we've tried to this point has come out perfect. Very happy so far.
Date published: 2021-04-23
Rated

4

out of

5
by
Jaxie259
from
Quick heating
I bought this in June on back order and received when we moved to our new home in September. It was fantastic until right after New Years, then the heating element went bad. It was totally covered under warranty, and repairmen were great. It did, however, take four weeks for them to even get the part from whirlpool and another week to schedule the repair. Blame it all on COVID.
Date published: 2021-02-16
Rated

5

out of

5
by
Baby B
from
Love the Control Panel
I didn't realize microwaves had advanced so far in technology. This replaced my 15 year old microwave. I have had it just over a month and so far I am really pleased with how evenly everything reheats. And the defrost cycle doesn't brown my meats! The only problem I had was finding the START button. LOL. Nowhere does it say start! Once I got that down, I was good to go.
Date published: 2020-08-30
Rated

5

out of

5
by
Traveler629
from
Easy to clean with intuitive controls
This microwave replaced one that died after 15 years and it has been superior to the previous one in every way. It has had heavy use for the last 8 months. Cleaning is incredibly easy as the interior just needs wiping out occasionally. The reheating functions are simple to use and work well. Popcorn works as it should. Even the chime is easier on the ears.
Date published: 2021-03-01
Rated

2

out of

5
by
David
from
Stopped working after 11 months
The design of the product is great, it will give to the kitchen a modern look. The microwave is silent and easy to use. The problem we have is that our microwave stopped working after 11 months of use. Currently the technician is looking for the parts (1 week this far) and we have a very expensive over the range lamp... Hope the things solve well soon.
Date published: 2021-06-01
Rated

1

out of

5
by
BA78
from
Not happy with it.
Only owned/used it for about five months and it stopped working and was another two months before the parts were in and it was repaired, under warranty but none the less when paying almost $400. for a microwave i had expected more years of service. And to top it all off the light for the range top just blew and it not been in use for a year.
Date published: 2021-04-07
Rated

1

out of

5
by
Amyj0416
from
stopped heating after 2 years
stopped heat after two years, whirlpool did nothing the fix the issue, but send me to a repair company. I could have saved 45 minutes of my life, which is what I sat on hold for, and found my own service company. Whirlpool does not stand behind their products. I will never buy another appliance from them. It is costing $400 to fix.
Date published: 2020-08-06
Rated

5

out of

5
by
Peggy
from
Great MIicrowave
I replaced a 14 year old Whirlpool microwave with another Whirlpool. I really like this new one. It is very quiet while operating and when finished has a pleasant sound and not a loud beep. It's nice to be able to hear the television when it is operating. It is very easy to clean inside and out and has a nice, sleek look to it.
Date published: 2021-04-08
y_2021, m_6, d_17, h_18
bvseo_bulk, prod_bvrr, vn_bulk_3.0.17
cp_2, bvpage2n
co_hasreviews, tv_0, tr_137
loc_en_US, sid_WMH54521JZ, prod, sort_[SortEntry(order=RELEVANCE, direction=DESCENDING)]
clientName_whirlpoolbrand
bvseo_sdk, java_sdk, bvseo-4.0.0
CLOUD, getReviews, 2ms
REVIEWS, PRODUCT
Bundle summary&nbsp (&nbspitems)
If Purchased Individually*
*Offer subject to change. Limit one use per order. Valid for bundles delivered to a single U.S. address. Bundle savings based on current pricing available from Whirlpool.com. Only valid for new orders on Whirlpool.com.
See how we handle Returns
.