1.9 cu. ft. Capacity Steam Microwave with Sensor Cooking

WMH32519HB

Model: WMH32519HB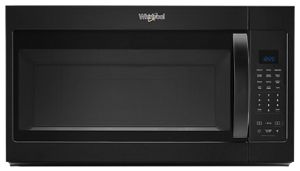 1.9 cu. ft. Capacity Steam Microwave with Sensor Cooking
1.9 cu. ft. Capacity Steam Microwave with Sensor Cooking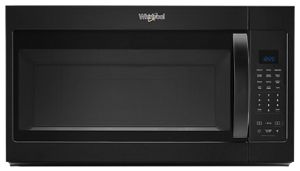 Key Features
CleanRelease® Non-Stick Interior
3-Speed, 300 CFM Motor Class
Sign in to unlock lower pricing
Why shop Whirlpool® appliances
*Your rate will be 0% or 10–30% APR based on credit, and is subject to an eligibility check. Payment options depend on your purchase amount, and a down payment may be required. Payment options through Affirm are provided by these lending partners: affirm.com/lenders.
Overview
Product Description
1.9 cu. ft. Capacity Steam Microwave with Sensor Cooking
This Whirlpool® microwave has convenient features that are easy to use no matter who's doing the cooking. Our sensor cooking microwave automatically adjusts cooking times so there's no need to guess. Free up cooktop space by steaming foods in the microwave and get quick cleanup with a CleanRelease® non-stick interior. From sides to snacks, fit cooking into any schedule.
Features
Sensor Cooking
Automatically tracks the cooking progress of your food and adjusts the cook time as needed.
Turntable On/Off Option
Choose whether the turntable rotates or not to accommodate a wide range of dish sizes.
Dishwasher-Safe Turntable Plate
Clean up spills on the turntable by simply putting it in the dishwasher.
Microwave Presets
Get just the right amount of heat and time, whether you're cooking or defrosting, with specific preset options.
Additional Features
Add 30 Seconds Option
Quickly set the microwave timer to 30 seconds or add it to already in-progress cooking time with the touch of a button.
Electronic Touch Controls
Navigate through cooking modes and options with controls that are as easy to use as they are to clean.
CleanRelease® Non-Stick Interior
Help prevent spills from sticking with the CleanRelease® Non-Stick Interior, which lets you easily clean up with the simple wipe of a damp cloth.
3-Speed, 300 CFM Motor Class
Match the right amount of ventilation to the dish being prepared and quickly get rid of cooking odors with three different fan speed settings.
Fingerprint Resistant
Available in black stainless steel and stainless steel finishes, easy-to-clean steel resists fingerprints and smudges.
Steam Cooking
Clear up cooktop space by steaming foods like rice, vegetables and fish right in the microwave. Steam accessory available separately.
Adjustable Cooktop Lighting
Keep an eye on what's cooking below the microwave or keep a nightlight on in the kitchen.
Specifications
Dimensions
Depth With Door Open 90 Degree
Configuration and Overview
Controls
Number of Quick Touch/One-Touch Selections
Details
Microwave Details
Features
Number of Sensor Control Keypads
Ventilation System
Certifications
Electrical
Configuration
Microwave Hood Combination
Compatibility
Reviews
Rated

4

out of

5
by
Kathryn
from
Improved Model
Three years ago I had a Whirlpool over the range microwave installed in my newly remodeled kitchen. I LOVED the interior surface material; it was very easy to clean. However, after three years of use, the sensor inside the unit gave a "close the door:" message even though the door was closed. After reading about this sensor problem on the internet, Whirlpool corrected the problem with a better fan for removing moisture build up. The newer model had the exact same dimensions so it was easily installed into the space of the former microwave. I'm very happy with new purchase and I hope Whirlpool has permanently corrected the sensor problem.
Date published: 2021-04-07
Rated

4

out of

5
by
Tom L
from
Like the size
we like the size of the new micro wave. Dislike the fact there aren't any one touch start buttons, like tapping the number 1 for 1 minute and it starts automatically. Installation templates aren't very helpful because they are folded and you can't get them flat on the surface to transfer the marks for the bolt holes in the cabinet, so yes there is more than one hole for one of the bolts. It doesn't seem to heat as well as our old microwave. I hope it lasts longer than 4 years, the life of our old one which was a Kenmore and I believe made by Whirlpool. It's a microwave just like any other so that's why I would recommend it to someone else.
Date published: 2021-02-12
Rated

5

out of

5
by
Brikar
from
Perfect! Excellent quality and value!
In today's contemporary "Stainless" decor, it is becoming increasingly more difficult to find this biscuit color. We previously had a GE over range microwave which didn't hold up too well. The door switches kept going bad. The style with a hooklike switch tripper seemed to be the problem. This whirlpool model has a flat piece which engages the door switches much better with less force. We're hoping this change will alleviate our previous issues with the GE unit. So far, we love it!
Date published: 2020-11-16
Rated

1

out of

5
by
joemama215
from
Terrible Experience...
I ordered this item and payed for it at Home Depot and paid for delivery and haul-away. When whirlpool delivered the first unit, the packaging looked fine but the right rear corner wash dented badly. I understood that things happen and I reordered the unit. When I received the second microwave, it too, was dented in the same exact corner. At that moment I began to lose my patience. I was told I would be compensated for the inconvenience. Upon the third unit's delivery, there was a third dent! At this point I was at my wit's end. The dent was able to be straightened enough to get it mounted in the cabinet. I decided to straighten out the dent as opposed to sending it back as my family was out of a microwave for over a month at this point and my teenage daughter was very unhappy. The only reason I am giving a single star, is because the customer service reps were very kind and helpful. On top of all the headaches of getting an undamaged unit, I cant use the rack inside because it keeps arching out against the wall leaving carbon scoring. I am seriously reconsidering going with a different Manufacturer for my remodel.
Date published: 2020-01-03
Rated

5

out of

5
by
Phil C
from
Just what I wanted!
This replaced a Whirlpool microwave I already had. It was 12-15 years old and the turntable had quit. Off to Lowe's which is where I bought the old one. Found what I wanted after a few minutes looking. This one had all the features the old one had plus a couple more and it was a Whirlpool. The new one has a rack to use inside it. Installing was simple as I was able to use the wall bracket from the old one and didn't have to remount it. I did have to re-drill the two holes in the cabinet bottom as the holes didn't quite line up with the bolt holes in the microwave. I had the old one out and the new one in in about an hour. Works great!
Date published: 2021-04-08
Rated

5

out of

5
by
Rambo33
from
I'm in LOVE!
LOVE, LOVE, LOVE my new Whirlpool steam microwave. Very large, easy to clean interior. Steam function stops dried out foods especially breads and baked cooks. User friendly touch pad.
Date published: 2019-01-22
Rated

2

out of

5
by
Greg76
from
Poor operating instructions
This microwave was purchased January 2021. Was delivered and installed the second week of February 2021. The instructions the use of this microwave were very poor. The start button was hard to find on the panel. Oh, its the tiny arrow near the bottom. The word START is NO where found on the key pad. Instructions are small paragraphs with a half a page. The watt bulb inside the microwave is a joke. You can not see what you are heating up. For a minute there, I thought the bulb was burnt out. I was tied to either purchasing a GE or a Whirlpool due to the color being bisque. Will phone whirlpool in the morning to try installing a higher wattage bulb. .
Date published: 2021-02-09
Rated

3

out of

5
by
Tom73
from
Poor design and noisy!
Bigger than my older one it sticks out 2" below my cabinets and 4" deeper than them. The light is not centered below the unit and could be brighter. The display is about half the brightness of my stove and is difficult to see from 8 ft away. The start arrow which you use every time is the same size as all the other symbols but should be bigger. One must turn up the volume of the tv when unit is on. But the sensors do work well. So if it was quieter and had better design features and a normal size it would get 4 stars.
Date published: 2017-12-05
Rated

4

out of

5
by
OldGoat...
from
Okay
Purchased a month ago to replace the one year and one month old Whirlpool that was nicer but crapped out and only one year of warranty Had to buy the same brand so all the mountings would fit so I would not have to pay the $120 installation fee on top of the microwave cost. Sure hope this one last a few years!?? They all have more features than I will ever care to use. Wish they would make a basic model that would last 20 years! I have also learned- Never buy a Samsung anything! And yes, with built in obsolescence, I paid additional for the Lowe's 5 year warranty. Pray I do not need it.
Date published: 2018-06-19
Rated

2

out of

5
by
Jas01
from
Cost saver .....for the Manufacturer
No where the quality of the one it replaced. Doesn't cook as fast,.Mounting bracket is a newer type making for more work on the install. Mounting bracket is 1" higher causing tile work to be done to install. Interior light is weak. smoked glass does not allow viewing cooking. Range top light is now over the back of the oven effectively lighting only the back wall, not the stove top. Range top light is wired directly to the solidstate control panel not allowing for the use of LED replacement lamps. The entire oven is over 1" deeper, thus it sticks out more from cabinets. Seems to cook with hot spots. Not your old Whirlpool....
Date published: 2021-04-07
Rated

4

out of

5
by
comguy
from
Nice Replacement
I bought this to replace a Whirlpool Gold Series we had for 17 years. It finally gave out. This one is slightly larger at 1.9 cu. Ft. vs 1.7 cu. ft. and has all the features of our old oven plus some new ones. We have had it about a month now and it is working well. Fit right in where we removed the old one. Only two minor glitches we don't like. Both having to do with lighting. The over range light is in the rear and the interior light is very dim. Our old one had the over range light up front for good illumination and the interior light was much brighter. Interior wise I think the big difference is the old one had a white lattice work in the glass and this one has a black lattice work.
Date published: 2019-10-07
Rated

4

out of

5
by
Peter.P
from
It has many features. It works well. We like it.
The first installation seems to have gone well. After the installer left, I noticed the door and microwave were not flat. On further inspection it looked like the unit was slightly crushed. The wrapping looked good so I have to believe it came from the factory damaged already. I'm not too happy the installer didn't see the damage. Microwaves would have been leaking. I stopped using it right away. It was replaced a few weeks later with another unit. This one was inspected by me before the installer mounted it. The microwave is great, but the ball was dropped on the first one somewhere between the factory and the installer.
Date published: 2021-04-07
Rated

4

out of

5
by
Scott K.
from
Light is in the wrong place
I just installed our new over the range microwave. There were two problems. 1. Light light is located in the rear of the microwave. It lights up the back two burners on the stove, but two front burners are dark. Why in tar nations would you put a light way in back of the unit. Our old unit had it in the middle so you see all burners which makes sense. 2. The light was so bad I put a LED light in place of the one it came with. The lighting is much better, but still dark on the front burners. Also after installing the LED I couldn't shut off the light. It goes from high to medium to low. There is no off. It stays on all the time. Other then that it is a good unit and it means just getting use to it.
Date published: 2019-10-31
Rated

5

out of

5
by
Jeff4whlpl
from
Another Great Whirlpool Appliance
We bought this microwave almost a month ago and couldn't be happier with it. We shopped by the features we wanted and this unit has them all. After bringing it home we read the reviews online and we have not experienced ANY of the negative comments/complaints that others wrote about. The fan is not very loud and we LOVE the way it melts butter for pouring over popcorn. Speaking of popcorn it pops a bag perfectly without burning it and there have always been fewer than 8 unpopped kernels in a bag. We would recommend this model to anyone who would ask about a microwave.
Date published: 2019-01-24
Rated

3

out of

5
by
Kickstand
from
Got it on a closeout at Lowe's!
The mounting plate is mounted on the outside of the styrofoam with only the cardboard to protect it - mine was bent in a U shape so I returned the 1st microwave Lowe's. I installed the 2nd one and when I tested it the first time, one of the 2 very cheap plastic tabs on the door was broken off. These are the tabs that stick in the microwave to let it know the door is shut. I called Whirlpool and a week later a tech came and fixed it for free. Also, when the food is done it chimes 4 times or you can instead set it to silent. I wish there was an option to chime once or twice because neither of the 2 options seem very good. It's working now and seems to have good features.
Date published: 2019-04-24
Rated

3

out of

5
by
Tony
from
Heats good but a couple of drawbacks
The microwave heats well as expected but it has a couple of drawbacks. First, the inside light is too dim compared to what we had before and there no way to adjust the brightness. Second, the beep is low and can't be heard if you are away from the unit. Unfortunately there is no way to adjust the volume with this microwave. Third, the side of keypad is not flush with the side of the microwave body which is slightly elevated resulting in a tapering gap of ca.1/8" at the midpoint. We asked the installer about this and he said that's how it came out of the box. If I had my option, I would not buy this brand again.
Date published: 2020-12-20
Rated

4

out of

5
by
Marie Puppins
from
Intuitive interface
The simplicity of the menu is easy to understand and use. The rotating glass is a little small should you have a large square plate – it must be placed very carefully so that the turntable can turn and cook evenly. While we have had it less than two weeks it is difficult to write more. One thing that annoys me about appliance purchases is how they are priced. In the past products were guaranteed without additional "warranties" which add another third to the cost. We have had appliances that have lasted more than a decade, no more. Lucky if we get 5 years. Appliances are more expensive to repair than replace.
Date published: 2019-09-30
Rated

3

out of

5
by
Argie1625
from
Would Not Purchase Again
I've never really had an issue with Whirpool until purchasing this item. It stopped working about 3 months after purchase. Then company that was sent under the manufacture's warranty took a month to repair. During that time I could not get any information from then on the status of the repair. Other than the tech in charge was not there and I would get a callback which never happened. I finally had to contact Whirpool and have them contact the repair company which the rep was hesitant to do so at first until I told her I would not be contacting them anymore since I kept on getting the runaround from them.
Date published: 2018-11-12
Rated

1

out of

5
by
Mama RA
from
whirlpool Microwave
I bought a Microwave @ lowes went to install it relay board was out. We were building a house so I bought the Microwave early so builder would have measurements now it does not work lowes will not take it back and after 5 hours on phone with whirlpool I am not getting a new Microwave will not replace it waited 2weeks to get fixed still not fixed mind you it a new microwave right out of the box do not buy early you will not get any support. All I needed was a RA number to return it to lowes service guy or Whirlpool would give me that so I still have a new Microwave that does not work
Date published: 2020-10-13
Rated

3

out of

5
by
sorry rv
from
exhaust to roof
not aware of problem that fan exhaust didn't line up with new unit until after installation and delivery men gone. Fan does not evacuate or do much other than cause smoke/fumes, etc to rise in the kitchen. I would have not had them install if I knew of problem in advance. Many uses of the new microwave not yet tested but seems to work well except for the fan/exhaust situation. Fan stopped on old unit which was the main reason I wanted a new microwave(it was older unit but did the job otherwise). Sorry that I didn't watch them install the unit closer. I would have stopped them!
Date published: 2021-04-02
Rated

2

out of

5
by
Linn
from
Somewhat Disappointed
Somewhat Disappointed in the Microwave - Poor design with the light so far in the back it barely lights up the electric range it sits above.. The "finish beep" is so low that we usually miss when our food is done or if we use the timer feature.. The rotating plate is smaller.. Can't say anything about any other of the features on it as we have only had it in for two weeks and it's not our main appliance for cooking.. We bought this to replace our broken Whirlpool Microwave from 2001 / it was the only microwave in Ivory/Beige we could find / we thought this microwave would be similar to our old one but only in the color so far.. Think about these features and others you want before buying this microwave..
Date published: 2021-03-02
Rated

4

out of

5
by
bj2020
from
Enjoying this micro
The micro is large and quiet. the final ding is not annoying. few directions come w it and when we called for help, there was none. the re is no additional guide as to how to use it. we had to figure it out. we're older people and not so tech savvy. we asked for the complaint department and they said they didn't have one. a big company like whirlpool? really? don't think so. so, the micro is great. the company service is not. also, it does not heat up at the same temp level that our old GE did. i have to program for 30 seconds more to get the same ending temp for coffee water.
Date published: 2021-02-15
Rated

3

out of

5
by
Nambe186
from
Nice start but problem occurred.
I bought this appliance in February based to an extent on the favorable review oif Whilrlpool microwave over the stove units. This unit replaces a unit by another manufactuer that failed after 8 years of use. Iniitally we were very pleased with the apparent quality and functions of the new unit. However, about 8 or 10 days after installation, an unpleasant noise started and persisted to this day sounding like mechanical interference with the squirrel cage fan. reported this condition twice to the Lowe's installation manager but have yet to have an adequate response for repair or replacement. The contacts with Lowes occurred twice in the past 10 days. I would like to get this problem resolved in timely manner.
Date published: 2019-03-17
Rated

1

out of

5
by
Jsnake81
from
Replaced again
Remember when they used to build appliances that would last decades? Well you aren't getting that here. Had to replace this exact model with the same one because it matches the rest of our appliances and it is the only one in stock in this color. My wife did not want this microwave since the original had issues and failed to last beyond days after the warranty period which isn't long. This may look nice but the quality isn't there. I shouldn't have to buy an extended warranty. You should build a better product. I do not recommend and will never buy this brand again.
Date published: 2021-06-17
Rated

5

out of

5
by
jaybee16
from
Roomy, lots of "extras", and great "signals"
This is our first time with a built-in. We have had over the range before, but they were removable, so we'll see how this works out. So far, we are very satisfied. The appliance was recommended by the company doing our kitchen re-modeling, so we are trusting them completely. This oven is very roomy and has so many choices on it. After a month, I am still reading directions and advice. We all like the nice little signal after cook time--not a loud beep or screech, but a pleasant little tune. Used mostly for reheating or potatoes, etc. but so far, so good.
Date published: 2019-04-28
Rated

5

out of

5
by
SimplicityMatters42
from
Feels well built, easy to use, and pleasant sounds
I chose the Whirlpool model over several others based on good quality reviews, the venting options, and the layout and function of the buttons. I love the fact that I can walk up to the microwave and type in any number of seconds and hit the start button and it is off an running. So, many other brands do not allow this. Plus, there are many other single button and intuitive functions to use. Great interface. Easy to clean. Feels sturdy and well built. And the sounds that it makes when your food is ready is pleasant. We are very happy with our choice.
Date published: 2021-03-05
Rated

5

out of

5
by
liljillie
from
Love the look
We purchased this microwave out of necessity, as our 7 year old microwave died one day. And you don't realize how much you use a microwave, until you don't have one readily available. We knew we wanted either fingerprint proof stainless steel, or black stainless steal. LOVE, LOVE, LOVE the look of the black stainless steel with my other appliances. We also love the color of the interior. Not stark white like most microwaves. We installed it ourselves with the easy to follow installation instructions that were included. THANK YOU. This saved us some money. Only hiccup was that it took a little trial and error to figure out the start and stop buttons---as the buttons are not marked "start" or "stop". Other than that---love it.
Date published: 2021-04-08
Rated

5

out of

5
by
Stylingon06
from
Love the simplicity, size and technical!
We have had our microwave for a few weeks and we are loving it. I first wasn't sure how I would like the icons for start and stop. I would prefer it to say the words start and stop, but this is only a minor thing for me. The control panel is easy to maneuver through and pretty much is self explanatory. We bought the stainless steel black finish and I love it. It doesn't show finger prints either. The chime it makes is more musical and not annoying like other microwaves. I would highly recommend this microwave and Whirlpool products. Do NOT buy Samsung. This is what we had to replace. Samsung never have parts for their appliances and you have to end up buying a new appliance anyway. Even the repair technicians will tell you the same thing.
Date published: 2019-06-18
Rated

1

out of

5
by
Fltch21
from
Didn't last 2 years
Bought this February 2018. In November 2018- it stopped heating, sounded like it was working but wouldn't heat. Whirlpool sent out a technician and they replaced the part. It's now November 2019 and it has stopped working again. Called whirlpool because this is just ridiculous. For a family of 2 who don't use the microwave that often (we mainly use the toaster oven or microwave our food at work) there is no reason this microwave should stop working TWICE in two years. I get they sell extended warranties, but the fact that I've already had it worked on once blows my mind. Called whirlpool and they said they couldn't do anything for me because there's no "quality issues" well obviously there is. Will NEVER buy a whirlpool product again, I thought they were good quality, but I'll go back to my OLD $50 microwave from college (that is still running perfectly fine). VERY VERY disappointed.
Date published: 2019-11-19
Rated

5

out of

5
by
puppylove
from
Love the features
Had this installed about a month ago. Our appliance repaire guy came to fix our other microwave, but pronounced it had a problem with the electronics, recommended Whirlpool. This model was very economical but still has a three speed exhaust fan, which is fairly quiet, by the way. the light underneath is nice and bright to illuminate the range belowl The only downside that I have found is the annoying electonic "tune" it makes when it is done cooking. Not just a beep. I looked in the manual and found that I could turn it off, so I did. You cannot change the volume or change it to one beep. We find that we don't really miss the END tone as it clicks off and displays end. I would purchase it again, but wish it did not have that END sound!
Date published: 2020-07-13
y_2021, m_8, d_3, h_19
bvseo_bulk, prod_bvrr, vn_bulk_3.0.18
cp_2, bvpage2n
co_hasreviews, tv_0, tr_1295
loc_en_US, sid_WMH32519HB, prod, sort_[SortEntry(order=RELEVANCE, direction=DESCENDING)]
clientName_whirlpoolbrand
bvseo_sdk, java_sdk, bvseo-4.0.0
CLOUD, getReviews, 3ms
REVIEWS, PRODUCT
Bundle summary&nbsp (&nbspitems)
If Purchased Individually*
*Offer subject to change. Limit one use per order. Valid for bundles delivered to a single U.S. address. Bundle savings based on current pricing available from Whirlpool.com. Only valid for new orders on Whirlpool.com.
See how we handle Returns
.