2.2 cu. ft. Countertop Microwave with 1,200-Watt Cooking Power

WMC50522HB

Model: WMC50522HB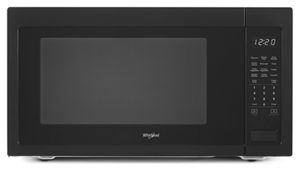 2.2 cu. ft. Countertop Microwave with 1,200-Watt Cooking Power
2.2 cu. ft. Countertop Microwave with 1,200-Watt Cooking Power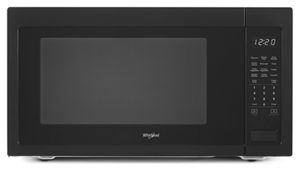 Key Features
Microwave Built-In Trim Kit (Optional)
Sign in to unlock lower pricing
Why shop Whirlpool® appliances
Overview
Product Overview
2.2 cu. ft. Countertop Microwave with 1,200-Watt Cooking Power
This Whirlpool® countertop microwave delivers convenient features that are easy to use no matter who's doing the cooking. Fit dishes of almost any size in the 2.2 cubic feet of Whirlpool brand's largest capacity countertop microwave. Plus, sensor cooking automatically adjusts the cook time so there's no need to guess. From sidesto snacks, enjoy fitting cooking into any schedule.
Additional Features
2.2 cu. ft. Capacity
Microwave food in containers of almost any size with the most capacity available among Whirlpool® countertop microwaves.
Sensor Cooking
Automatically tracks the cooking progress of your food and adjusts the cook time as needed.
Specifications
Dimensions
Configuration and Overview
Controls
Number of Quick Touch/One-Touch Selections
Details
Microwave Details
Features
Number of Sensor Control Keypads
Ventilation System
Certifications
Configuration
Compatibility
Refinements
Microwave
Add 30 Seconds, Beverage, Control Lock, Cook, Cook Power, Cook Time, Defrost, Dinner Plate, End of Cycle Signal, Favorites, Fresh Vegetable, Frozen Entree, Frozen Vegetable, Off/Cancel, Pizza, Popcorn, Potato, Soup, Timer
Reviews
Rated

3

out of

5
by
bryce5_04
from
Quiet and works great - Minus electrical issues.
We've had ours for 3-4 months now and it looks great and works great except when you open/close the door it resets the clock to 0:00 and you have to reset it all the time. I've noticed many others have complained about the same issue.. I'm hoping they release an update that can correct the issue? Otherwise it's really quiet and spacious and has a lot of power to heat up the food quickly.
Date published: 2019-09-19
Rated

1

out of

5
by
Indian15
from
Very cheaply made
I Purchased this microwave a little over a mouth ago the first time i used it the button to open the door was very hard to push and it just go worst, I called whirlpool and after 40 min waiting on the phone I got someone to talk to they took my info and said I would get a call back in a couple of days well I did get a call the very next day and I waited on the Phone for 1hr and 30min when I finally hung up. I have been trying to call back for 2 days every time I call it says anywhere from 30min to 80mins I think this is unacceptable. I don't think I will ever purchase another Whirpool product ever again
Date published: 2020-06-19
Rated

1

out of

5
by
Fran Bixby
from
All
I bought this oven less than a month ago and the control panel is starting to peel off and scratches badly. You can feel the blistering of the plastic! I need a new plastic cover for the controls
Date published: 2019-02-08
Rated

2

out of

5
by
Not my first choice
from
Needs more automation and a metal trim kit
The microwave is very attractive and very large. I wish it had some of the functions that our old GE microwave had. For example I like to feature where you could push a number and you get that time automatically added to the cooking time. For example on our old machine if you push three it automatically begins a three minute cook cycle. This microwave does not have that capability. The biggest disappointment was we purchased the trim kit which was expensive. It was made out of plastic! We bought a black stainless color for the microwave and the trim kit. Seems very odd to us that stainless equates to plastic. For close to $200 for a trim kit you would think it would be metal and not plastic.
Date published: 2021-03-10
Rated

1

out of

5
by
Scott
from
Unreliable
We bought this a year and a half ago. Thus no warranty. I agree with some of the others. Sometimes clock goes to zeros. Sometimes it won't run at all. Sometimes it starts when you shut the door. Sometimes it seems to run and is not cooking. We had a whirlpool microwave for seven years and it quit and was discontinued. We had a trim kit with that one also. So with this model we had to buy a new trim kit again. We contacted whirlpool and they will not do anything. We're waiting for the appliance store to get one in? Hopefully the same size? We will not buy a whirlpool appliance again.
Date published: 2020-12-06
Rated

3

out of

5
by
Jimmy 84
from
Good microwave but electronics on it aren't good
This is the second same make and model I've purchased due to a specially fitting space and trim kit. Microwave works well when operational, but the electronics seem to fail very fast thus making the microwave inoperable and needing to replace in only two years. I would not have bought the same model had I been able to find another microwave with the same dimensions. Works well but doesn't last!
Date published: 2019-05-10
Rated

4

out of

5
by
Neal B.
from
All round good Microwave
Bought this a couple weeks ago along with the trim kit for the built-in look. Packaging could have been better by Whirlpool as my arrived kind of beat up and re-taped several places. A few dings were noted in the body, but since they are out of view no big deal, along with one unfortunately on the front. Microwave is very quiet when using and cooks as advertised. All food is cooked evenly thru-out with no issues. With 1200 watts and 2.2 cubic feet of room there is plenty of room to cook most anything. The trim kit that matches with the stainless steel microwave is unfortunately plastic, but has the look of stainless steel. Reading the description I thought it would be a metal trim kit, it is not.
Date published: 2021-03-08
Rated

1

out of

5
by
Dintex
from
ABSOLUTELY HORRIBLE
We bought 2 of these g F or new homes. One lasted maybe 8 months. The other 14. There are no parts available for these machines so they send A new one if it's in warranty. If it's just out of warranty they say screw you, buy another. Whirlpool knows these machines are bad yet they keep selling them. Since they will not replace the one out at 14 months we called an appliance guy that confirmed they are horrible. He said I can't get parts but I have enough returned ones that I might be able to rob the needed parts. We used all whirlpool in our home but just threw hundreds out when purchasing these microwaves DO NOT BUY THIS PRODUCT AND SHAME ON YOU WHIRLPOOL FOR SELLING A PRODUCT YOU KNOW IS BAD!!!!
Date published: 2021-05-14
Rated

1

out of

5
by
Unhappy12
from
I wouldn't buy this microwave
I bought a WMC50522HB in October of 2018. I'm having the same issue as others have stated in their reviews with LED segments not working, and seeing the same response over an over to users with negative reviews, I called the Whirlpool number provided. As expected, after waiting on hold for 45 minutes, I was told "Sorry, there's nothing we can do because you didn't buy an extended warranty.". I wouldn't buy this microwave. It won't last 2 years.
Date published: 2020-09-29
Rated

1

out of

5
by
DAS1
from
disappointed on a number of fronts
first off, the microwave stopped working in the end of November. When I contacted the customer service line, they said it was out of warranty, however if this is the date of my purchase, they did not have the right information and it appears it is under warranty. I already had to go out and purchase another microwave since i was told this was out of warranty. disappointed in the fact the device broke after about a year and was told it was out of warranty,, but if the date of Dec 6 was my purchase date... it was in warranty and should have been addressed
Date published: 2020-12-17
Rated

4

out of

5
by
Burke04
from
Replacement for old model
Bought as a replacement for the microwave that came with the house. This one is very similar in style & features and fit in the wall space where the previous one had been. We were able to use the trim kit from the old one - not an exact fit but it worked and we are probably the only ones that would even notice it. The microwave works fine so far; nice and roomy but this one doesn't have the optional rack like the old one.
Date published: 2018-01-29
Rated

4

out of

5
by
TOBl
from
Like features
Pleased with my microwave oven. Wide range of features and so quite. Only feature I would want to see improved is easier door opener. The old one I replaced had a bar on the bottom of the door that required little effort. Really like the retail store and people where I bought it.
Date published: 2018-04-05
Rated

1

out of

5
by
Mimi73
from
Horrible
I'm upset that I even have to give it a star it should be zero. This microwave came with the appliances that was apart of a package for the home we had built, it's the worst. I've only had it for a year and a couple of months. The first 3 months in the clock kept resetting itself, then the beeping completely stopped after 6 months and now the numbers are all chopped off. keep away from this microwave. save your money
Date published: 2019-12-02
Rated

4

out of

5
by
Mermaid
from
A Good Buy with a Brand Name
Purchased this microwave to upgrade and match the side by side refrigerator I bought at the same time! Easy to use, love that it's backed with the warranty, spacious and has all the features a cook could want! Only downside is the door sticks on open, it doesn't pop right open. Tried to see if I could get it serviced, but my only option is to mail the entire appliance in and pay shipping and insurance myself! That's a huge out of pocket expense for a new appliance just for the inconvenience the door doesn't pop open, so I guess I'll live with it!
Date published: 2021-05-12
Rated

1

out of

5
by
Dissatisfied William
from
Poorly designed and the door is a real problem
This is regarding the 2/2 cu ft model. We had a Whirlpool Gold Microwave for 15 years and it was flawless, until it wore out. We went with this model based on the previous reputation. Both the design of the door and the beep notification are reasons to avoid this model and Whirlpool microwaves in general. I have read enough reviews that confirm the poor quality issues. Yes the magnetron works, but that is really to be expected on much less expensive models. The door is still a big problem after more than 6 months of ownership. Not only that, at times the door when closing will zero out the clock which has to be reset. Five beeps for a completed meal is fine, but every other minute it repeats the same if you don't open the door or press the x off button. Most good microwaves finish beeping with the door opened. Not this one. It is a royal pain. I cannot recommend this one.
Date published: 2019-09-10
Rated

5

out of

5
by
Charlie
from
Great Microwave
I purchased this microwave from Lowes last year and after it was installed I noticed a problem with the door latch sticking and difficult to open. I notified Whirlpool and they began a resolution of the problem. They arranged for a new microwave to be brought, installed and removed and hauled off the one with the defective door latch. My replacement has worked great with no door latch problems. The microwave color and build in kit perfectly matched my built in oven. We have been very please so far with the performance of this microwave.
Date published: 2021-04-07
Rated

3

out of

5
by
AlesiaS
from
A little disappointed
My new WP micro replaces my original WP which lasted 27 years. Not much has changed on the style and configuration. I had to purchase it online during the virus time so I was not able to physically check it out. The digital time/read out is a very bright white on this unit and lights up half the area....the previous unit was blue, could be easily read without lighting up the world. The door opening mechanism on the new one is extremely hard to push and loud. Everyone knows when you open this unit. I do like the 30 second feature which I know has been around awhile. The new unit does not seem to be made as good as the old one but then again, what is. Just a bit disappointed. I probably would not have bought this unit if I could have seen it first.
Date published: 2020-06-11
Rated

5

out of

5
by
Snewt453
from
Thank you Whirlpool
I bought this to replace the GE model that failed just over a year of purchasing. Very pleased with the purchase and will not go back to GE ever. The service was very poor when it came to ordering a replacement. The model we ordered was discontinued and we didn't know so they shipped the wrong model wrong color and then they tried to say we ordered wrong on our end. Whirlpool for life.
Date published: 2018-04-02
Rated

4

out of

5
by
Kmbjbb
from
Easy to Use
Only have used it for approximately a month so that is why I gave it 4 stars. So far, it has lived up to my expectations. My previous Whirlpool microwave lasted 12 years so hopefully this one will last that long. This microwave is larger and has more wattage than my previous one so it fits the larger casserole dishes. I had to buy the trim kit to go with it. Very easy install.
Date published: 2020-04-13
Rated

4

out of

5
by
Kathy
from
Heats quickly
Purchased to match the black stainless Kitchenaide appliances. I am older and wanted a maintenance free surface. This is the best microwave for attracting smudges and fingerprints with every use. Hard to keep clean. The plastic push in button to open the door has wear showing after about a month of 2 adults using. I have mine mounted in a cabinet at eye level so I see the smudges all the time. A feature of this is that if you don't take your item out after the time it continues to let you know by ringing a safety alarm. I am not a fan of this either. The performance of the microwave is good. Different cycles, favorite setting, defrost, etc. I think I should have stayed with the stainless finish but was looking for a modern black white look.
Date published: 2021-04-07
Rated

4

out of

5
by
BK86
from
Just okay
It looks nice, but I wish it was a soft close door. It sounds like it's being slammed shut every time you close it. Moisture collects in between the glass on the door. I had a cosmetic issue with the first one. Their customer service is top notch. They took care of my issue and I had a replacement one in a week. I like that it's fingerprint resistant.
Date published: 2019-11-04
Rated

4

out of

5
by
Daniel
from
Dependable
So far, it is more dependable. Most microwaves are junk. They are made in China, or some other foreign country. When they break down, you might as well through it out, as the cost to repair exceeds its value and risk that something else will go wrong. Mine is a built in, so any replacement requires a new faceplate. So, when you replace, you have the cost of the new faceplate, which is often as expensive as the microwave itself. It is a big racket; I.e., make a bunch of junk, and then soak you when it goes bad! And, it does no good to shop different brands. My dealer says they are all the same, and made in the same place. He is right. I have had numerous brands myself, and they all have the same problem. Hopefully, my Whirlpool will prove to be the exception.
Date published: 2020-12-18
Rated

3

out of

5
by
TDenn
from
Large Capacity
I bought this as a replacement for the exact same model, which only last 3 years. It fits into the cabinet cut out above the counter top as designed by the builder of our home 17 years ago, and this is the only one that fits into the area, unless we modify the cabinet. This is our 5th version. I am hoping this one lasts longer.
Date published: 2018-10-11
Rated

1

out of

5
by
mrh1111
from
Nightmare electronics
Bought a house with this microwave built in with a kit above oven. The microwave says it was built March 2017. Just shuts off in the middle of cooking. Clock doesn't show anything at all. When door is opened and then reclosed, the clock goes to all zeros for a couple of seconds and then goes off again. Eventually it comes back on and the clock can be reset and the microwave works. Until you use it again. The interior light is generally dim and the light modulates to almost off to dim. When the top of the unit is touched, it goes bright. When you open the door, it goes dim again. I could do wiring better than this. Based on the reviews I've read here, this is far beyond a common occurance and this should be recalled. I need a microwave that fits the mounts.
Date published: 2020-03-14
Rated

2

out of

5
by
Jon Z
from
Design Flaw
Poorly designed door latch. Will get stuck over time. Whirlpool won't address the issue after warranty, stuck spending another $300. Meanwhile, engineers at NASA can design microwaves that work in outer space, yet engineers at Whirlpool can't get microwave doors to open properly.
Date published: 2019-05-02
Rated

4

out of

5
by
JoMamaH
from
Still powerful
This new unit replaces the same model that we had for almost 12 years. It's definitely bigger than the one we got in 2008. (And this is one reason I'm only giving 4 stars; basically the exact same unit, but bigger, means you have to also spend an extra $100 for the new installation kit to install it in the cabinet where the old one used to be. It's wasteful and super irritating to have to throw away perfectly good item.). The microwave is very powerful and does a good job. It still has preprogrammed buttons for things like popcorn, frozen entree, etc. I do like the new button--it's a "favorite" button which allows you to assign a specific cooking time/method for items you cook frequently. Overall, this is a good product and I hope it lasts as long as the last one we had.
Date published: 2020-04-02
Rated

5

out of

5
by
Jschoenthal
from
Easy to figure out easy to use
I bought this last February stopped working in October. Took sometime but was replaced fee of charge. It was still under warranty. I'm hoping the replacement also has a year warranty as well. We have several whirlpool appliances. Whirlpool stands behind their products.
Date published: 2021-01-14
Rated

1

out of

5
by
zcar20
from
Avoid WMC50522HZ, Short Life
WMC50522HZ came in my new home less than 3 years ago. The clock panel lost LCDs, there is one above the 10sec digit that stays on, and the plastic is peeling on touchpad. Manufacture date is Feb 2018. Twice it quit working and I had to go to the garage and reset the breaker (has its own breaker because it is installed in cabinets). Contacted Whirlpool call center, was informed that it has a 1 year warranty and that there are no service or repair options. WMC50522HZ earns a Not Recommended/Avoid.
Date published: 2020-08-13
Rated

3

out of

5
by
SGC16
from
Worked fine for about 5 months.
We purchased this microwave to replace the one we had when we built the house. It worked fine for about 5 months when it seemed like it didn't want to keep the power on. Close the door and 9/10 times the entire thing would lose power and randomly come back on. Try and use it as it was intended and it shuts itself off after a few seconds. It just started doing this yesterday when my Mother had to use it. For the amount of money we spent on this, it should last more than half a year.
Date published: 2020-01-06
Rated

2

out of

5
by
Wag225
from
Not Like the One it replaced!
I had to replace a Whirlpool Gold 17 years old. Everything is plastic now! The door latch, the trim kit, it is cheaply made. For the cost to replace I didn't get the same product for sure. I kept the old trim kit it was made of metal and didn't look cheap. The person that ordered the trim kit for me didn't order the correct size anyway so thankfully I didn't throw the old out! It is what it is thankfully I don't cook with it, it is just used to heat, melt or warm with.
Date published: 2018-01-30
y_2021, m_6, d_16, h_18
bvseo_bulk, prod_bvrr, vn_bulk_3.0.17
cp_2, bvpage2n
co_hasreviews, tv_0, tr_336
loc_en_US, sid_WMC50522HB, prod, sort_[SortEntry(order=RELEVANCE, direction=DESCENDING)]
clientName_whirlpoolbrand
bvseo_sdk, java_sdk, bvseo-4.0.0
CLOUD, getReviews, 4ms
REVIEWS, PRODUCT
Bundle summary&nbsp (&nbspitems)
If Purchased Individually*
*Offer subject to change. Limit one use per order. Valid for bundles delivered to a single U.S. address. Bundle savings based on current pricing available from Whirlpool.com. Only valid for new orders on Whirlpool.com.
See how we handle Returns
.