1.7 cu. ft. Microwave Hood Combination with Electronic Touch Controls

WMH31017HS

Model: WMH31017HS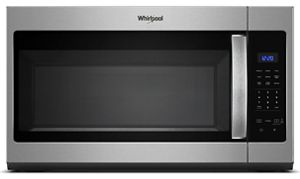 1.7 cu. ft. Microwave Hood Combination with Electronic Touch Controls
1.7 cu. ft. Microwave Hood Combination with Electronic Touch Controls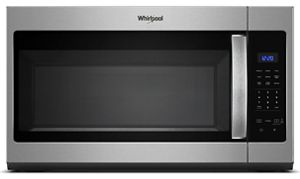 Key Features
2-Speed, 300 CFM Motor Class
Dishwasher-Safe Turntable Plate
Electronic Touch Controls
Color
Heritage Stainless Steel
Sign in to unlock lower pricing
Frequently bought additional items
Why shop Whirlpool® appliances
*Your rate will be 0% or 10–30% APR based on credit, and is subject to an eligibility check. Payment options depend on your purchase amount, and a down payment may be required. Payment options through Affirm are provided by these lending partners: affirm.com/lenders.
Overview
Product Description
1.7 cu. ft. Microwave Hood Combination with Electronic Touch Controls
This Whirlpool® microwave has convenient features that are easy to use no matter who's doing the cooking. Our microwave with a turntable accommodates various dish sizes while microwave presets deliver the right amount of time and heat. Plus, electronic touch controls are easy to use and clean. From sides to snacks, enjoy the flexibility of fitting cooking into any schedule.
Features
2-Speed, 300 CFM Motor Class
Match the right amount of ventilation to the dish being prepared and quickly get rid of cooking odors with two different fan speed settings.
Dishwasher-Safe Turntable Plate
Clean up spills on the turntable by simply putting it in the dishwasher.
Microwave Presets
Get just the right amount of heat and time, whether you're cooking or defrosting, with specific preset options.
Add 30 Seconds Option
Quickly set the microwave timer to 30 seconds or add it to already in-progress cooking time with the touch of a button.
Additional Features
Electronic Touch Controls
Navigate through cooking modes and options with controls that are as easy to use as they are to clean.
Adjustable Cooktop Lighting
Keep an eye on what's cooking below the microwave or keep a nightlight on in the kitchen.
Specifications
Dimensions
Depth With Door Open 90 Degree
Configuration and Overview
Controls
Number of Quick Touch/One-Touch Selections
Details
Microwave Details
Features
Number of Sensor Control Keypads
Ventilation System
Certifications
Configuration
Microwave Hood Combination
Reviews
Rated

5

out of

5
by
Nickc2710
from
Works As Required
The appliance came with purchase of my newly constructed home. After nearly a year of using the microwave it has proven to be a very reliable appliance from a very respected appliance brand like Whirlpool. The PROs: great ventilation when cooking from the stove top, easy to use interface, settings do the job for different foods needed to be cooked. The CONs: the only complaints I have is that some foods may be overcooked or undercooked at times, depending on the item and it can be a bit loud when using while trying to listen to people, tv, music, etc. Overall: trusted microwave to do what's needed to be done.
Date published: 2021-04-07
Rated

1

out of

5
by
Retired80
from
Inadequate Use/Operation manual
You installation manual is spot on in terms of its straight forward, step by step instructions. Your use/operation manual, however, contains, or better yet, lacks BLATANTLY obvious features. A simple diagram of the operations panel would be beneficial. Additionally, the ops manual speaks of a "start control" but no such button has that label. I have owned microwave ovens for well over 40 years and suddenly I'm left wondering how to start this thing! After completely remodeling my kitchen, I finally took this item out of its box. HATE I purchased this model.
Date published: 2020-04-27
Rated

3

out of

5
by
Chebbo
from
Low end model
This model was installed in new construction spec house, and definitely is not a match for the other appliances in this higher-end house. This is a low end microwave with some major limitations. The volume of the tones cannot be adjusted. The only setting that can be adjusted is the clock! Another feature that is bothersome is the automatic fan which will start running if the temp on the cooktop below reaches a threshold temp. The fan cannot be turned off manually at that point and continues - at high speed - until it automatically shuts off. It's noisy and one cannot even carry on a conversation.
Date published: 2021-01-15
Rated

3

out of

5
by
RikkiP
from
Not all that good
It is a very beautiful microwave I only had it for a week but so far it doesn't get that hot I have to rewarm food twice. The inside is very spacious
Date published: 2020-05-26
Rated

4

out of

5
by
Gemini18
from
Great deal
Well I told the pesky sales person that I needed a microwave and she said white was unavailable . My other appliances are 13-year-old white appliances so I told her give me the gun metal ! She found one that was on sale and that's all I needed to know and she said nothing is wrong with it . So far the only thing that's slightly annoying is because the buttons are hard to see because I'm older person sometimes I have to get out a magnifying glass. I'm glad the pesky person suggested I get a new refrigerator in another brand but same color; also, The oven's performance is perfect so far .
Date published: 2019-03-17
Rated

1

out of

5
by
angeliab
from
Horrible quality control- won't ever buy Whirlpool
I've always used Whirlpool appliances, so when it came time to order a new kitchen suite, I went with Whirlpool. This has been the most frustrating experience i have ever had with purchasing items. First, the range door gets ridiculously hot, but according to the technician it is within spec. My old one never did this, so i was quite surprised when I felt the immense heat coming off of it. Basically, the tech said that since I bought one of the lower priced ones, i just have to deal with this. Net -- unless you pay for top of the line Whirlpool, don't expect quality from these products. Second, and most frustrating is that I am now waiting on my 4th microwave delivery. The first 2 were damaged from the manufacturer and had to be returned. The 3rd just got delivered and apparently the magnetron doesn't work. It won't even heat a cup of water and is making popping / hissing sounds. To recap - I ordered this microwave on 5/29. I've had 3 deliveries, and i'm still without a microwave a month later. I don't have a lot of faith that delivery 4 is going to provide me with a quality appliance. If it wasn't for the fact that i'm stuck with a Whirlpool range and dishwasher, i'd be going and getting another brand microwave today. Very disappointed in Whirlpool quality.
Date published: 2018-06-26
Rated

1

out of

5
by
Fred59
from
intermittent operation, no repair in my area
New manufactured home, factory install on this device. The operation has been intermittent since really day one on this. Two months into this house tried to do a baked potato tonight by doing the potato cycle for 2 potatos. the cycle ends....i can still touch these things. Asked for warranty service a month or so ago.....no factory service in my area but they said they would arrange someone else. Someone did call.....a repair person who lives in the town that we just moved from which is Fallon, Nv. I took this guy a very expensive maytag washer a few years ago for repair. Never did get the washer back. Sold the matching dryer and bought a new set. I wont let this repairman in my house. I guess I go buy something else to put in its place. I'm probably done with Whirlpool
Date published: 2020-04-29
Rated

2

out of

5
by
nashVegas
from
Loud and ineffective range hood, average microwave
As a microwave, it performs more or less as you'd expect. The front panel isn't illuminated, so it's really hard to find the fan control in the dark. As a range hood it is very loud and ineffective. We bought this model because it claimed an exhaust of 400 cfm versus 300 for most other models .. in use, it's no better than others. There are 4 settings on the fan which just means that you're pushing the button one more time to turn it off because it's totally ineffective on anything other than high and only marginal at that. But did I mention IT'S LOUD!!! If you love to cook and want to keep grease out of your home, invest in a real range hood (900 cfm or better) and put your microwave somewhere else.
Date published: 2019-03-08
Rated

4

out of

5
by
B.Nicole
from
Great microwave
It's a good microwave, It looks nice, Easy to use, Very roomy on the inside, but my only complaint is that the fan on this microwave is very weak even on the high setting...If your boiling anything on your stovetop you microwave is covered in moisture and drips all over the stove! I have to take a kitchen towel and keep wiping the microwave down while I'm boiling anything on the stovetop
Date published: 2021-04-10
Rated

4

out of

5
by
Lorena 2
from
Nice Microwave but BIG!
This is a nice microwave but it's a giant! It was way too big to fit over my stovetop. What were they thinking? The smaller over the stove units are VERY small. All of their microwave products seem to go to the size extreme. Measure carefully. I had to take mine down after only 3 months, get it fixed and sell it at a loss. My cooktop fried the wiring because this microwave is too large for an over the stove unit.
Date published: 2018-12-11
Rated

2

out of

5
by
terry10798
from
Sparking issue
We bought this microwave in December 2018. Its worked great except that when cheese is microwaved to melt, the microwave actually sparks and makes a loud crackling noise, as if there was metal in the oven. No other food causes this phenomena, just cheese. The sparks will actually come out of the upper right-hand side of the oven, near the top vents. The old Kitchen aid microwave that this replaced, never did that. The microwave is barely 2.5 months old. Is there something wrong inside or do we just never microwave cheese again? Do we call Whirlpool to have them fix or replace it?
Date published: 2019-03-01
Rated

2

out of

5
by
Park
from
Works, but no manual
The only manual that is apparently available on this microwave is on how to install it — which I didn't need, because it was installed by the builder in a new house. But if you want to know what the buttons do, or what the readouts mean, or anything else, you're on your own. It works, but it has been a "grope in the dark" sort of experience; and I'm sure there are features on this microwave that might be useful but I'll never use, because I didn't know they were there or how to make them work. Would I recommend it to a friend? It would depend on whether or not they needed much more than just a basic microwave — or were just one of those people who intuitively knows how these machines work — so probably not.
Date published: 2021-04-07
Rated

4

out of

5
by
MikeMarks19
from
Nice look, soft touch!
Bought this microwave 2 weeks ago as a replacement for another Whirlpool microwave. Love the look and feel of the controls and product. I am a basic user when it comes to microwaves (heating/reheating/defrost), so it exceeds all my requirements in terms of features. My only complaint is the loudness of the fan when using the microwave. My previous Whirlpool microwave was no louder than a typical microwave when in use, this one is extremely loud by comparison. Using the microwave is no different to using the vent fan in terms of noise level. Otherwise a great product so far.
Date published: 2019-12-16
Rated

1

out of

5
by
Karenk1494
from
Unhappy
I bought all Whirlpool appliances for my new house. The microwave oven combination stopped working after 6 weeks. Whirlpool send a repair guy immediately. A part had to be ordered. Came back to complete repair. Cut all wires and realized it was the wrong part. Now it can't be fixed at all. Haven't had the appliance for 3 months. Whirlpool is going to replace it but supposedly because of COVID-19 it will be another 4 weeks. Extremely unhappy. Who knows when we will have the new appliance.
Date published: 2020-06-08
Rated

3

out of

5
by
Montana Slim
from
Good so far. Had to replace the same model.
My wife and I were very disappointed in Whirlpool microwaves. We had built a new house and less than two years into it our brand new (2017) Whirlpool microwave starting glitching a lot. The interior light would flicker like crazy and then the microwave wouldn't work half the time and then when it was working it WOULDN'T TURN OFF when you opened the door! Not sure how much radiation damage we received. It seemed like a big problem but Whirlpool wouldn't do anything about it. They said it was outside of the 1-year warranty. And on top of that, to repair it cost the same or more than buying a new microwave. So we replaced it with the same updated model. So far it's been working fine, we're just hoping that it stays that way. I'd be happy to change my review if it continues to work well for years to come.
Date published: 2019-12-18
Rated

2

out of

5
by
John
from
FAN DOESN'T WORK WELL
The exhaust fan is very weak. Does not function well
Date published: 2017-10-02
Rated

3

out of

5
by
Michael
from
Better than a counter top!
I do love how it looks and it has a lot of great features. It's slightly under powered so things just take a few more mins to cook. Install was annoying because they only provide the one mounting bracket which you would think is standard but I have a standard cabinet from menards that is the standard 18inches or whatever and I still had to shim the bottom of the microwave out. They sell a extended mounting bracket for over $100. DON'T buy it! Just use a 2x4 and screw that to your studs and then attach your mounting bracket to the 2x4! Super simple and cost maybe $6
Date published: 2021-02-16
Rated

3

out of

5
by
Boobolal
from
Just not working as should
I remodel my kitchen about and replaced all my appliances...bought this microwave as part of the suite on October 13, 2018 and had to wait about 6 weeks to received them. I paid for installation when I made the purchase. My problem is when you put something to heat/cook etc. when it gets to a certain temperature, it stops heating and spin until the timer runs out. The fan is not work also, not sure if it was installed incorrectly as it gets cloudy when you heating/cooking but don't know where the vent is. There is no external venting. Don't know what to do and don't want to spend extra money to have someone else come in and check it. This is the first time using Whirlpool appliances... Need some assistance fixing it.
Date published: 2019-08-22
Rated

1

out of

5
by
ewong
from
worst product ever
i bought a house with a this microwave model installed and paid to get it venting outside and isn't. Even in the strong speed you can't fell the air been suctioned. I called whirlpool and they transferred me over the services company, they did't handle anything you have to do it your self. When i talked with them D3-EOK, they scheduled a service and the mechanic said that there was a part that need to be replaced because there was no enough power. The second mechanic came two weeks before and said that the part didn't need to be replace just that the venting wasn't properly sealed. I made the one that installed come and replace the whole venting just to make sure and still doesn't vent outside, there is no power in the fan on the microwave, NONE. I called whirlpool again and after an hour waiting for someone to answer the lady forward the call without know what was the issue. The other representative said that they need to change the part as was instructed the first time, so he said that i should have scheduled on 3 day but that i should call them (D3-EOK), i called them and the guy just said we can't do anything i was like can you check the notes, it should said that the part need to be replaced and he was like OK but then we need to reorder the part again, start the whole process again, another two weeks??... no words for so incompetent company and so bad product.
Date published: 2018-06-19
Rated

5

out of

5
by
Barry
from
A Good Replacement For My GE Profile Microwave
I replaced my GE Profile microwave oven with the new Whirlpool model. When I questioned the minimal number of GE microwaves, I was informed that Whirlpool acquired the GE brand, has scaled down model selection, and would be "sunsetting" the brand in a few years making it difficult at that time to secure parts. The Whirlpool is a great microwave, and does exactly what it's supposed to do. There is one noted concern and that is attention to detail in the finishing of the product. I noticed this morning that the frame securing the under the microwave light is missing one of the two screws and collar washer required to keep it in place. Again, attention to detail. Where can I obtain the screw and accompanying collar washer?
Date published: 2020-11-12
Rated

1

out of

5
by
sorryIboughtwhirlpool
from
Dangerous design flaw
I bought this last week and had it installed on Tuesday - there is a one inch opening that runs the length of the unit. small items from the cabinet above the microwave could easily fall into this opening. when I called whirlpool to complain they said it was designed that way for venting. why cant there be sometype of screening covering this fairly large unfinished looking opening? sorry I purchased this unit it looks cheap and defective!
Date published: 2018-11-16
Rated

2

out of

5
by
NA
from
CONFUSING
It took me and hour and a half to find the start button and one and a half days to figure out where the cancel, or stop button was! Label the darned buttons instead of putting "+30seconds", and "Control Lock" in their place!
Date published: 2017-09-18
Rated

3

out of

5
by
Door Not Flush with Body
from
Door is not flush with body- HELP
Hello, I recently purchased this model. Overall looks great. This is an update to a previously owned over the range model that I had since 2009. The issues I am having is that when the door opens, it is not flush with the body fo the microwave on the left side. The previous model I owned the door IS flush with the body. My issue is that in my condo- there is a wall to the left of the microwave so the door sits right up on it. With the door not being flush, it can not open. My previous model is the same width size but the door hinge is manufactured differently so that when it opens, it remains flush with the body microwave. Any guidance on current models that have this door feature? It's hard to see this detail when via photos of the product online to tell. help!
Date published: 2020-12-29
Rated

1

out of

5
by
Unhappy Guy
from
Exhaust fan is worthless
I bought this unit to replace the old one that stopped working in March. Because of COVID-19 and the immediate need for microwave, I bought this unit without having the opportunity to research about the unit. The old unit I had was a Whirlpool so I decide on this one because of the similarity, not that I was thrill with the old unit. It turns out that this one is even worst. The old unit's exhaust fan didn't work well but still better than this one. This unit sets off my smoke alarm numerous times even when I boil pasta water. Worst product ever.
Date published: 2020-10-22
Rated

1

out of

5
by
gracie1949
from
horrible
Need to be a genius to control this microwave! The start button is an arrow and the stop is an X that has a lock symbol next to it. Awful operating. Looks nice but stinks as a "COOKER"
Date published: 2018-10-20
Rated

1

out of

5
by
Fran5563
from
Very cheap material,
This junk was place in my new home, in less than four months and the door started to crack, the company replaced the door. And once again the door started to crack and break also.
Date published: 2018-04-16
Rated

5

out of

5
by
Juerl
from
Awesome purchase!!!
My husband and I bought this new microwave a few weeks ago. We were so happy beyond words how this works! It has the high voltage capacity wherein we can use low number of minutes to heat our food. We save more energy because of its high efficiency. We also like the fan feature to avoid smoke especially when I bake. We like the light feature as well because we dont have to turn our main kitchen light to see what were cooking, thus, saving more energy. Lastly, we can cook our meals there as fast as we can with our fast paced jobs. It's an awesome buy!
Date published: 2020-03-26
Rated

3

out of

5
by
Jimmy
from
Manual Weak
Came with the new house. Find the manual to be weak. Still have not been able to get some functions to work and the manual does not contain any examples. The 'popcorn' function is an example. After hitting the popcorn button it next asks for a 'qty' (quantity?). If you press '1' then it puts in a .1. Press the 'Go Arrow' button and it Beeps and resets to zero. If I put in 1.0 and press 'Go Arrow' it does the same. Go to look at the manual to see what I am doing wrong and there is nothing there. So this, as well as other functions are useless to me.
Date published: 2021-02-26
Rated

1

out of

5
by
FloJo
from
Lemon
I bought this because it was made in the USA. Very disappointed. About one month after I bought it, it stopped heating about every 4th or 5th time. We unplugged it and plugged it back in then it would work for a while. Due to high Covid cases at that time we just nursed it along. Finally we felt safe enough to have a repair person enter our home. A new control panel had to be ordered and we had to wait 3 weeks fir it to be installed. Then about 2 weeks after the repair the same thing happened. Would I buy this again No. Would I recommend it no!!!!
Date published: 2021-04-07
Rated

5

out of

5
by
Rno79
from
Anything I'd want in a microwave
Admittedly, I'm not a frequent user of microwave ovens and couldn't be bothered using any bells and whistles that'd be included. With that in mind, this model is perfect for my use. Pretty efficient for warming up food, decently easy to use in defrost mode. And that's about all I do with it. I know there are a bunch of different modes, but I doubt I'll eve use them. The lightning under it is convenient above my gas range. Although I was not expecting that and had to do a bit of research on that one, I'm glad there's an automated cooling function to ensure a fan brings the temperature back under 150F when cooking on the gas stove. It's easy to overlook things like that when shopping around for appliances, but it's a great feature to have.
Date published: 2021-02-16
y_2021, m_8, d_3, h_19
bvseo_bulk, prod_bvrr, vn_bulk_3.0.18
cp_2, bvpage2n
co_hasreviews, tv_0, tr_1818
loc_en_US, sid_WMH31017HS, prod, sort_[SortEntry(order=RELEVANCE, direction=DESCENDING)]
clientName_whirlpoolbrand
bvseo_sdk, java_sdk, bvseo-4.0.0
CLOUD, getReviews, 3ms
REVIEWS, PRODUCT
Bundle summary&nbsp (&nbspitems)
If Purchased Individually*
*Offer subject to change. Limit one use per order. Valid for bundles delivered to a single U.S. address. Bundle savings based on current pricing available from Whirlpool.com. Only valid for new orders on Whirlpool.com.
See how we handle Returns
.